Are you an avid DIYer with a desire to take your artsy-craftsy to the next level? Or perhaps you are a clever business owner looking for new opportunities? Anyway, if you search for the best mug presses, you've lent on the right page.
Indeed, getting a mug press will significantly enhance your talent or business. You will be able to create custom designs and sell them to the customers' demand. Also, this device will let you print branded logos on the mugs for corporate use within the company. Even if you believe that you are not made for creative projects, you can use mug printing technology to gladden your mother, second half, kid, teacher, friend, and more.
But it is not always easy to find a quality product. Luckily, you've found this review. I've rounded up five machines and would gladly share my critical assessment of every entry with you.
Our pick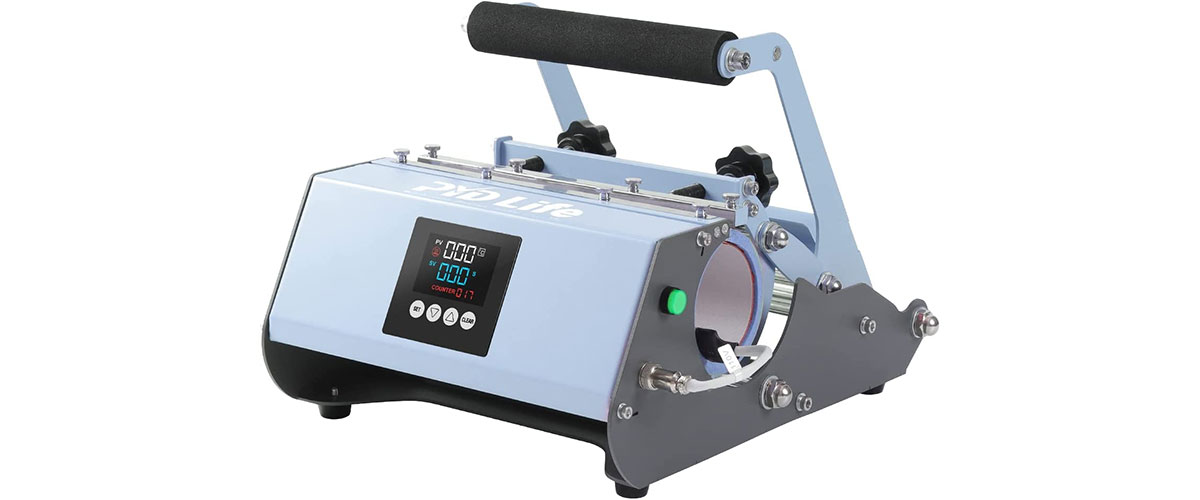 PYD Life
Best mug press machine
PYD Life 110V tumbler heat blue mug press machine can use for the 12,16,20 and 30 OZ straight sublimation tumblers heat transfer print.
Read the full review
.
Mug press machines comprasion table
Name
Mug attachments
Power
Temperature range
Review
PYD Life

best overall

2.8-3.4 inch
698 W
0-240°С/0-464°F
Review
Cricut Mug Press

worthy to mention

3.2 – 3.4 inch
500 W
0-200°С/0-392°F
Review
Super Deal

budget

3.1-3.5 inch
1000 W
0-221°С/0-430°F
Review
CREWORKS 5-in-1

multifunction press machine

3-3.5 inch
1400 W
0-260°С/0-500°F
Review
How have I tested?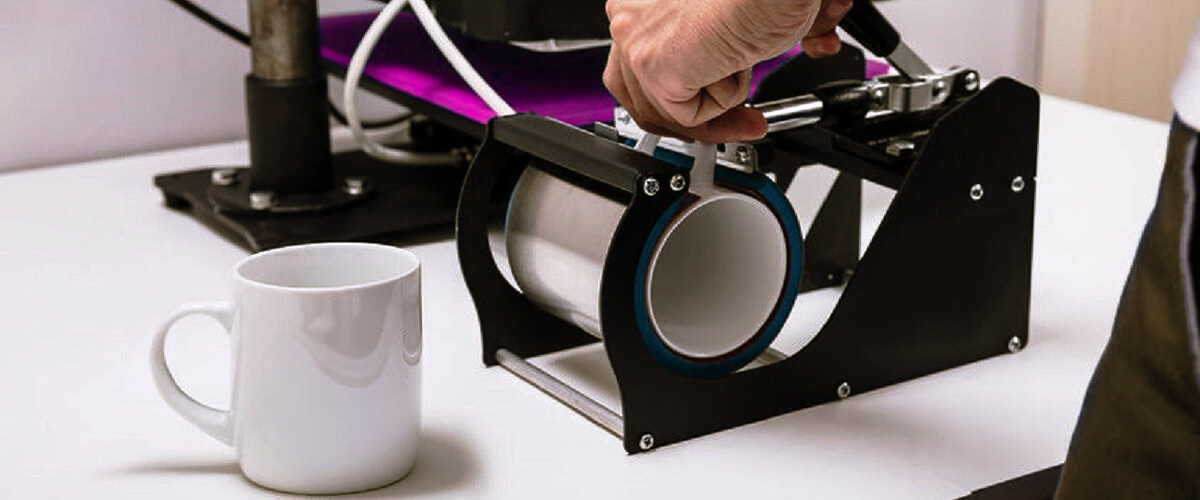 I've always been the kind of person who loves crafting cool, personalized gifts for my loved ones. Mug presses have been my trusty sidekick on this creative journey for quite a while now. But recently, my curiosity led me to dive deeper into the world of mug presses. I wasn't just exploring for fun anymore; I was on a mission to uncover the best tumbler heat press and mug heat press for sublimation – not just for my personal projects but also for potential commercial ventures.
As I delved into the reviews and experiences of fellow enthusiasts, it became clear that people were facing some common hurdles. Uneven heat distribution, overheating issues, incomplete transfers, sublimation paper sticking, and that notorious horrible smell were the concerns many users were dealing with. Armed with this knowledge, I was determined to find the perfect machine for my needs.
During my quest, I encountered a couple of contenders, like the TIQTAK Sublimation Mug Heat Press and the RIACHROW Tumbler Heat Press Machine. However, after careful consideration, I decided to pass on these options. The TIQTAK machine just didn't pass the smell test – quite literally. The main drawback was that awful smell, which I couldn't ignore. On the other hand, the RIACHROW Tumbler Heat Press showed promise, but the overheating issues took away its charm, leaving the cups far from perfect.
After all my exploration, I've gained a renewed appreciation for finding the right tools that deliver flawless results. And I am ready to share my thoughts with you!
Best mug press machine reviews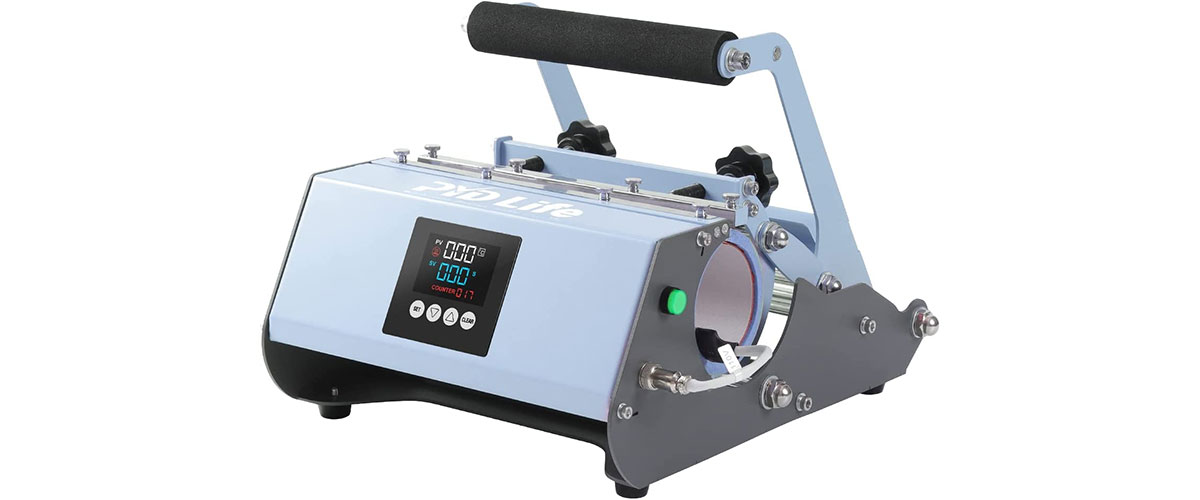 For those businesses looking for a professional mug heat press for sublimating tumblers and ceramic cups, the PYD Life machine is a bargain.
Unlike the Cricut mug press designed for home use due to limited options, the PYD Life mug printing machine would enable you to work on a variety of projects. For example, you can print on 20 oz and 30 oz tumblers. A great feature of this device is that you can sublimate designs on two 11 oz and 15 oz ceramic mugs at a time.
There are two versions of the PYD Life device. The newer one has an in-built sensor and display for regulating the temperature and time (the older version has a separate unit attached to the machine with a cord). You can set the max temperature to 464℉ and the max time to 999 seconds. Both Fahrenheit and Celsius temperature control metrics are available. The instructions that also come in the pack are informative. But be very careful. There might be issues with the timer (mine didn't work).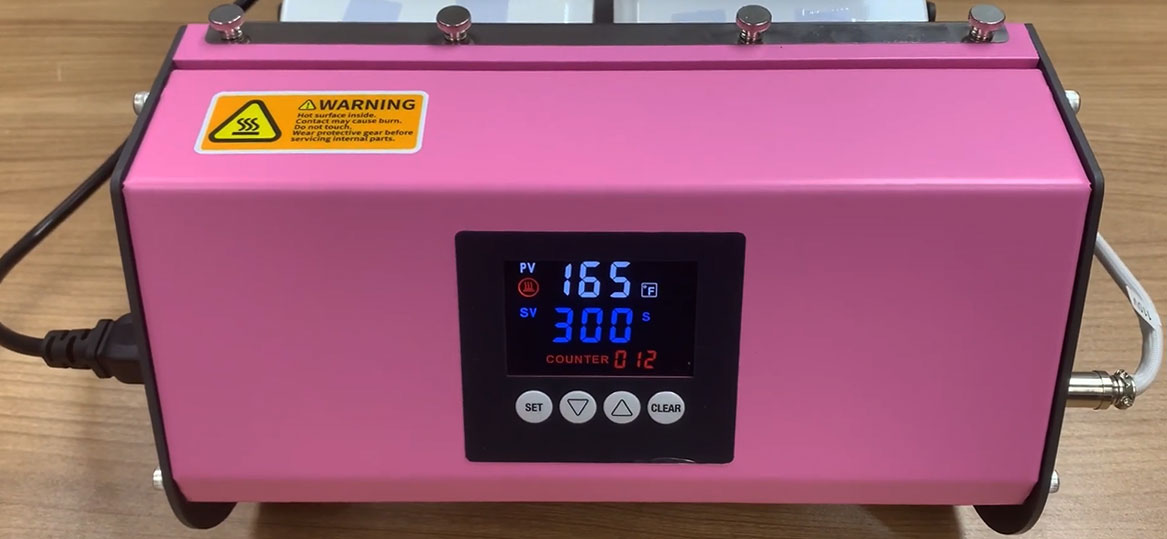 What I love about this machine is that it allows sublimating the entire 20 oz tumbler in one go without turning it from side to side. However, I wish there were an audible alert notifying that sublimation is over. This is not a deal-breaker as the printing results are flawless – there are no straps, and the colors are adequate.
This is a premium mug presser that allows you to simplify the process of printing custom designs on multiple mugs or differently-sized tumblers.
Key specs
Mug attachments diameter, inch: 2.8-3.4.
Power,W: 698.
Temperature range,°С/°F: 0-240/0-464.
Time range, sec: 0-999.
Pros
Allows heat pressing multiple ceramic cups in one go.
Suitable for 20 – 30 oz tumblers and 11 – 15 oz cups.
Features a convenient temperature and time controller.
Cons
Probably I had a defective timer that didn't work.
No audible sound notifying about the end of the pressing cycle.
Cricut Mug Press – worthy to mention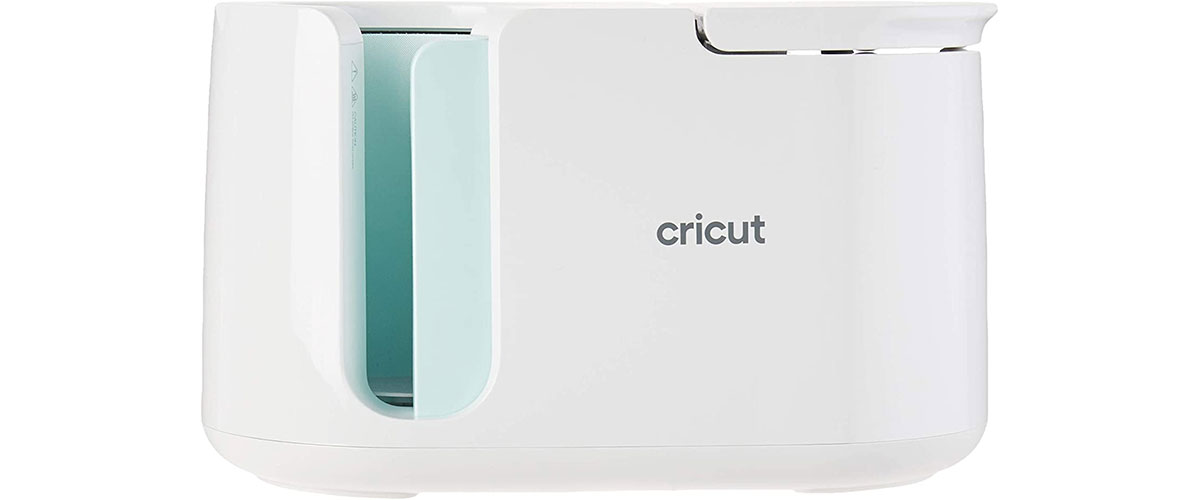 I saw many Cricut mug press reviews, and I really wanted to try this model on my own. The Cricut company has simplified the process of creating mug masterpieces with their product. This device enables you to adorn mugs with your own vibrant, fun, and personalized images.
The first thing that impresses the user is the design. Compared to the Super Deal machine which is somewhat clumsy and cumbersome, this one looks like a candy. But the discrete design also serves a safety mission – the machine's body stays cool when the heating element warms the cup.
Speaking of the heat this mug press machine can produce, it goes as high as 400℉. Be careful when the printing is done, the mug will be really hot, and it is better to let it cool down for around 15 minutes.
The mug press by Cricut enables you to add some zest to 11 – 16 oz mugs by embellishing them with intrinsic motifs.
The press pack includes the heat press and a USB cord. The company has developed compatible infusible ink materials to ensure better results. But if you already have some experience in mug printing, you can get adjusted to using common sublimation stuff.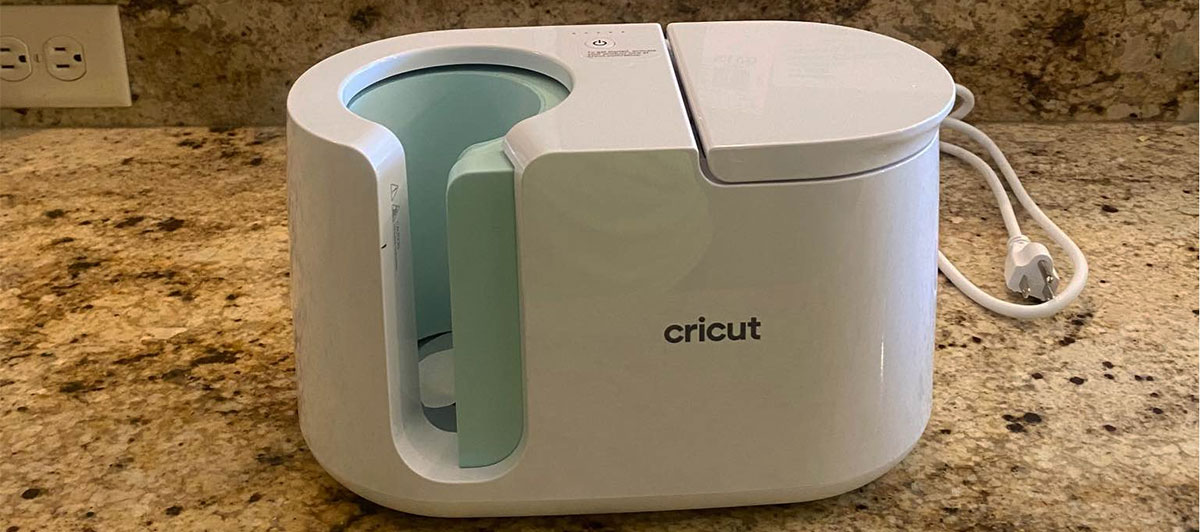 This device is pretty easy to use. You create the design, attach it to a compatible mug blank, wrap the cup, put it in the machine, and hit the button. That's it. There is no way to regulate the temperature or time, which mug printing professionals may find disturbing. Anyway, the designs look vibrant, and the images are clear.
The Cricut is the best mug press machine for DIY enthusiasts or those making their first steps in the mug printing business due to its ease of use and flawless performance.
Key specs
Mug attachments diameter, inch: 3.2-3.4.
Power,W: 500.
Temperature range,°С/°F: 0-200/0-392.
Time range, sec: 0-999.
Pros
Easy to use – you just hit the button and wait.
Neat and safe design.
Printed designs are clear and vibrant.
Suitable for 11 – 16 oz mugs.
Cons
No way to control the temperature and time.
Super Deal – budget choice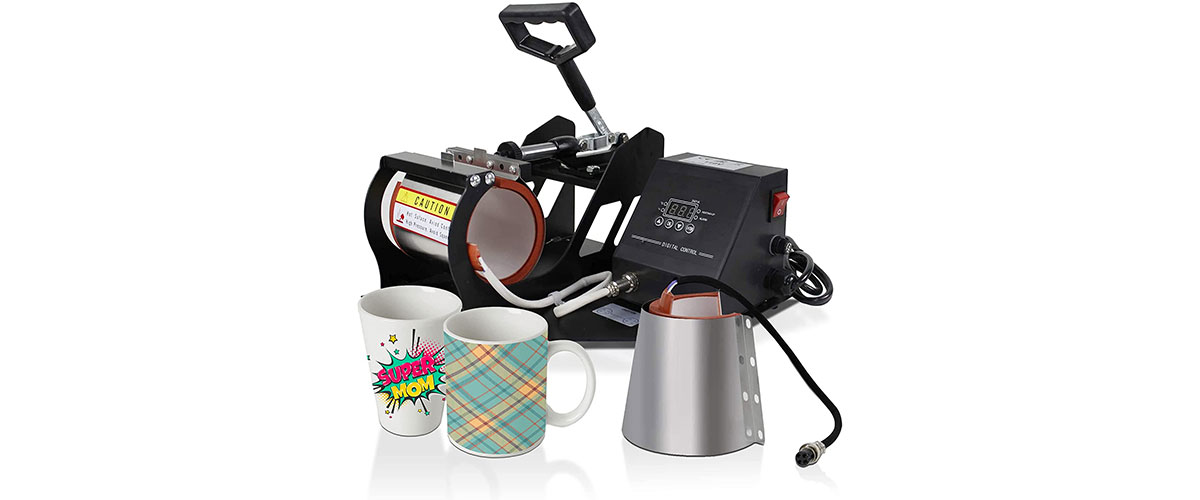 If you are looking for more control when printing fancy images on mugs, consider the Super Deal mug press machine.
This device enables you to control the temperature and time using a digital controller. You can set the optimal temperature from the available range (from 0 to 430℉) or define the desired pressing time (from 0 to 999 seconds). Unlike the Cricut mug presser, you gain full control over the settings. The digital display depicts the selected temp and time parameters.
Besides, this product has two mug attachments: standard 11 oz cups and cone latte 12 oz cups, making it more versatile than the Cricut product. However, as you see, there is no variety in cup sizes.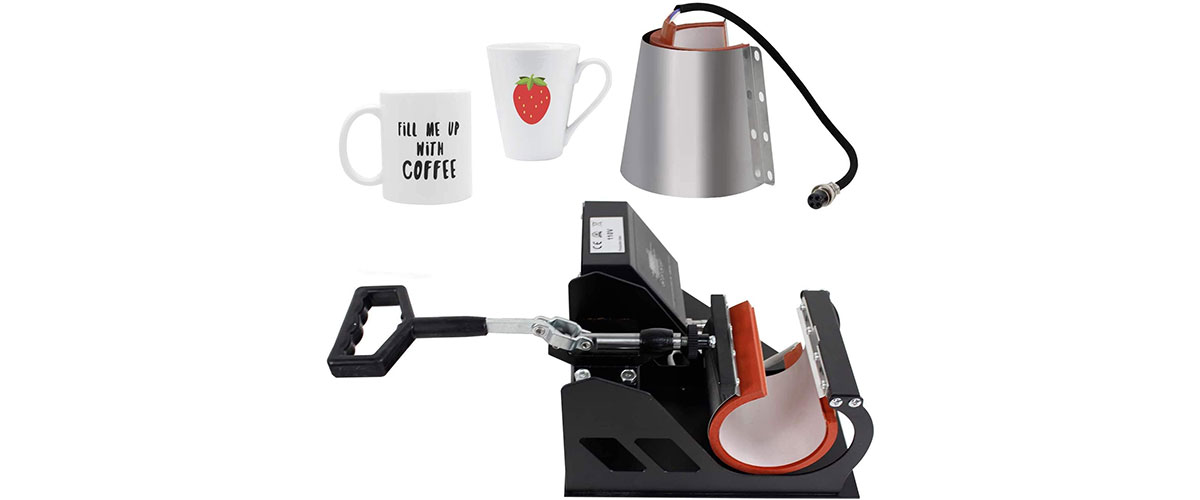 The Super Deal heat press is easy to use. I set the 400℉ and held the mug in the presser for around 75 seconds. The press heats mugs evenly, so the printed images look bright and accurate.
What I find slightly annoying about this device is the repeating beeping sound when you do not use it for more than 30 seconds. If you do not plan to work on multiple projects in a row, this might be out of your concern. But when you have to sublimate several cups, you'd better get everything at hand right away.
This is by far the best mug press in a budget segment. It does the sublimation job pretty well and enables you to work with several cup shapes.
Key specs
Mug attachments diameter, inch: 3.1-3.5.
Power,W: 1000.
Temperature range,°С/°F: 0-221/0-430.
Time range, sec: 0-999.
Pros
You manually control the operating temp and time.
Two mug attachments: for standard 11 oz and cone latte 12 oz cups.
The sublimated images look accurate and bright.
Cons
Only one cup size option
The repeating beeping sound when not in use for more than 30 seconds.
CREWORKS 5-in-1 – multifunction press machine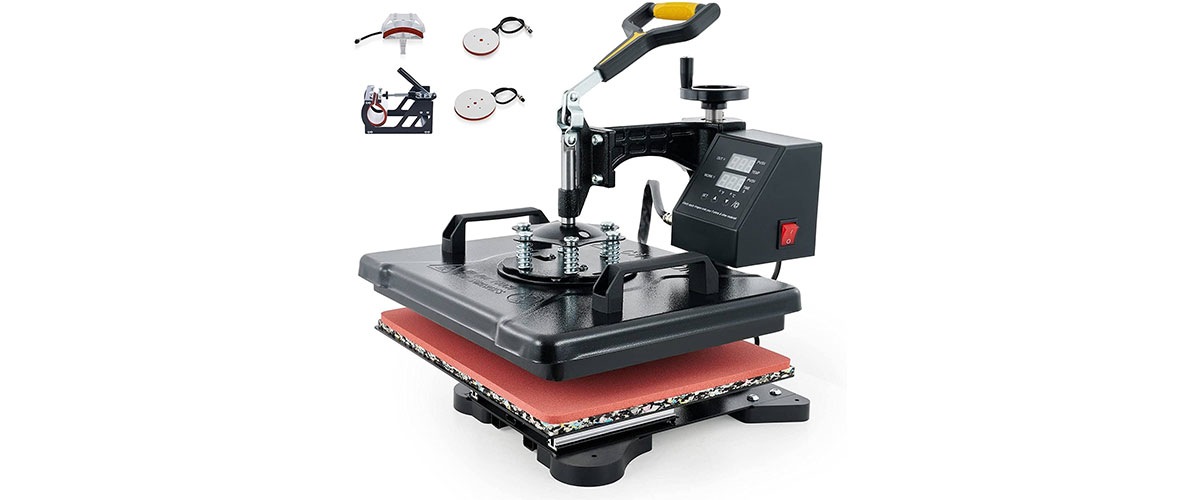 If you are serious about upgrading your printing business, you should pay attention to the CREWORKS 5-in-1 machine.
It has a significant advantage over the BetterSub product due to its versatility. As you invest in the CREWORKS device, you will be able to sublimate fancy designs on mugs, T-shirts, caps, ceramic plates, or tiles, and even create jigsaw puzzles.
The machine has a 360-degree swivel that allows it to apply pressure straight down and distribute it evenly for accurate printing results. With 0 – 500℉ temperature range and 0 – 999 seconds timer control, you can regulate how hot you would like the press to be and how long it is meant to operate. An integrated LED screen will help you track whether the right parameters have been set.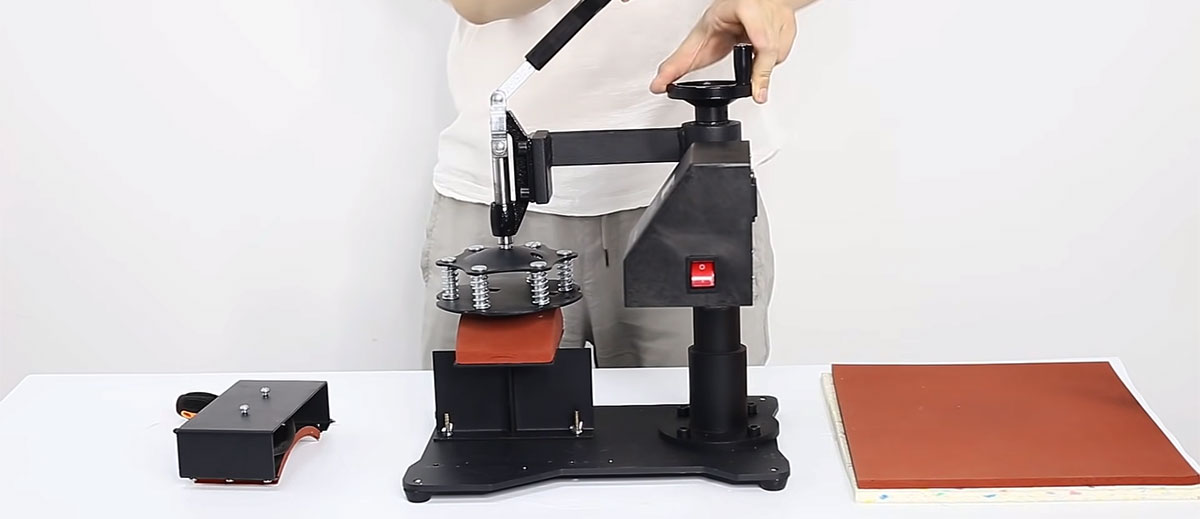 The pack includes all essential attachments like a hap/cap pad (5.5″ x 3″ printing area), four mug presses (9, 11, 12, and 17 oz), and two plate presses (1,5″ and 2,6″). Unfortunately, the included instruction booklet is literally useless and does little to explain how to use the machine safely and effectively.
When this device starts to heat up, it emits a strong odor, so it's better to use it in well-ventilated areas. Putting this drawback aside, this is a great mug heat press of multipurpose use that would help you deal with a great number of projects.
Key specs
Mug attachments diameter, inch: 3-3.5.
Power,W: 1400.
Temperature range,°С/°F: 0-260/0-500.
Time range, sec: 0-999.
Pros
Enables printing on cups, caps, plates, tile, and creating a puzzle.
Supports various mug sizes: 9, 11, 12, and 17 oz.
Convenient control of temperature and time.
Cons
The instruction booklet is not helpful.
Emits a strong odor when it heats up.
BetterSub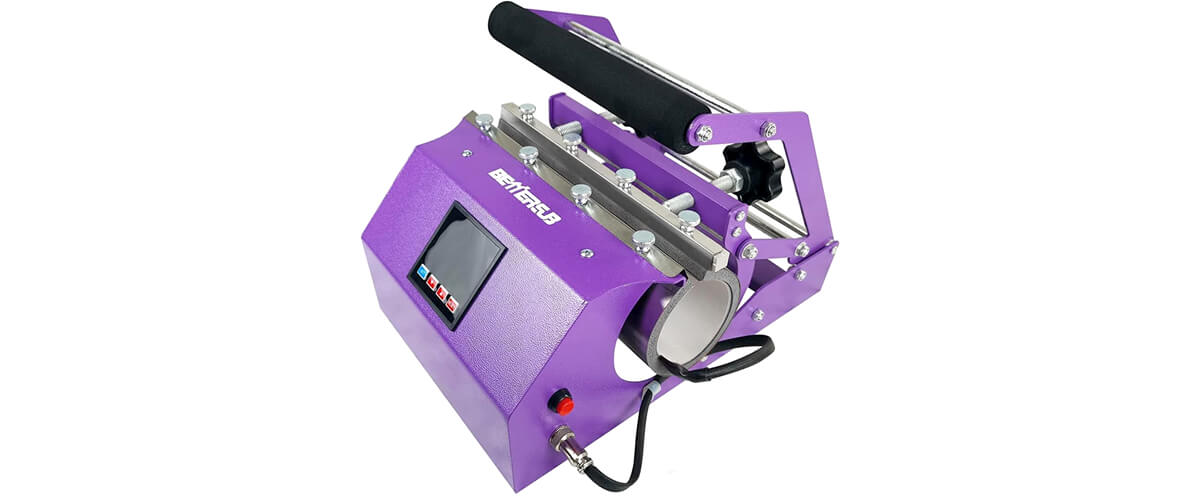 This versatile cup heat press machine caters to a wide array of items, including skinny tumblers, ceramic and sublimation mugs, glass and metal cups, and even beer mugs. Whether for personal use or catering to customers, this machine opens up a world of creative possibilities.
The BetterSub mug heat press, with a temperature range of 0-482°F / 0-250°C, stands out by accommodating various drinkware sizes. It confidently handles 30 oz, 20 oz, and 16 oz straight skinny tumbler mugs alongside 11 oz and 15 oz sublimation mugs. This flexibility empowers you to diversify your drinkware collection effortlessly.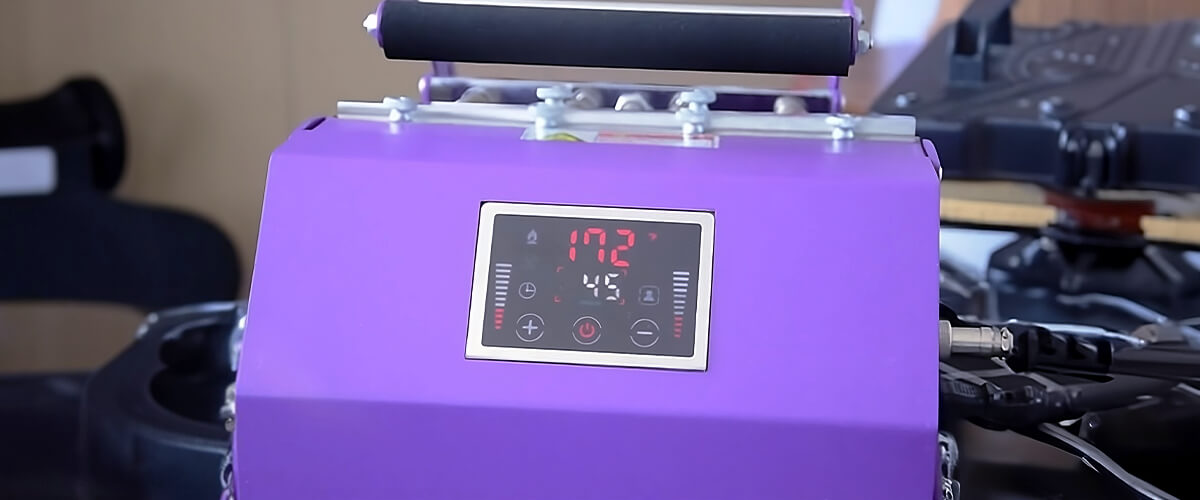 This mug printing equipment is great for people new to heat press technology. It's easy to use and comes with clear instructions. You can expect high-quality results that won't fade after washing. The BetterSub Tumbler Mug Heat Press Machine is small and fits well in small businesses or home studios. It's a great tool to have for all kinds of projects!
I should note that the BetterSub Tumbler Mug Heat Press Machine is part of BestSub's comprehensive collection of heat press machines. With options ranging from flat heat presses to various tumbler-centric machines, finding the perfect fit for your specific needs is a breeze.
Overall, the BetterSub Tumbler Mug Heat Press Machine is a great investment for anyone who loves personalizing their drinkware or creating custom items for their customers. It's easy to use, produces high-quality results, and is versatile enough to handle various drinkware items.
Key specs
Mug attachments diameter, inch: 3.5-3.9.
Power,W: 500.
Temperature range,°С/°F: 0-250/0-482.
Time range, sec: 0-999.
Pros
User-friendly and easy to operate, even for beginners.
Your designs will be vibrant and durable, even after multiple washes.
The design is compact and doesn't take up much space.
Can be used as a commercial mug printing machine too.
Cons
Designed for cylindrical objects, so it may not be suitable for other shapes.
The temperature range of this machine may not be suitable for all types of materials.
May be more expensive than other options on the market.
How to use a mug press?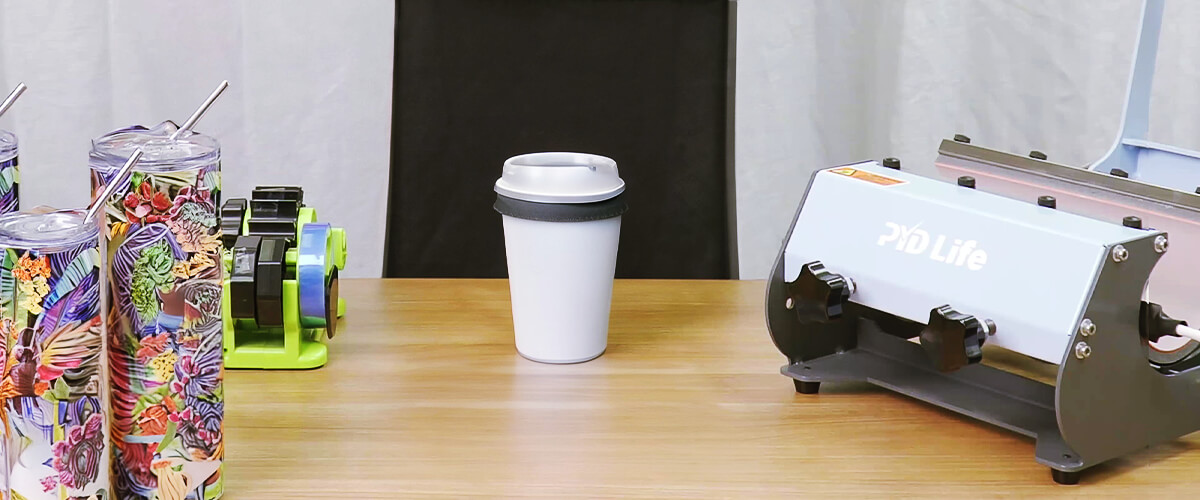 The first step of using a cup press machine involves the choice of the design. If you are a designer, you can use your own scatches. In case of painting is not your cup of tea, you can purchase an image for the mug from the store. As you select the design, keep the printing area in mind, which would depend on the mug.
When you've selected the design, print it on an inkjet printer using sublimation ink and sublimation paper. Crop the image with scissors or a guillotine.
Place the cropped design around the mug, and use thermal paper to fix the image to avoid any movement. Preheat the mug printing machine to 212℉ and wait for around 12 seconds. Put the mug inside the mug frame and adjust the pressure (it should be medium). Increase the temperature to the optimal value, and let the device do its job. The operating time might vary depending on the machine and the material you are using.
Once the time is over, bring out the mug and let it cool down for 5 minutes. Then carefully peel off the thermal tape and remove the paper.
Voila! You have a designer mug you created by yourself!
What do I need to print on a mug?
Before printing on a mug, you should get the design ready. You may need to use Photoshop, Paint, or other software for creating illustrations. If you are not a creative type, you can always purchase the painted image for cups.
The image should be printed on a piece of sublimation paper with sublimation ink. It is better to use an inkjet printer for this purpose. Also, you should get thermal paper to secure the image on the mug.
Mug press machine buying guide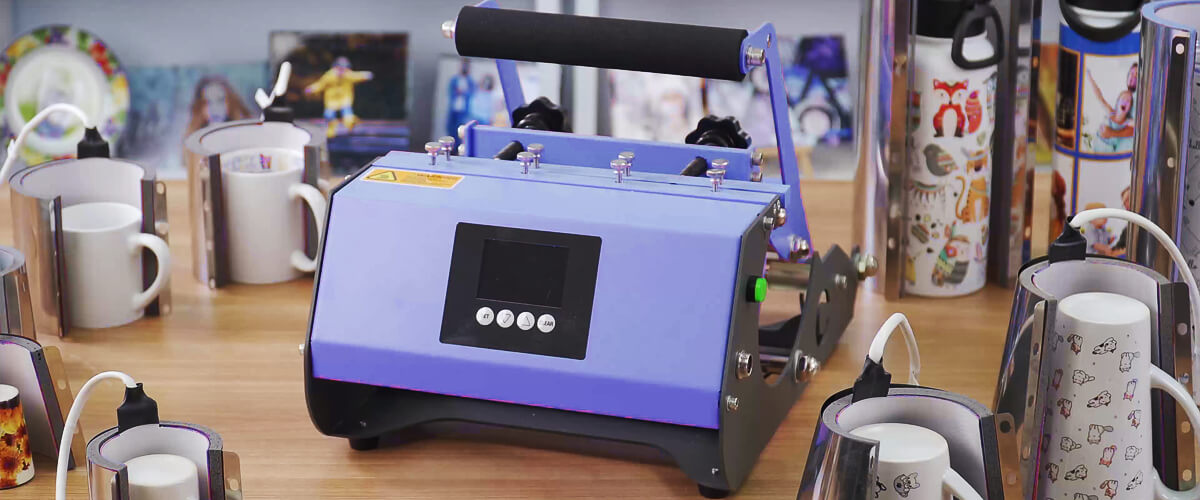 Temperature range
If you are considering printing designs on mugs made of different materials, you've got to make sure a mug maker machine will let you set the temperature range. The accurate temperature for this or that material will ensure neat and long-lasting results.
Time range
Once you set the right temperature to obtain flawless printing results, it is also essential to pick the optimal amount of time. When you select the exact time required for this or that material, you ensure you do not overheat the image and retain its brightness.
Most mug pressers feature 240 seconds of a maximum timer setting. This time range is enough for ceramic cups. However, some machines go from 0 to 999 seconds, allowing you to prolong the pressing time. This feature can be handy for those who would like to add darker shades to the images.
Mug sizes
Mugs come in different sizes, so the heat press for cups should be able to fit them.
If you plan to use the mug press for crafting gift cups for your friends, relatives, colleagues, and other people you would like to please, you might not bother with the mug size parameter. Most likely, you will be working with a standard mug size, so you can opt for the device that supports it. Just keep in mind that versatility comes at an additional cost, so that's where you can save your hard-earned money.
In case you are purchasing the mug presser for commercial uses, you'd better select the machine that enables you to add designs to various cup sizes. In this way, you will strengthen your offer on the market and provide your customers with what they want.
Multipurpose use
If you have a desire to start or grow your printing business, you should get a machine that does much more than just print on mugs.
Versatile heat presses for cups enable you to create a great deal of merchandise, including T-shirts, hats, and plates.
These machines might have higher price tags than ordinary mug pressers. But when it comes to investing in your business, you can expect a much higher and faster RIO with a multipurpose device.
FAQ
How long do you heat press a mug?
I typically
heat press mugs
for about 45 seconds to 1 minute, using a medium-high heat setting. If you find that your mug is not fully adhering after the first pressing, you can try increasing the time or temperature slightly. I would not recommend exceeding 2 minutes of total pressing time, as this could start to damage the mug.
Can you use any mug in the Cricut Mug Press?
The Cricut Mug Press is designed to work with
most standard-sized mugs
, including ceramic, porcelain, and glass. However, it is important to note that the quality of the mug you use will affect the results you get when heat pressing. For the best results, it is recommended to use high-quality mugs that are specifically made for heat pressing. These mugs will have a smooth, non-porous surface that is ideal for pressing.
Do I need a mug press for sublimation?
No, you do not need a mug press for sublimation. However, using a mug press will help to ensure that your design is properly transferred onto the mug. Additionally, mug presses typically have built-in safety features that help to prevent accidental burns. If you choose to sublimate without a mug press, you will need to use a heat-resistant tape or silicone mat to protect your work surface.
What type of paper is used for mug printing?
For best results, it is recommended to use sublimation paper that is specifically designed for mug printing. This type of paper has a special coating that helps to prevent colors from bleeding during the transfer process. Additionally, sublimation paper is available in a variety of sizes to fit most standard-sized mugs.
How do you transfer an image onto a mug?
There are a few different methods that can be used to transfer an image onto a mug. The most common method is to use sublimation paper and a Mug Press. Another popular method is to use heat transfer vinyl (HTV). This type of vinyl is available in a variety of colors and can be cut with a die-cutting machine or a craft knife. Once your design has been cut, you can use an iron or heat press to apply it to the mug. Finally, some people also use special transfer pens and markers to directly draw their designs onto the mug surface. However, this method can be more difficult and time-consuming than using sublimation paper or HTV.
We are supported by our audience. When you purchase through links on our site, we may earn an affiliate commission at no extra cost to you.
Our newsletter
* We will never send you spam or share your email with third parties