Do you love crafting? Going to start a crafting business at home? Then a good printer for Cricut might be a blessing to you!
A printer for Cricut is a technologically advanced machine that often utilizes specific software to help you with those print & cut projects. Using such a machine, you can literally create anything you could dream up!
However, printer selection can be a little nerve-racking since the market is full of various models with multifarious characteristics! So, I've prepared a list of the best printers for Cricut to save you plenty of time and effort. Plus, make sure to read my buying guide to choose the right model for your needs!
Our pick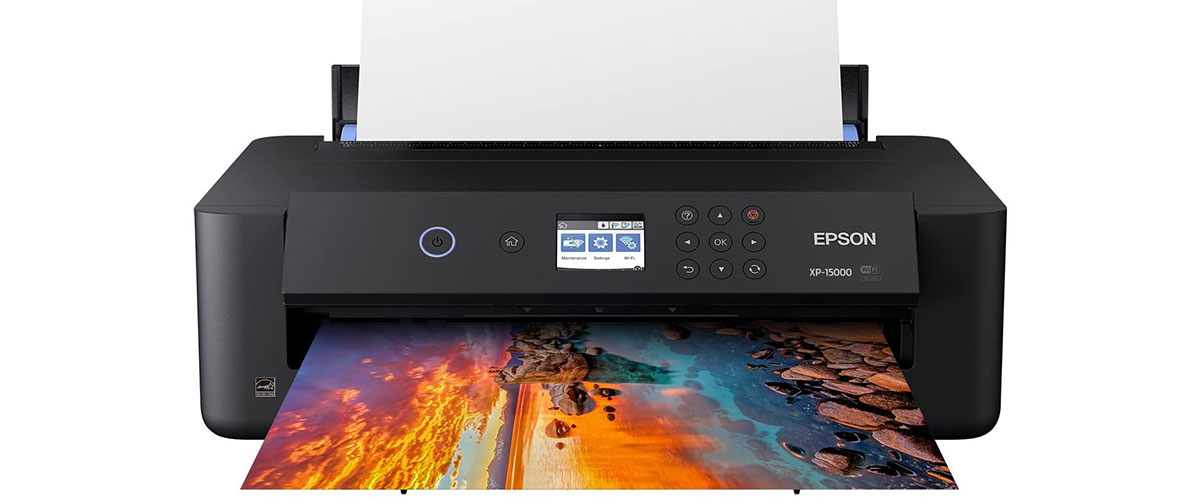 Epson Expression Photo HD XP-15000
Best printer for cricut
Take photo printing to new levels with the Expression Photo HD XP-15000 wireless wide-format printer, delivering brilliant, pro-quality borderless prints up 13″ x 19″.
Name
Type
Max print resolution, dpi
Page print speed (up to), sec
Review
Epson Expression Photo HD XP-15000

best overall

inkjet
5760 dpi x 1440 dpi
27 sec
Review
Canon Pixma Pro-100

premium choice

inkjet
4800 dpi x 2400 dpi
51 sec
Review
Canon Pixma iX6820

budget printer

inkjet
9600 dpi x 2400 dpi
36 sec
Review
Why do you need a printer for Cricut?
A printer for Cricut is a wonderful addition to any crafter's tool arsenal since it offers a versatile way to create customized designs and patterns on the fly.
You can use a machine like this to print any picture or pattern onto Cricut-specific paper. Moreover, depending on the type of the printer, it can cut out patterns from a variety of materials, including paper, cardboard, vinyl, fabric, craft foam, sticker paper, imitation leather, wood, and even metal.
Overall, a printer for Cricut maker projects opens you a world of possibilities, allowing you to generate your own unique designs for use in your crafts.
Best printers for Cricut review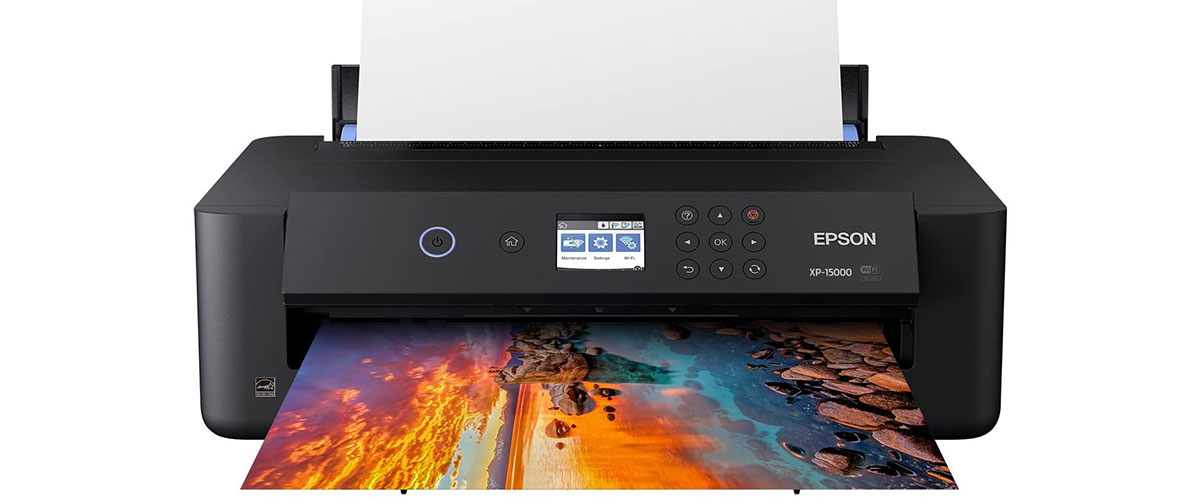 The Expression Photo HD XP-15000 by Epson is a high-quality printer made with professionals in mind – it works fast and efficiently. This beauty delivers highly-detailed images, Cricut prints, and other types of projects at a fantastic speed – 9.2 ISO PPM (black) or 9.0 ISO PPM (color); plus, it boasts a wide color spectrum. The Claria photo high-definition ink pack contains red and gray inks for a full-array color gamut and enhanced black-and-white images.
The printer includes a handy 50-sheet sheet back tray and 200-sheet front tray, making it capacious enough for most crafters' needs. Next, the XP-15000 supports various paper types and borderless formats (from 4″ by 6″ to 13″ by 19″).
On top of that, this machine is generous with some extras that will make your job more enjoyable and easier. It boasts a user-friendly automatic open-close tray, super convenient voice-activated print, and offers wireless/wired integration so that you can print from any of your gadgets. Finally, this model has an integrated Dash Replenishment system, which keeps track of your ink consumption and orders more when necessary.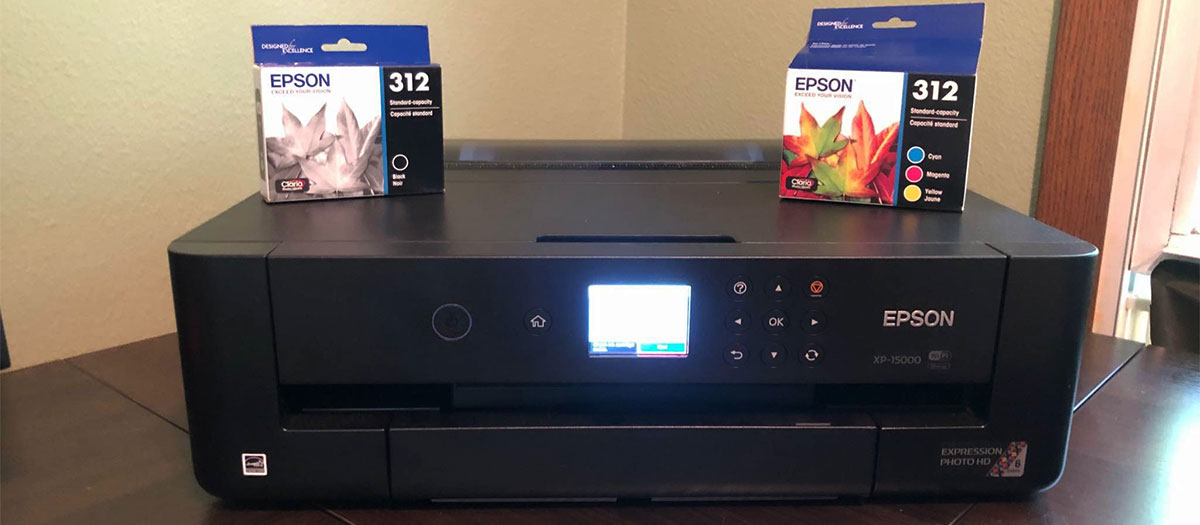 The HD XP 15000 competes head to head with another fantastic product from my list – Canon TS9521C. In all honesty, I love them both! They equally deliver exceptional quality! However, the former offers you more professional-grade features (e.g., wider color range, fast speeds, etc.), while the latter is an all-in-one printer with plenty of additional features, making it super versatile.
Epson Expression Photo HD XP-15000 is the overall best printer for Cricut and other projects on today's market – it provides an unbeatable combination of quality, adaptability, and affordability! You won't need an upgrade for many years to come!
Key specs
Type: inkjet.
Connection: wireless, USB.
Paper sizes, inch/cm: 4 x 6 – 13 x 44 / 10.1 x 15.2 – 33 x 111.8.
Max print resolution, dpi: 5760 x 1440.
Page print speed (up to), sec: 27.
Dimensions, inch/cm: 18.7 x 30.9 x 16.2 / 47.6 x 78.5 x 41.2.
Pros
Built to last.
Delivers beautifully clear and sharp images.
Space-saving – fits on any desk easily.
Easy to get up and running.
Eco-friendly product – recyclable and RoHS compliant.
Cons
Costly ink, however, the quality you receive is amazing.
Canon Pixma Pro-100 – premium printer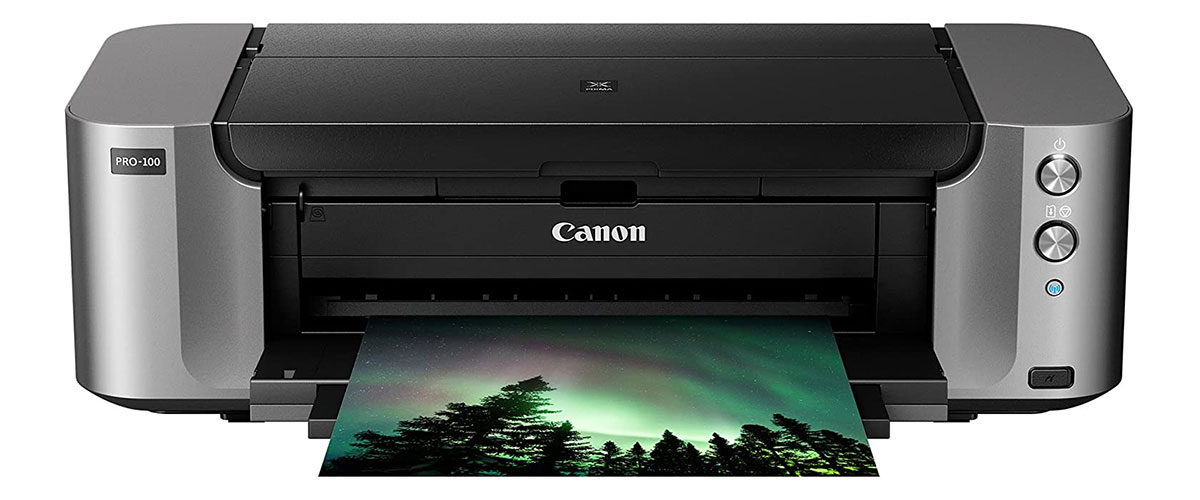 Pro crafters and Cricut enthusiasts looking for a premium-quality printer may stop their search here since the Canon Pixma Pro-100 offers everything professionals expect from the top-of-the-line inkjet printer.
It has eight dye-based inks, three of which are dedicated grayscale inks for superb black-and-white prints, bringing the overall print quality up to par. The revolutionary image system reproduces colors exactly as you planned by selecting the right ink combination and location. Furthermore, the printer's maximum resolution is 4800 x 2400 dots per inch, with remarkable clarity thanks to the innovative FINE technology. Standalone CLI 42 ink containers and value packs are both compatible with the printer. To save money, only replace inks that have run out!
This device prints images up to 13 inches by 19 inches on various media types. Moreover, it has 2 convenient and capacious feeders and can handle 50 plain papers or 20 photo papers.
And last but not least, you'll be impressed with the printer's amazing connectivity – it has incorporated Wi-Fi and Ethernet, supports computer-free printing, high-speed USB link, and AirPrint for Apple gadgets. All of this allows you to print quickly and efficiently from any location.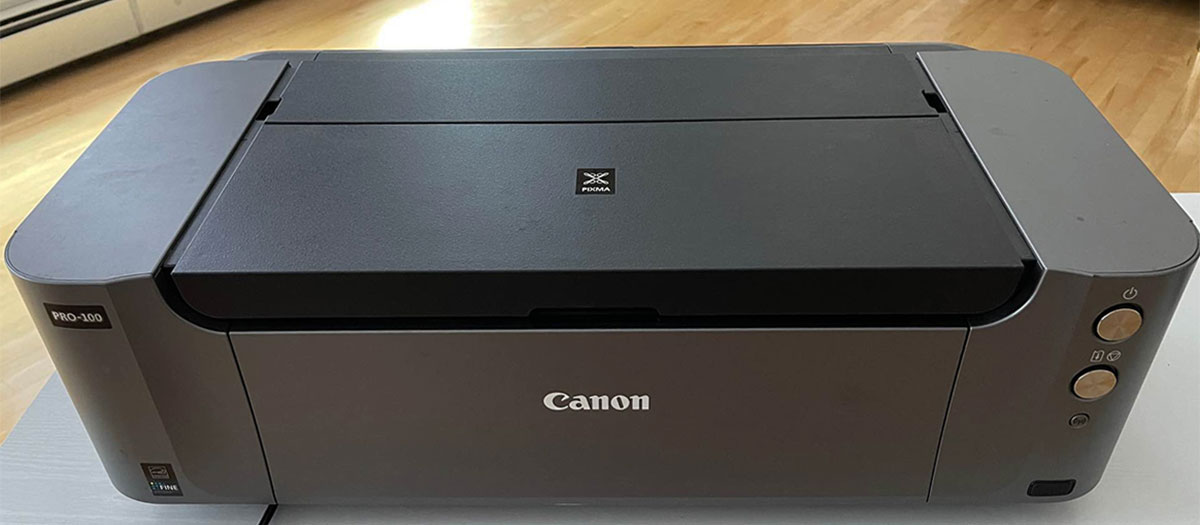 You may be wondering why this product doesn't top my list if it has such outstanding features. Here's the answer: our champion, the XP-15000, wins in the category price/quality ratio and is suitable for most customers, while the Pixma Pro-100 is a professional-grade printer with cutting-edge components and technology – the casual user may not need such advanced equipment.
So, if you are looking for the best premium Cricut printer, do consider the Canon Pixma Pro-100! It's a sure investment, but you get the quality! If you are willing to pay a bit more – for a printer that will last you a lifetime, then you are on the right track.
Key specs
Type: inkjet.
Connection: wireless, USB.
Paper sizes, inch/cm: 4 x 6 – 13 x 19 / 10.1 x 15.2 – 33 x 48.3.
Max print resolution, dpi: 4800 x 2400.
Page print speed (up to), sec: 51.
Dimensions, inch/cm: 27.2 x 15.2 x 8.5 / 69 x 38.6 x 21.6.
Pros
Craft enterprises will benefit from this large-format professional printer.
Premium print quality.
Innovative technology delivers much better black & white than a typical inkjet.
Prints fast enough.
Includes CD&DVD printing.
Straightforward software installation.
Cons
Short USB cord.
Not exactly a downside, but the machine is quite massive.
Canon Pixma iX6820 – budget choice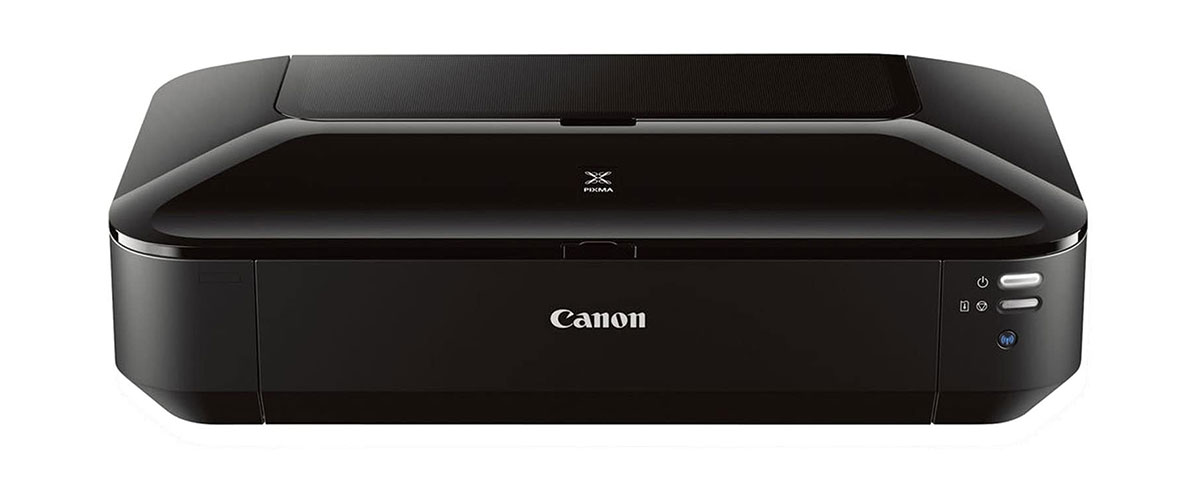 Canon Pixma iX 6820 is a perfect affordable option for those who only start Cricut or want to print quality photos at home.
With a maximum color dpi of 9600 x 2400, the print quality of this 5-color inkjet printer is certain to impress. The sharp, detailed images produced by ink droplets measuring 1 picoliter can persist up to 300 years when maintained in a photo album of archival grade. The incorporated FINE print head technology helps produce excellent borderless photographs on authentic Canon photo papers. In addition, the system boasts quick rates of 14.5 black images per minute (IPM) and 10.4 color IPM.
Another handy feature of the iX6820 is the My Image Garden program. All of your favorite printing features (for example, Special Filters or Full HD Movie Print) are simply included in this software. It also offers a calendar view and facial recognition to assist you in organizing your photos. Additionally, unique frameworks in various color combinations and patterns will help you come up with ideas for your Cricut or photo projects. You'll also have access to Creative Park Premium, which features exclusive, one-of-a-kind artistic works and materials.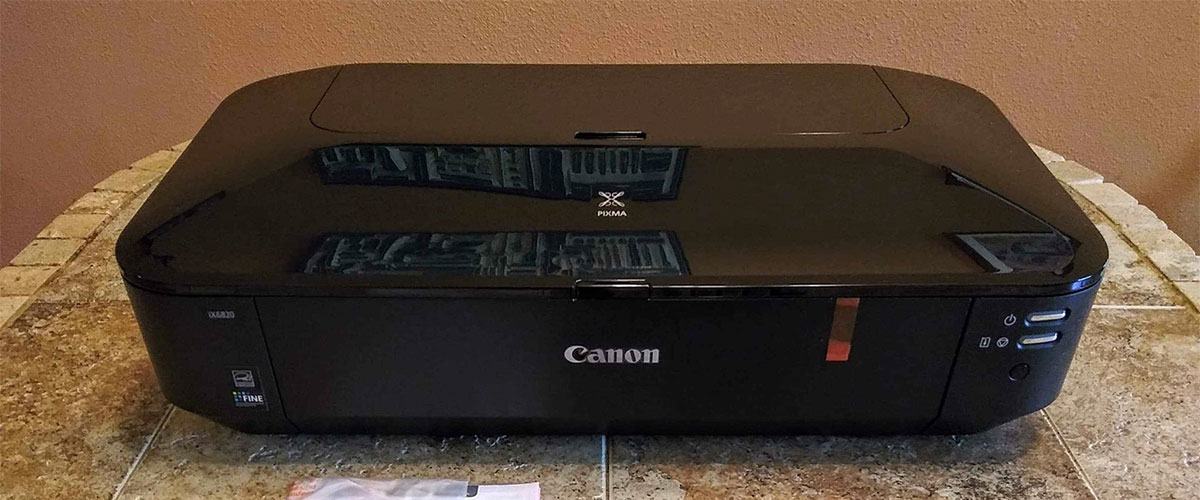 To tell the truth, I didn't expect this level of quality from such a low-cost printer! Of course, the iX 6820 can't boast HD print quality like our top products by Epson or Canon, but it still delivers exceptional printing detail and boasts a few user-friendly extras.
The Canon Pixma iX 6820 is the best affordable inkjet printer for Cricut. All in all, this is a clear pick for new crafters who need a quality device that won't ruin their family budget.
Key specs
Type: inkjet.
Connection: wireless, USB.
Paper sizes, inch/cm: 4 x 6 – 13 x 19 / 10.1 x 15.2 – 33 x 48.3.
Max print resolution, dpi: 9600 x 2400.
Page print speed (up to), sec: 36.
Dimensions, inch/cm: 23 x 12.3 x 6.3 / 58.4 x 31.2 x 16.
Pros
Is compatible with all OSs.
Uses wireless technology.
Prints from almost any of your gadgets – the printer supports Air Print, Google Cloud Print, and Pixma Printing Solutions.
Decent print quality.
Replace only the color that runs out.
Cons
It takes time for the printer to start the actual printing.
Only photo paper settings allow for borderless printing.
WiFi connectivity could be better.
Canon TS9521C – also a great choice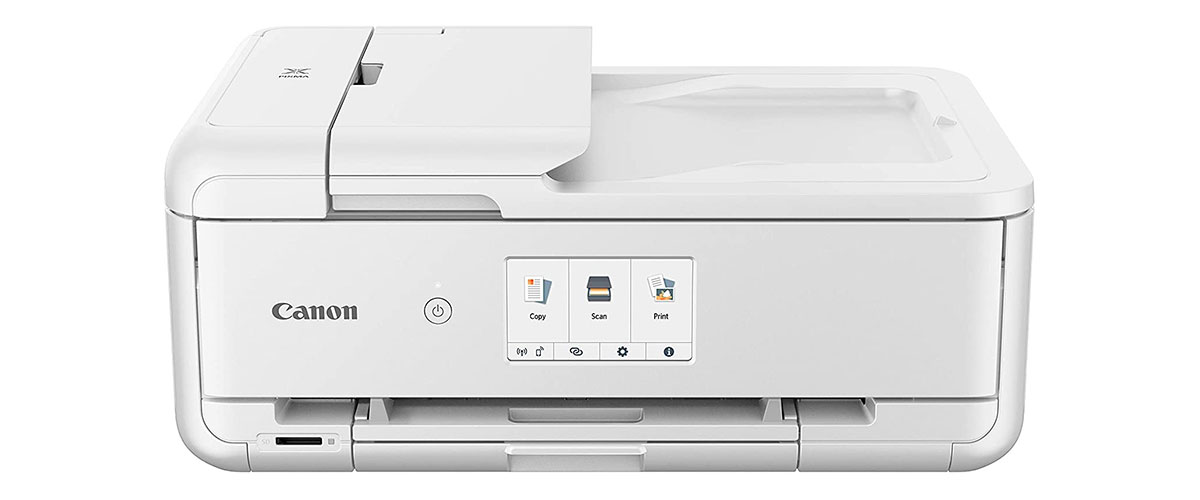 The TS9521C is another great choice from Canon. This powerful, high-quality printer is perfect for scrapbookers and Cricut enthusiasts; however, it'll easily handle your daily printing needs (e.g., documents, photos, etc.). Furthermore, this beauty is packed with plenty of creative features that make your work even more pleasurable.
To begin with, the TS9521C includes five independent ink tanks, allowing you to be more creative with your projects without worrying about running out of ink in the middle of the process. The ChromaLife100 technology also prevents photo fading, allowing you to enjoy your pictures for years to come.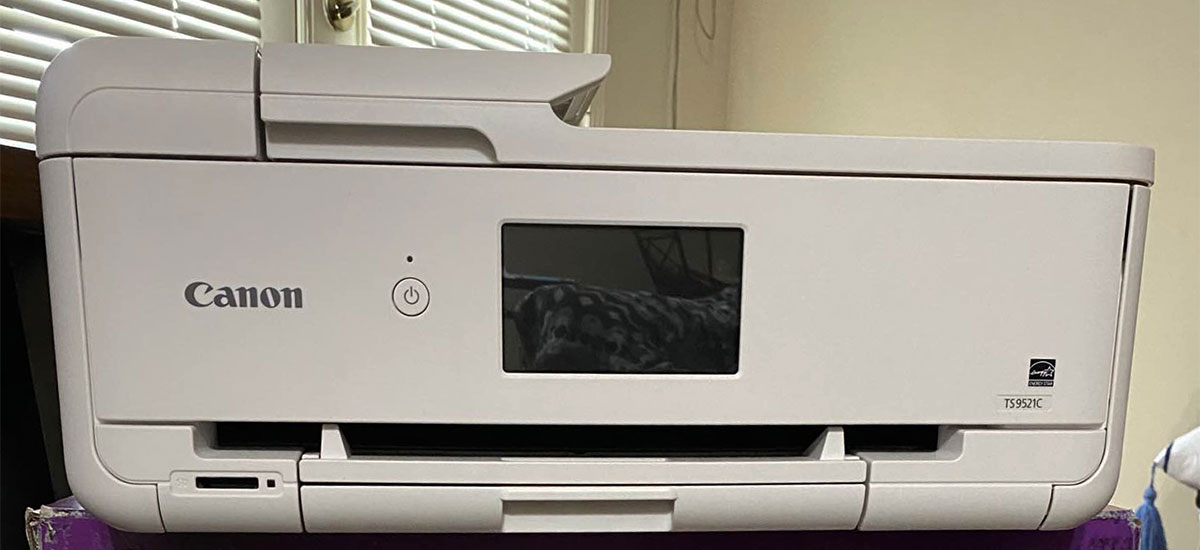 Furthermore, the TS9521C is compatible with all of your devices, including smartphones, tablets, computers, and memory cards. Finally, this printer can handle just about any project you throw at it, thanks to its 12″ x 12″ paper support, booklet style copy, and auto document feeder.
If you are looking for a reliable, multi-functional, user-friendly printer for Cricut print and cut, there is no better choice than the Canon TS9521C! Besides, this model comes at a more than affordable price – actually, it's a master of all trades!
Key specs
Type: inkjet.
Connection: wireless, USB.
Paper sizes, inch/cm: 3.5 x 3.5 – 8.5 x 14 / 8.9 x 8.9 – 21.6 x 35.6.
Max print resolution, dpi: 4800 x 1200.
Page print speed (up to), sec: 21.
Dimensions, inch/cm: 18.5 x 14.5 x 7.6 / 47 x 36.8 x 19.3.
Pros
Engineered with crafters in mind.
Can be used on various materials.
Hassle-free setup.
Extremely versatile and user-friendly.
Features wireless connectivity.
Cons
Large – not for all desks.
Not perfect for printing small images.
Plastic parts seem fragile.
Epson EcoTank ET-15000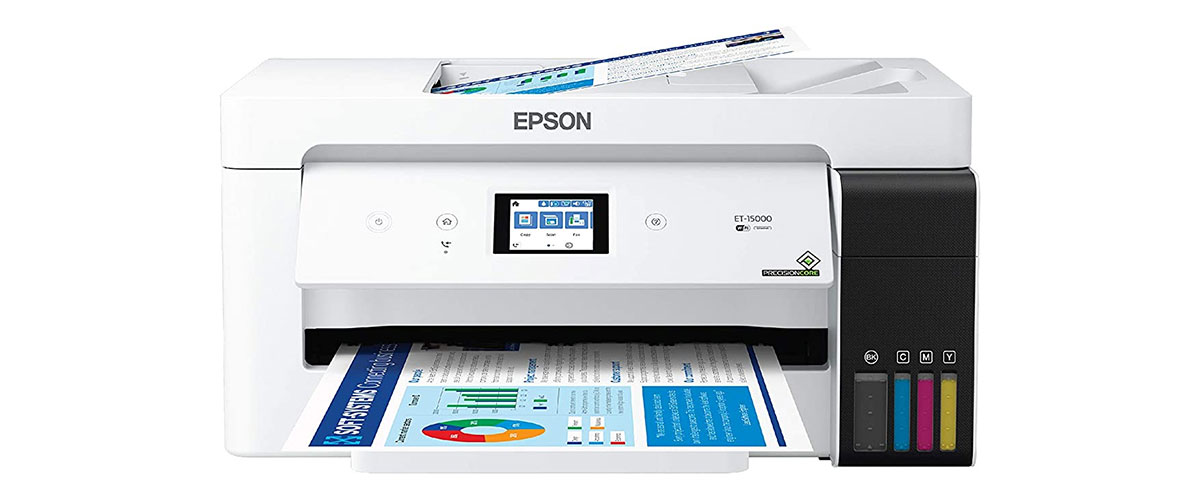 The Epson EcoTank ET-15000 is a high-performance printer that offers versatile paper handling and productivity features. More than that, it's ideal for Cricut due to its high color resolution of 4800 x 1200 dpi, so you can create beautiful, colorful, and bright designs and photos. Plus, the printer can handle the sticky nature of sublimation print jobs, which can be difficult for conventional printers to handle.
With a capacity of 250 sheets, you may print up to 13″ x 19″ papers without reloading the feeder. The printer is also equipped with an automatic 2-sided printing feature and a hands-free voice activation system, allowing for effortless control. Additionally, the ET-15000 includes an integrated Wi-Fi connection, so that you can print quickly from a mobile device or PC.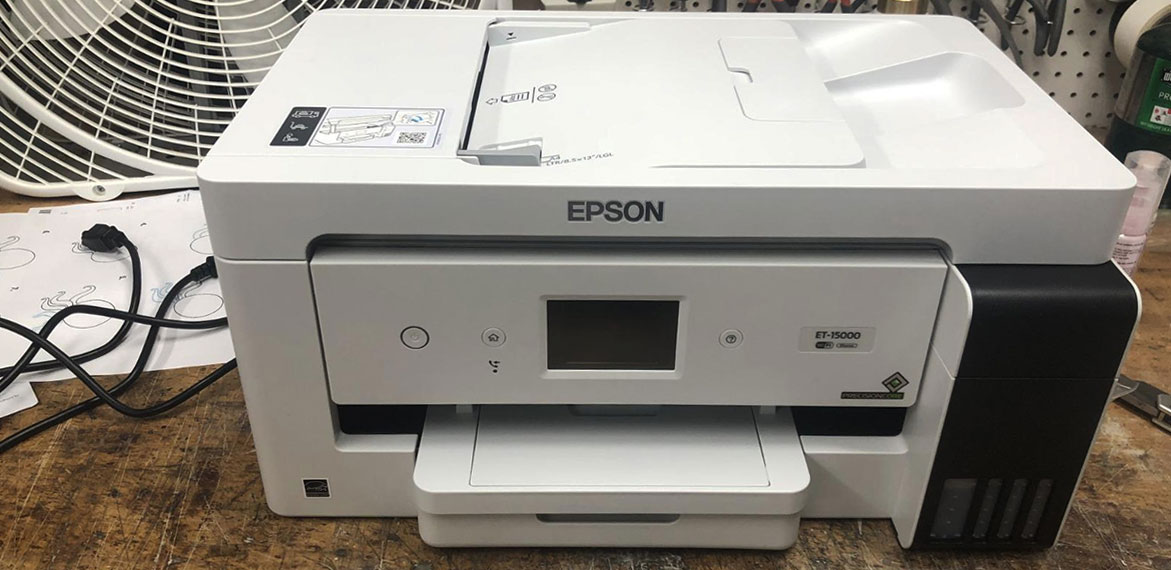 But my favorite feature of this printer is that it can keep up to two years' worth of ink, which is healthier for the environment because it reduces the waste of disposable cartridges that run out rapidly.
Epson EcoTank ET-15000 is a good printer to use with Cricut, photos, and other designs. Besides, if you value efficiency and eco-friendly features above all else, you'll love this model!
Key specs
Type: inkjet.
Connection: wireless, USB.
Paper sizes, inch/cm: 4 x 6 – 8.5 x 11 / 10.2 x 15.2 – 21.6 x 27.9.
Max print resolution, dpi: 4800 x 1200.
Page print speed (up to), sec: 6.6.
Dimensions, inch/cm: 19.6 x 29.6 x 14.3 / 49.8 x 75.1 x 36.3.
Pros
All-in-one solution.
Environmentally-friendly – Energy-Star certified, RoHS-compliant, and recyclable.
Relatively lightweight, compact, and space-saving.
Convenient and effective wireless technology.
Cons
Thicker sublimation paper sometimes catches when it feeds in from the rare and it jams.
Expensive.
How to choose a printer for Cricut?
There are a few things you need to think about when choosing a printer for Cricut. The first is whether you want an inkjet or laser printer. Inkjet printers use liquid ink that is sprayed onto the paper, while laser printers use toner, which is a dry powder that is fused to the paper using heat.
If you are only going to be printing simple designs, an inkjet printer should be fine. However, if you want to print more complex designs or photos, you will need a laser printer. Laser printers generally produce better-quality prints than inkjet printers.
The next thing to consider is the resolution of the printer. Resolution is the number of dots per inch (dpi) that the printer can print. The higher the resolution, the better quality the prints will be. However, high-resolution printers tend to be more expensive than low-resolution printers.
Finally, you need to decide what size printer you want. If you only need to print small designs, a small printer should be fine. However, if you want to print larger designs or photos, you will need a larger printer.
FAQ
Can any printer be used with Cricut?
Yes, you can use any printer with Cricut. However, we recommend using a printer that is compatible with Cricut's print and cut feature for the best results. This way, you can print your design and then have Cricut cut it out for you in one easy step.
Can you print on a Cricut maker?
Yes, you can print using a Cricut machine. All you need is the right type of paper and ink. If you want to use your Cricut machine to print on fabric, you will need a transfer paper.
Can I print and cut on vinyl?
Yes, you can use vinyl to print and cut with your Cricut machine. All you need is the right type of vinyl and transfer tape.
Can I use an inkjet printer with Cricut?
Yes, you can use an inkjet printer with Cricut.
We are supported by our audience. When you purchase through links on our site, we may earn an affiliate commission at no extra cost to you.
Our newsletter
* We will never send you spam or share your email with third parties