Do you love crafting? Going to start a crafting business at home? Then a good printer for Cricut might be a blessing to you!
A printer for Cricut is a technologically advanced machine that often utilizes specific software to help you with those print & cut projects. Using such a machine, you can literally create anything you could dream up!
Our pick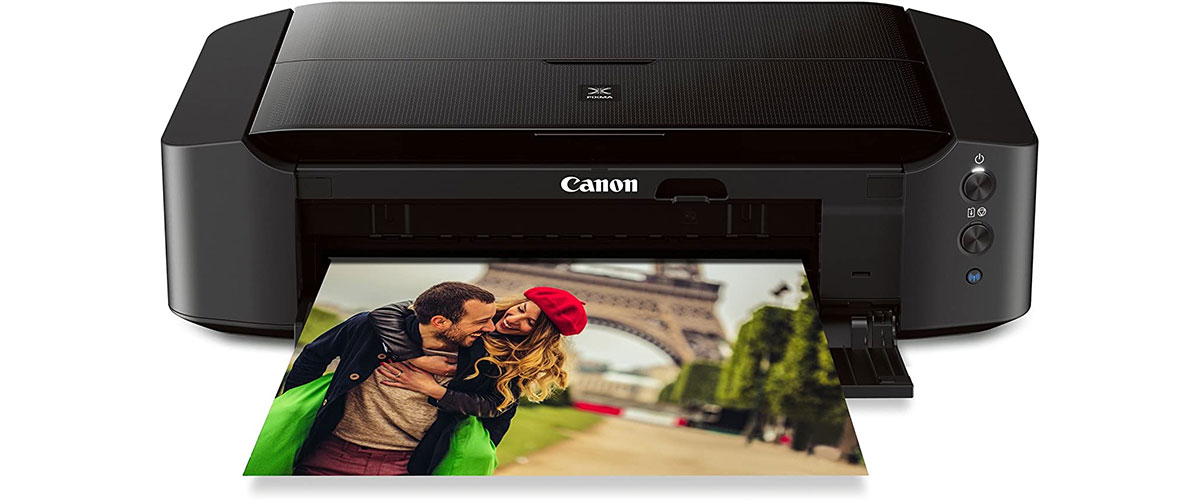 Canon PIXMA iP8720
Best printer for stickers
The PIXMA iP8720 allows you to print stunning borderless photos up to 13″x19″ – a variety of sizes for all of your DIY projects!
However, printer selection can be a little nerve-racking since the market is full of various models with multifarious characteristics! So, I've prepared a list of the best printers for Cricut to save you plenty of time and effort. Plus, make sure to read my buying guide to choose the right model for your needs!
Name
Type
Max print resolution, dpi
Page print speed (up to), sec
Review
Canon PIXMA iP8720

best overall

inkjet
9600 dpi x 2400 dpi
36 sec
Review
HP OfficeJet Pro 8210

budget choice

inkjet
2400 dpi x 1200 dpi
10 sec
Review
Canon Pixma Pro-100

premium printer

inkjet
4800 dpi x 2400 dpi
51 sec
Review
Best printers for stickers review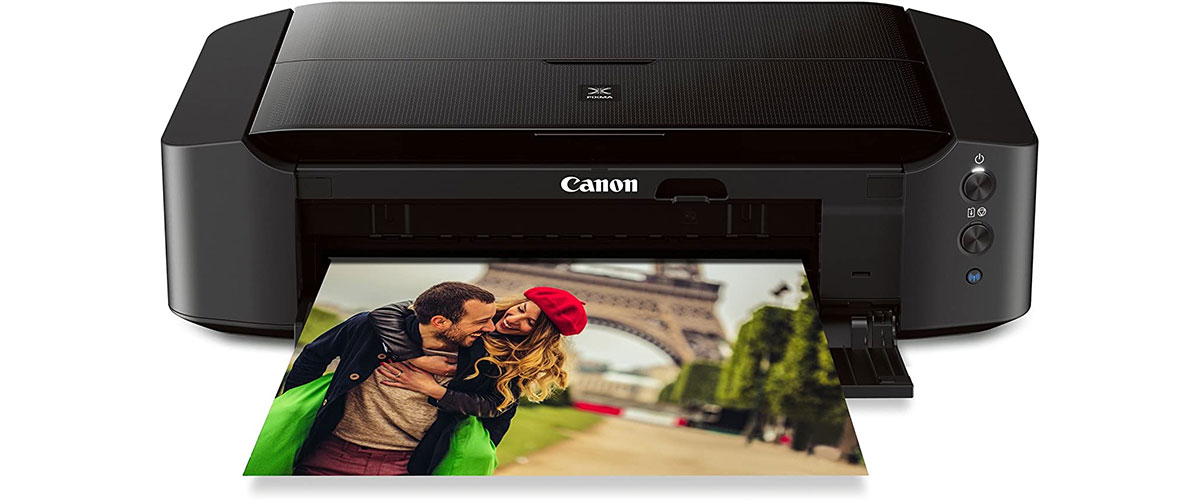 I've included several printers by Canon on my list, and for a good reason. This Japanese brand started in 1934 and since then has been manufacturing high-quality, innovative, globally-recognized optical and imaging products.
Their PIXMA iP8720 has a lot to offer! Actually, this is a professional-grade printer with a pretty affordable price tag, making it an excellent pick for both seasoned crafters and newbies!
This high-performance model is capable of producing any kind of sticker – it prints images up to 13''x19''. Moreover, due to the 6-color inject system and maximum color DPI of 9600 x 2400, it excels numerous printers out there in delivering bright, highly-detailed, long-lasting prints.
I was also impressed with the machine's high speed – 14.5 images per minute (IPM) for black and 10.4 IPM for color – it's perfect for anyone who wants to print high-quality pictures quickly and easily.
This printer also includes unique, innovative technology – FINE (Full-photolithography Inkjet Nozzle Engineering) with a patent-protected print tip shooting ink droplets as tiny as 1pl – they are really minute, actually, the smallest I've seen in any system I owned. As a result, it allows for exceptional detail in the black & white and color photos. Plus, the pigment-based black ink provides extremely sharp texts, making this printer ideal for both images and documents.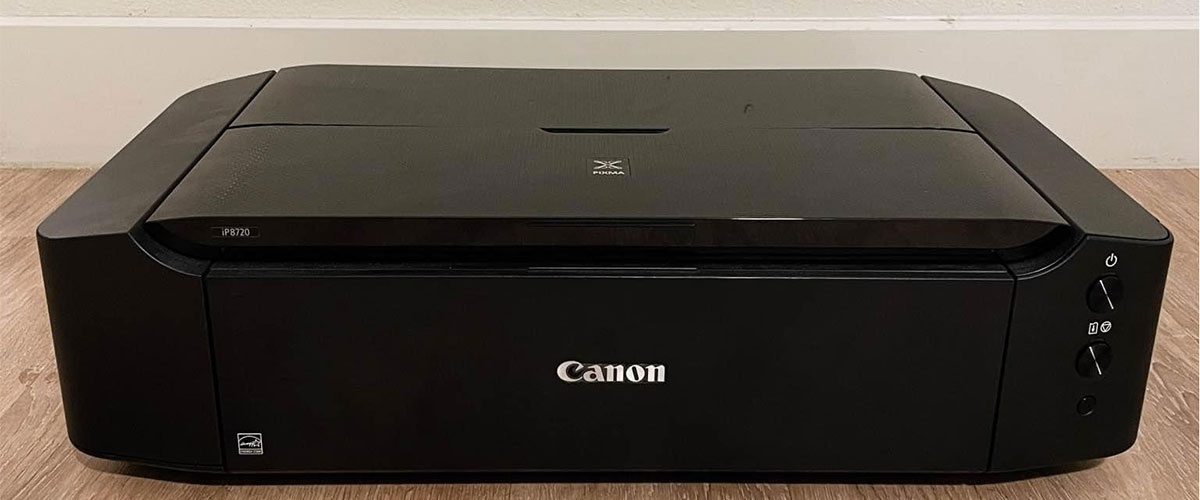 The PIXMA iP8720 competes head to head with another great printer from my list – Epson Expression Premium XP-6000. While they both are equipped with high-quality components and come at a great price, the PIXMA delivers far better colors – the artworks are an exact color match from what is seen on a calibrated professional monitor.
Canon PIXMA iP8720 is the overall best printer for stickers available on today's market. It boasts a killing combination of versatility, fantastic color reproduction, durable construction, perfect size, and an affordable price. What not to love?
Key specs
Type: inkjet.
Connection: wireless, USB.
Paper sizes, inch/cm: 4 x 6 – 13 x 19 / 10.1 x 15.2 – 33 x 48.3.
Max print resolution, dpi: 9600 x 2400.
Page print speed (up to), sec: 36.
Dimensions, inch/cm: 23.3 x 13.1 x 6.3 / 59.1 x 33.2 x 16.
Pros
Highly-detailed, vibrant prints.
Versatile – you can use it with the variance of paper sizes and quality.
Easy setup and use.
Strong, well-built chassis.
Compact – takes up little space.
Utilizes wireless technology.
Cons
Wireless can be a bit of a hassle for some users.
HP OfficeJet Pro 8210 – budget choice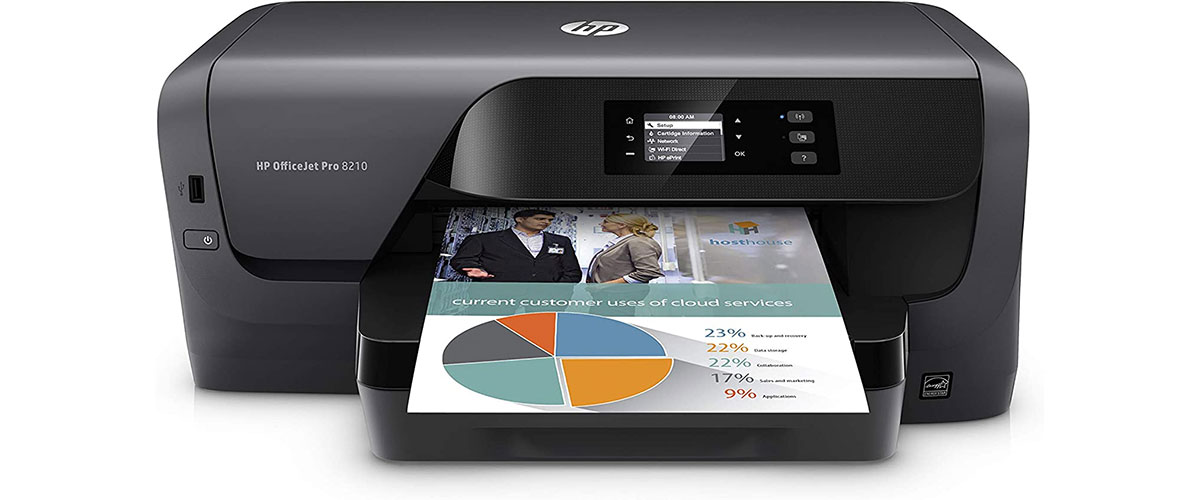 HP is known for making great printers suitable for home or office use. Their OfficeJet Pro 8210 is no exception! It's an amazing printer for those who want an all-in-one solution but are a bit on a budget. Although this model is relatively inexpensive, it still has everything you may expect from a decent-quality printer.
First off, this machine is very economical – due to HP Instant Ink and printing on both sides of the page, you can save up to 50% on paper and ink costs. Even our top-list product Canon PIXMA iP8720 can't boast such an advantage!
As I mentioned above, the Pro 8210 is an all-in-one machine – it can print, scan and copy. Plus, it handles huge print runs (about 30.000 pages in a month), so you can use it for commercial needs.
This machine does have a lower resolution than some higher-end versions, with color printing restricted to 2400 x 1200 DPI. However, it's still a good sticker printer – if you're a beginning or casual user, the picture quality will be quite enough.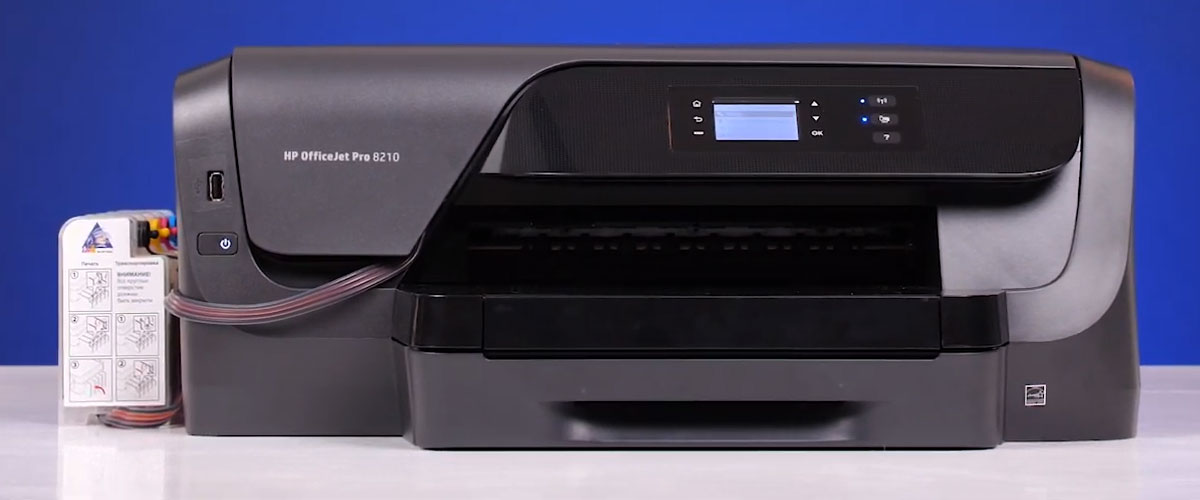 Other things I appreciate about this printer are its integrated Wi-Fi and free HP Smart application, which enable you to print straight from your devices and make printing even more straightforward.
If you're looking for the best budget-friendly sticker printer, you may end your search here! This intelligent, versatile, and easy-to-use machine delivers good speed & print quality in black, white, and color. Well worth the purchase!
Key specs
Type: inkjet.
Connection: wireless, USB.
Paper sizes, inch/cm: 4 x 6 – 13 x 44 / 10.1 x 15.2 – 33 x 111.8.
Max print resolution, dpi: 2400 x 1200.
Page print speed (up to), sec: 10.
Dimensions, inch/cm: 19.5 x 16.5 x 8 / 49.6 x 42 x 20.3.
Pros
Efficient yet economical.
Fast and responsive.
Long-lasting inks.
Powerful printing app.
Has a quiet mode.
Cons
The Wi-Fi setup may be a little complicated, but it performs smoothly once you go through the processes.
A bit bulky for some users.
Epson Expression Premium XP-6000 – also a great choice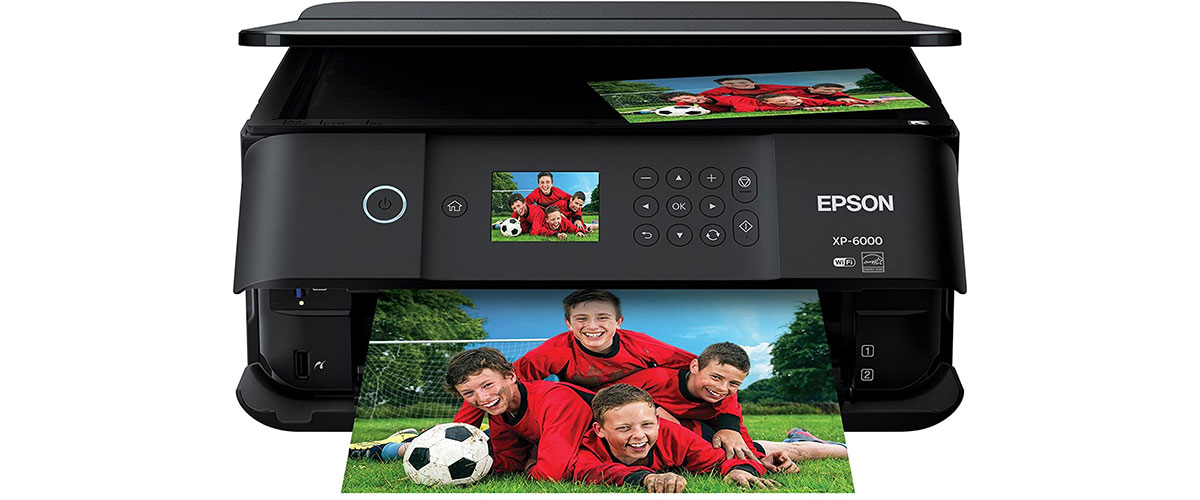 Japanese electronics brand Epson was established in 1975. Now, it's one of the most significant manufacturers of information- and imaging-related devices.
Expression Premium XP-6000 by Epson is a super slim yet powerful beast that will make your crafting process a breeze! While testing, I had almost zero issues with this printer! I'd say the overall quality is more than respectable for such a small footprint.
The machine's 5 color inks produce good-looking stickers on any surface. Next, print rates of 15.8 ISO PPM for monochrome and 11.3 ISO PPM for color are fast enough for home or business use.
Furthermore, this model has convenient, hassle-free features like automatic double-sided printing, incorporated USB & memory card ports, universal printing dedicated picture and DVD trays. This means that you can print your artworks on any surface, e.g., paper, cardboard, textile, and more.
The XP-6000's wireless technology lets you print from numerous devices without a network. By the way, this model's wireless connectivity works just fine, unlike many other printers out there.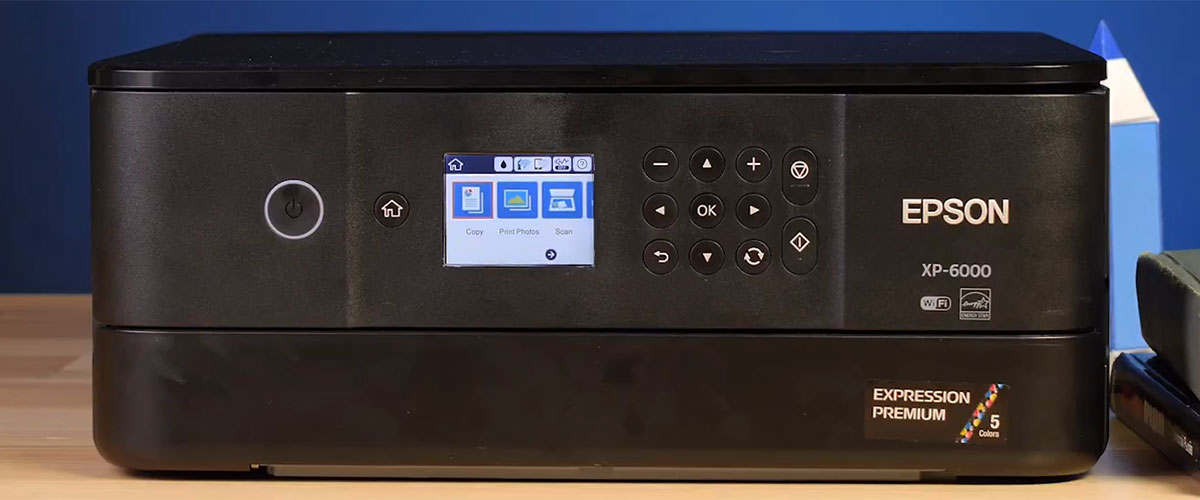 Finally, you won't waste your money on buying new ink cartridges every time you run out of ink since the printer boasts inexpensive separate cartridges, so you simply change the one that's empty.
Epson Expression Premium XP-6000 is another great printer for making stickers. It provides fine quality like all models on this list, but what I like the most about the XP-6000 is its small body packed with powerful features – that's where it shines!
Key specs
Type: inkjet.
Connection: wireless, USB.
Paper sizes, inch/cm: 3.5 x 5 – 8.3 x 11.7 / 8.9 x 12.7 – 21 x 30.
Max print resolution, dpi: 5760 x 1440.
Page print speed (up to), sec: 15.
Dimensions, inch/cm: 13.7 x 19.8 x 5.6 / 34.8 x 50.2 x 14.2.
Pros
All-in-one solution.
Delivers detailed images and clean documents.
Compact – fits on any desk.
Straightforward to use – it explains why it's not printing and even demonstrates little pictures to you.
Easy to understand manual.
Quiet operation.
Cons
May be a bit slow for commercial needs.
Flimsy paper trays.
There is no firm stop when you put the paper trays in, so they can be pushed a bit too far into the printer.
Canon Pixma Pro-100 – premium printer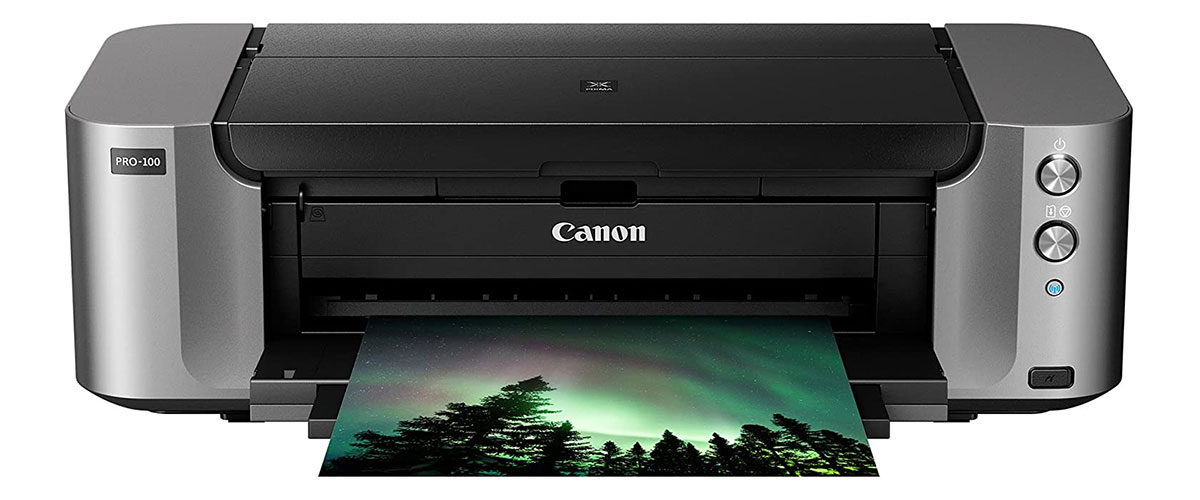 Seasoned creators seeking a premium-quality piece of equipment can go no farther than the Canon Pixma Pro-100, which provides everything professionals may require from the cutting-edge printer for labels and stickers.
This beauty includes eight dye-based inks, 3 of which are specialized grayscale inks for excellent black-and-white images, raising the overall print quality. By choosing the proper ink mix and placement, the breakthrough picture technology reproduces colors precisely as intended. Furthermore, owing to the unique FINE technology and a maximum resolution of 4800 x 2400 dots per inch, the printer delivers amazingly clear and highly detailed pictures.
The Pro-100 produces images up to 13 inches by 19 inches on various surfaces. It also includes two handy and large feeders that can accommodate up to 50 plain pages or 20 photo papers, making it capacious enough for business use.
To save your money, this model accepts both stand-alone CLI 42 ink containers and value packs. Moreover, you can only replace inks that have run dry!
Last but not least, the printer's incredible connection will astonish you: it has Wi-Fi and Ethernet, as well as computer-free printing, a high-speed USB connection, and AirPrint for Apple devices. All of this makes it possible for you to print fast and efficiently from anywhere.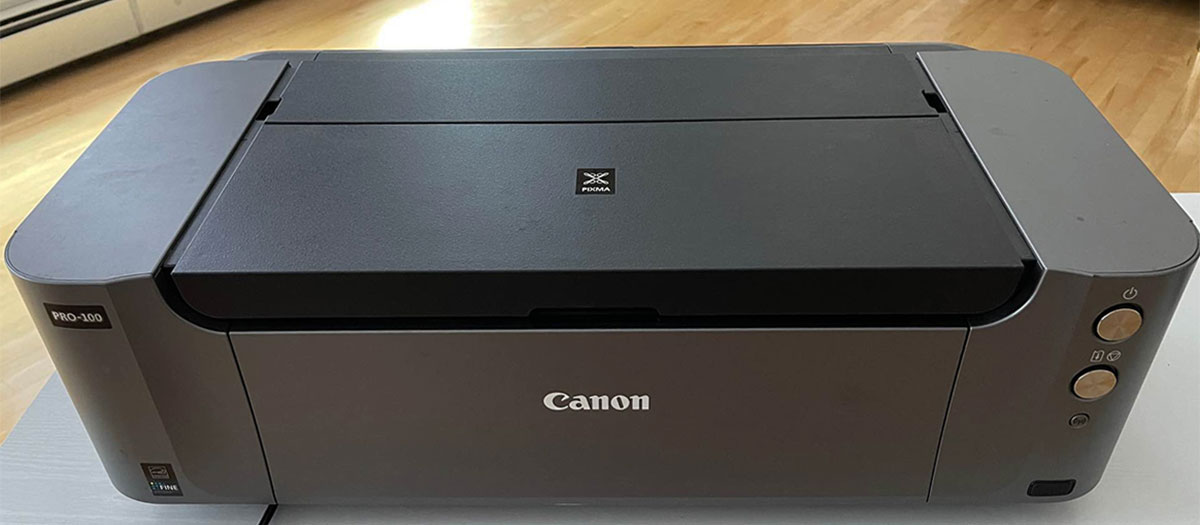 You might wonder why I don't put this product at the top of my list if it has so many awesome characteristics and specs. Here's the answer: our winner, Canon PIXMA iP8720, has the best price-to-quality ratio and is good for most users. On the other hand, the Pro-100 is engineered with professionals in mind – it boasts high-end materials, components, and technology, which a casual hobbyist may not need.
Canon Pixma Pro-100 is a premium-quality inkjet printer for stickers. Although this is the highest-price model on my list, it creates visually perfect images without losing the eye for the finest details! Worth every penny!
Key specs
Type: inkjet.
Connection: wireless, USB.
Paper sizes, inch/cm: 4 x 6 – 13 x 19 / 10.1 x 15.2 – 33 x 48.3.
Max print resolution, dpi: 4800 x 2400.
Page print speed (up to), sec: 51.
Dimensions, inch/cm: 27.2 x 15.2 x 8.5 / 69 x 38.6 x 21.6.
Pros
This large-format professional machine will be useful for craft businesses.
Delivers top-quality pictures and documents.
Operates quickly.
Prints on various materials.
Effortless setup.
Cons
The USB connector is short.
Massive construction.
HP Neverstop Laser MFP 1202w – best laser sticker printer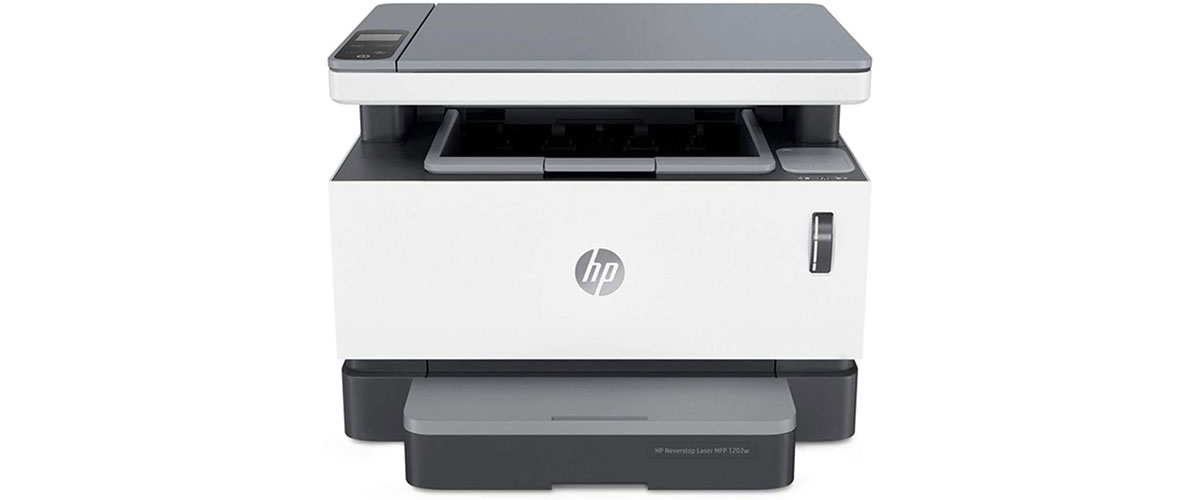 Although inkjet printers do a better job of mixing and delivering lively colors than laser printers, there are many reasons why you may like the HP Neverstop Laser MFP 1202w.
Starting off, this all-in-one device (includes printer, scanner, and copier) is ideal for home offices and small enterprises. It has a 150-sheet paper tray and up to 5,000 pages of toner (far more than ordinary in-class machines), so you may print for an extended period of time without a problem.
The user-friendly mobile printing application allows you to keep your workplace linked with built-in wireless capabilities and print from any of your devices utilizing Wi-Fi Direct without a network.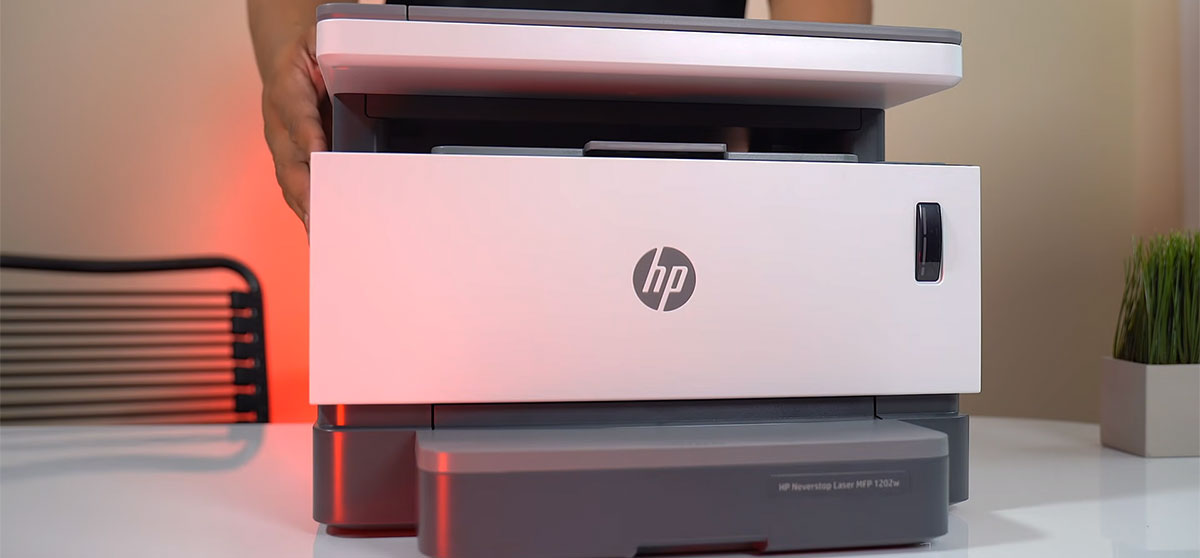 Energy Star-certified with a 16% smaller environmental footprint than other printers in its class, the MFP 1202w is an excellent choice for green offices and homes.
If you're looking for the best laser sticker printer, do consider HP Neverstop Laser MFP 1202w! This workhorse is highly-versatile, it delivers good-quality images, perfect-quality documents and will last you a lifetime. Love this babe!
Key specs
Type: laser.
Connection: wireless, USB.
Paper sizes, inch/cm: 4 x 5 – 8.3 x 11.7 / 13 x 11.7 – 12.7 – 21 x 30.
Max print resolution, dpi: 600 x 600.
Page print speed (up to), sec: 3.
Dimensions, inch/cm: 14.98 x 11.55 x 11.3 / 38.1 x 29.3 x 28.7.
Pros
Fast and efficient printing.
As it's a laser model, you'll never need to clean a print head.
Easy to install.
Eco-friendly.
Stylish design.
Cons
Might be not good enough for pro crafters.
Cheap construction.
What do I need to print stickers?
The following stuff is required to create stickers:
Appropriate material
Sticker paper and vinyl are the two materials that crafters most frequently use for printing stickers – which one to select will rely on your requirements and budget.
Paper is a more affordable and straightforward way to create stickers and labels. Using paper, you can make instant photo stickers, name tags, vinyl record sleeves, and dozens of other personalized items.
Vinyl is a costlier but more durable material, making it great for commercial use. For example, specialists use vinyl for promotional stickers, product labels, laptop or bumper stickers, etc.
The right printer
Not all printers can work with sticker paper or vinyl, so be sure to check before purchasing one! Of course, all models I've included on my list are engineered for sticker printing and will deliver beautiful results.
Specific software
You'll need Photoshop, Illustrator, or other image editing software (e.g., GIMP) that lets you design and print stickers.
And last but not least, a firm hand and a nice pair of scissors are your must-have for the sticker-making procedure!
Sticker printer buying guide
Below I'll go through some of the most crucial things to consider when purchasing a sticker printer:
What printer type to choose: inkjet or laser?
There are two types of printers available on today's market: laser printers and inkjet printers. Each has its benefits and drawbacks, however, they are both suitable for label printing.
Laser models are often faster and better for big print runs. They produce crisp text and colors, but their image quality falls short of that of inkjet printers. Further, laser cartridges last significantly longer than ink ones, although they are more expensive to replace. Moreover, laser printers have the benefit of being able to use white toner on dark surfaces (something an inkjet printer cannot), making laser machines ideal for producing black stickers. However, because they use heat to adhere the toner to the sheet, you must be careful when selecting sticker paper – not all materials are appropriate because they may melt.
Inkjet printers, on the other hand, are less expensive, but their cartridges must be replaced more regularly. Due to their enhanced resolution and image quality, these models are excellent for generating premium vinyl stickers with a sharp, colorful finish. Remember that inject printers often operate at a slower rate!
Print sizes
You must determine the sort of stickers you intend to design. Would you like to create little stickers, or do you also need larger ones? When shopping around, bare in mind that not all printers can handle bigger formats. Ensure you double-check the paper sizes your printer supports.
Print resolution
Your printouts' clarity and sharpness will be determined by the printer's resolution. Most sticker printers have a resolution between 300 and 720 DPI (dots per inch), which is acceptable for most tasks. If you need to print high-quality stickers, though, you should pick a printer with a higher resolution (minimum 1200 DPI).
Color accuracy
Choosing a printer with high color accuracy is critical when printing stickers, this way your artworks will seem as near to the colors you see on your computer as feasible. Many contemporary printers have outstanding color fidelity with 5-6 different inks supplied.
FAQ
Do you need a certain printer for stickers?
No, you don't need a special printer for stickers. You can use any type of printer, as long as it is able to print on sticker paper.
Does sticker paperwork with any printer?
Sticker paper is designed to work with any type of printer, so you shouldn't have any problems using it with yours.
What paper do I need to make stickers on?
The best paper to use for making stickers is sticker paper. This type of paper is specifically made for printing stickers, so it will work well with any printer.
What's the difference between printable vinyl and sticker paper?
Printable vinyl is a type of sticker paper that is designed to be durable and water-resistant. Sticker paper is less durable and not as resistant to water, but it is cheaper and easier to find.
How can I make high-quality stickers at home?
There are a few things you can do to make high-quality stickers at home:
Make sure you use a high-quality printer and sticker paper.
Use a design program like Adobe Photoshop or Illustrator to create your design.
Print out your design on regular paper first to make sure it looks the way you want it to before printing it on sticker paper.
Cut out your stickers carefully with a sharp knife or cutting tool.
We are supported by our audience. When you purchase through links on our site, we may earn an affiliate commission at no extra cost to you.
Our newsletter
* We will never send you spam or share your email with third parties