With foil lamination, the documents you wrap are more prone to withstand humidity, while the arts and crafts you create get a unique and shiny look. Whether you are considering foil lamination for design or protection purposes, either way, you will need a special m9 machine that would help you apply foil to your crafts projects.
When it comes to purchasing the best laminator for foiling, it might turn out to be a tough call to make. These devices are not an everyday purchase, and their selection will completely rely on personal preferences.
Let me offer you a little guidance and explain some of the key points you've got to keep in mind when getting a foil laminating machine. You will also find a few top models with detailed reviews.
Our pick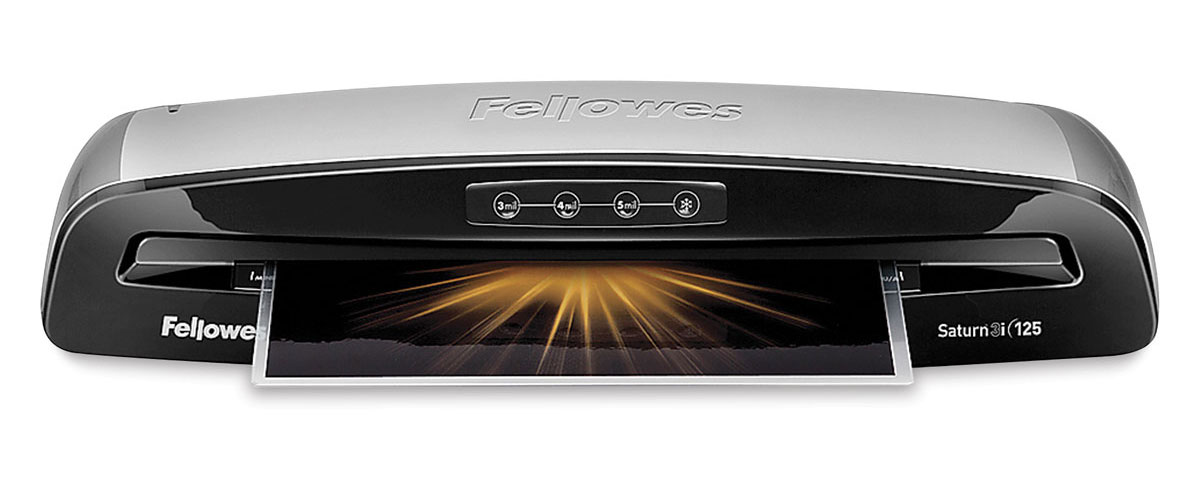 Fellowes Saturn 3i 125
Best laminator for foil crafts
Advanced thermal laminator for the office or classroom. Rapid 1-minute warm-up with InstaHeat Technology.
Name
Feed width
Max. pouch thickness
Jam prevention
Review
Fellowes Saturn 3i 125

best overall

12.5 inch
5 mil
yes
Review
Fellowes Jupiter 2 125

for professionals

12.5 inch
10 mil
yes
Review
Scotch TL906

budget

9 inch
5 mil
yes
Review
Swingline Inspire Plus

applicator/laminator combo

9 inch
5 mil
yes
Review
What to look for when choosing a laminator for foiling
Laminators come with numerous features, and the choice of the perfect model will completely depend on your crafting needs. If you are an artsy-craftsy newbie and won't be using it frequently, you might go with a cheaper and less feature-packed laminator. If that's not the case for you, give heed to these characteristics.
Maximum document width
The feed width of the sheets a crafting laminator can take defines what crafts projects you can handle. The wider the width is, the more versatile the item is. Nearly all laminators allow putting the paper as wide as 12 inches, but you can also find options with the 9 inches width capacity.
Apart from the feed area, I would also recommend considering the overall size of the sheet. Some models can take only A6-A4 sheets, while others would work for A2.
Laminating speed
If you plan to use the foil laminator occasionally and do not consider handling big volumes of projects, the laminating speed might not be a critical factor for you. But you should know the optimal speed range is something between 12 inches (300 mm) to 23.6 inches (600 mm) per minute.
Pouch thickness
The laminating pouches thickness is measured in thousands of an inch, referred to as mil. This characteristic can be found exclusively in pouch laminators. There are a variety of thicknesses the laminator can support, starting with 1,5 mil (the most cost-effective option) to 10 mils. You can find this feature in the product's tech spec. The rule of the thumb says that bigger pouch thickness ensures advanced protection and makes the art piece suitable for heavy-duty use.
Standard desktop laminators support 3-5 mil pouch thickness options. The optimal thickness for foiling crafts is 5-10 mil.
Temperature settings of laminating machine
There are hot and cold laminators out there, but hot ones are the most common type. Hot laminators for foil use heat (between 220°F to 300°F) to unlock the adhesive properties inside the laminating pouch or film to seal the plastic over the sheet.
Heat settings are especially crucial for foiling as even the slightest deviations can disfigure the project and cause the foil to get stuck in the unit. But once you set the proper temperature, you will end up having a more durable and wear-resistant laminated sheet.
Jam prevention features
Applying foil on the paper or any other surface can be a hassle when your laminator is jammed. Unjamming it by yourself can be time-consuming, nerve-wracking, and sometimes even impossible.
You would say thank you someday by getting a quality laminator with a jam release capability. An anti-jam technology will prevent damage to your project and the unit by itself.
Heat-up time
Since most laminators use heat to make the paper and pouch stick together, you should give the machine some time till it gets to the right temperature. This might take various periods, depending on the device.
An inexpensive laminator reaches its optimal temperature within around 5-15 minutes. Professional-grade devices are much faster and warm up in a minute or two to ensure faster workflows.
Best laminators for foil review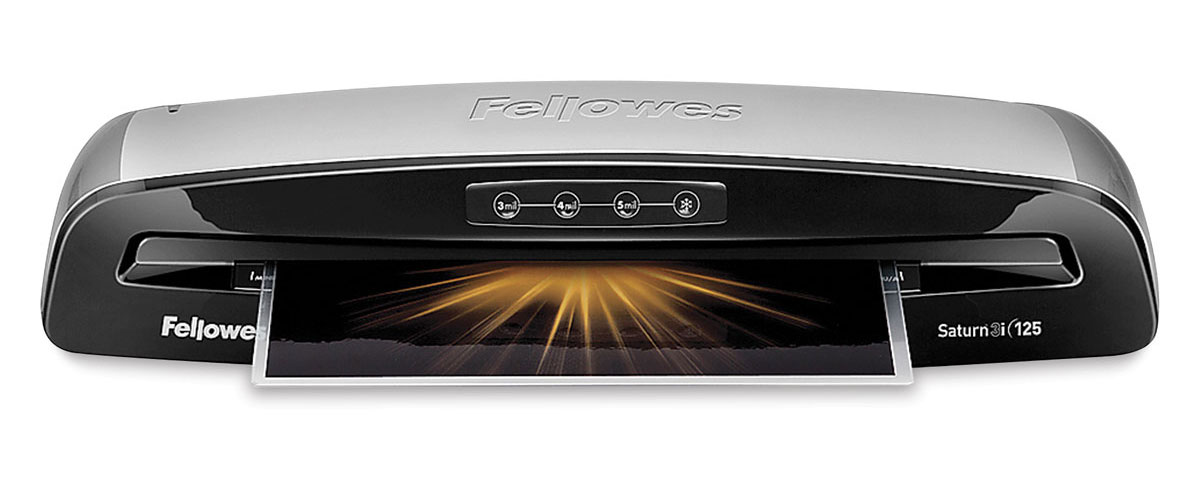 If you are in search of a great laminator that would be suitable both for foil projects or intense use in the classroom, this Fellowes Saturn 3i 125 is an outstanding option due to plenty of characteristics.
By supporting both hot and cold 3-mil and 5-mil pouches and due to the 12-½ inches feed width, the laminator accommodates multiple document sizes and allows you to handle your foiling projects of the defined size range with ease. This device won't make you wait long as it heats up in around 1 minute due to the InstaHeat technology. It will notify you that it is ready to use by sending a light and sound signal.
Similar to Fellowes Jupiter 2 125, this model boasts an auto shut-off feature to prevent overheating and save electricity when not in use. But this model has a manual jam-prevention mechanism that allows the user to disengage the pouch for re-centering or removal (unlike a smart tracking system in Jupiter's product).
I am very satisfied with the finished project look. There are no bubbles, and the foil sticks really well. But I noticed that the top of the page started coming out slightly wavy horizontally after some time of use. That might not be an issue if you do not strive for perfection.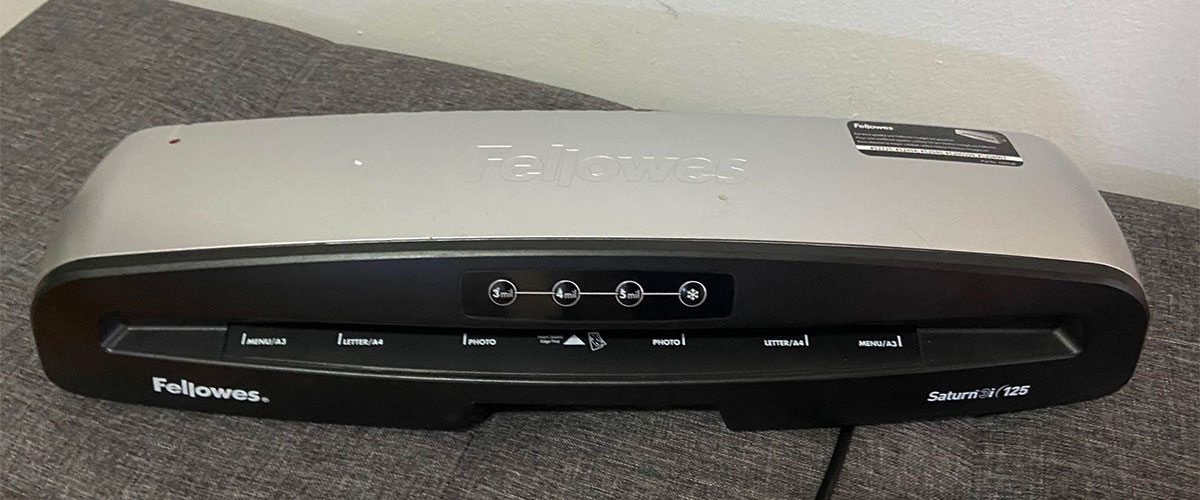 This unit is easy to use. There are convenient buttons on the panel that allow you to easily switch between 3, 4, and 5 mil pouch thickness options. You can also find a cold laminating button if you would like to laminate the sheet by applying pressure on the material with strong adhesive.
Due to the versatile characteristics like the optimal pouch thickness, feed width, rapid warm-up time, and ability to fix the jamming issue effortlessly, the Fellowes Saturn 3i 125 is the best laminator for foil crafts.
Key specs
Feed width, inch: 12.5
Heat-up time, min: 1
Max. pouch thickness, mil: 5
Jam prevention: yes
Pros
12-½ inches feed width enables to run projects of various sizes
Gets to the optimal temperature in around a minute
Supports 3, 4, 5 mil pouches
Applicable for both cold and hot laminating
Manual jam-prevention mechanism
No bubbles and foil sticks perfectly.
Cons
The top of the page comes out wavy after extended use.
Fellowes Jupiter 2 125 – for craft professionals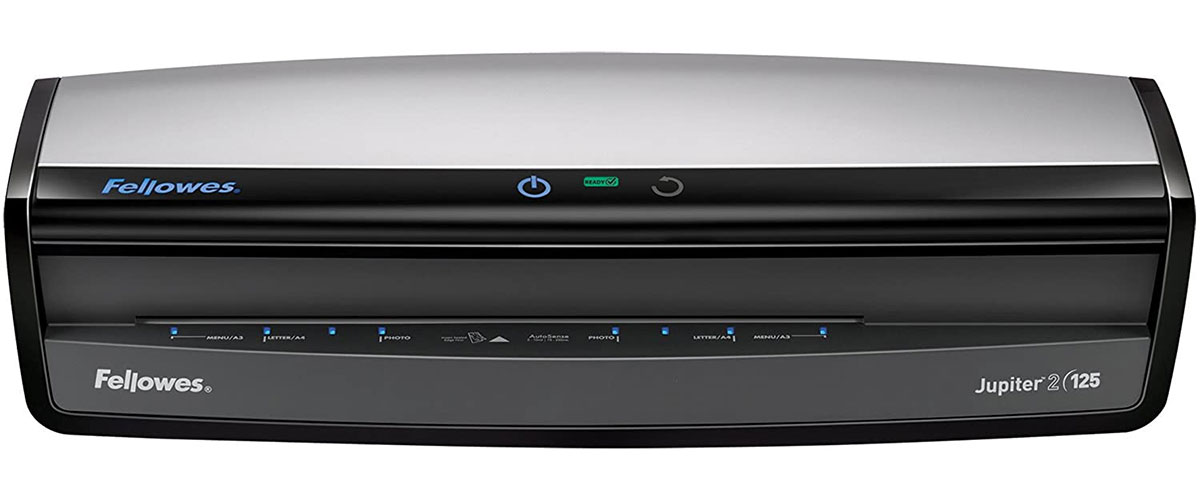 If you've transitioned to a new stage of your artsy-craftsy project, and now you desperately need a professional-grade unit to carry your foiling craft pieces, the Fellowes Jupiter 2 125 might satisfy your requirements.
Unlike Fellowes Saturn 3i 125, this device laminates cold and hot pouches with a max thickness of 10 mil. In this way, you can cover more projects of various quality. Thanks to a smart AutoSense system, you no longer have to hit the button to select the right pouch thickness. This device will automatically detect this characteristic and self-adjust to the proper laminating setting.
The rapid heat-up time (one minute) allows you to quickly embark on laminating without wasting a minute. Up to 12.5 inches feed width allows you to handle A3 and A4, photos, and smaller projects. The robust 6-roller system ensures the utmost foil stickiness and lamination quality.
With an auto-reverse and advanced pouch tracking system, the laminator will automatically reverse the pouch in the event of misfeeds. With an auto shut-off mode, you no longer have to worry about overheating or advanced electricity consumption.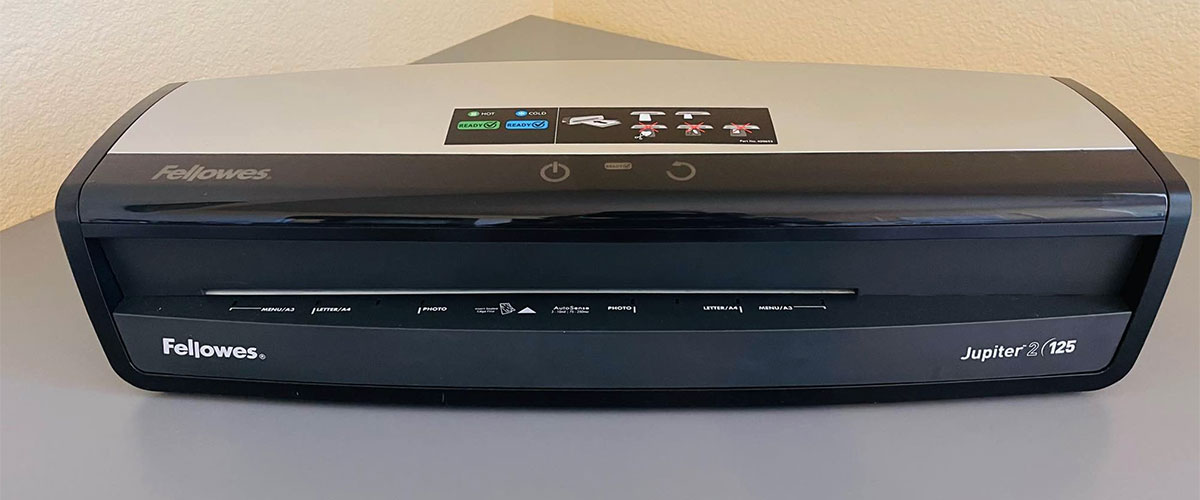 This unit is smooth, quiet, and does not get hot when it operates. It effortlessly handles 10 mil pouches and delivers great foil laminated projects without jams. I noticed that it takes more than one minute to fully warm up. The laminator will do its job within this heating period, but the projects prove to be of a higher quality when you allow at least 5 minutes. But this is not a big price for the excellent result, is it?
Because of advanced features like an auto pouch thickness detection, robust anti-jam system, A3 sheet format support, the Fellowes Jupiter 2 125 laminator for 10 mil pouches would become a wise choice for crafts professionals
Key specs
Feed width, inch: 12.5
Heat-up time, min: 1
Max. pouch thickness, mil: 10
Jam prevention: yes
Pros
12.5 inches feed width to support photos, A4, A3 formats
Advanced jam prevention control
Operates smoothly and quietly without overheating
Self-adjusts to the pouch thickness (supports 10 mil pouches).
Cons
Will require more than a minute to warm up for better results.
Scotch TL906 – budget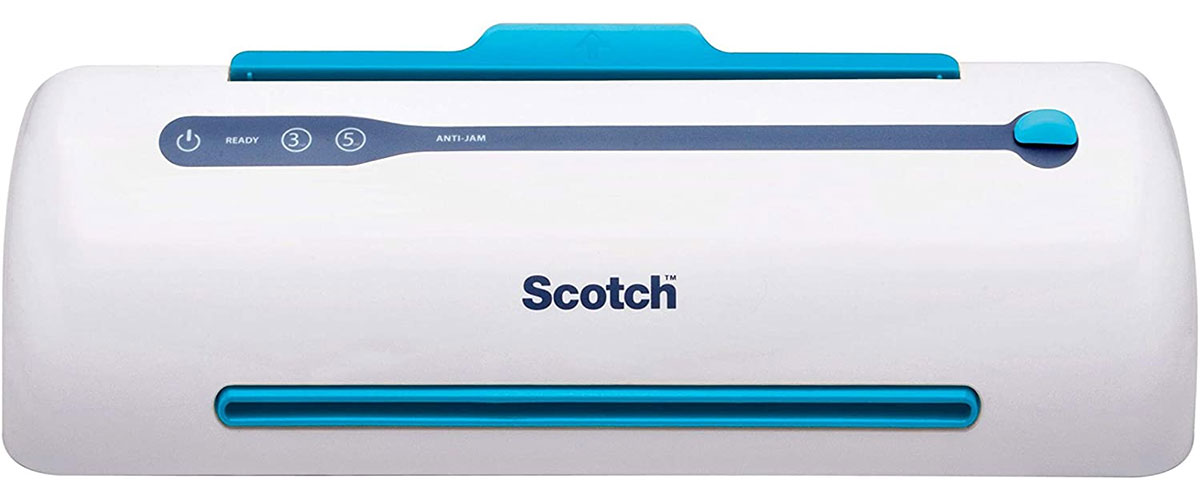 Create laminated documents or foil crafts with the Scotch TL906 laminator.
This device supports 3 to 5 mil thick pouches and allows up to 9 inches of feed width so you can handle photos, business cards, ID badges, letter-size files, and other standard sheets. Similar to Swingline Inspire Plus, this item requires around 5 minutes to get to the right temperature. You will see the indicator going green, meaning that you can proceed with your foiling projects. But I would recommend you wait a little more (10-15 minutes) to get better results.
This laminating machine features a 2-roller system and operates at 15 inches/min speed. There is also a Never Jam technology that prevents misfed items. It will also automatically shut off after an hour of inactivity to preserve energy.
The Scotch TL906 laminator is intuitive and easy to use. You can pick the right pouch thickness with one of the buttons. It's a little noisy when operated but does its foiling job pretty well. The projects come out smooth, and foil pieces stick to the toner, but I had to run them several times through the machine to improve the stickiness.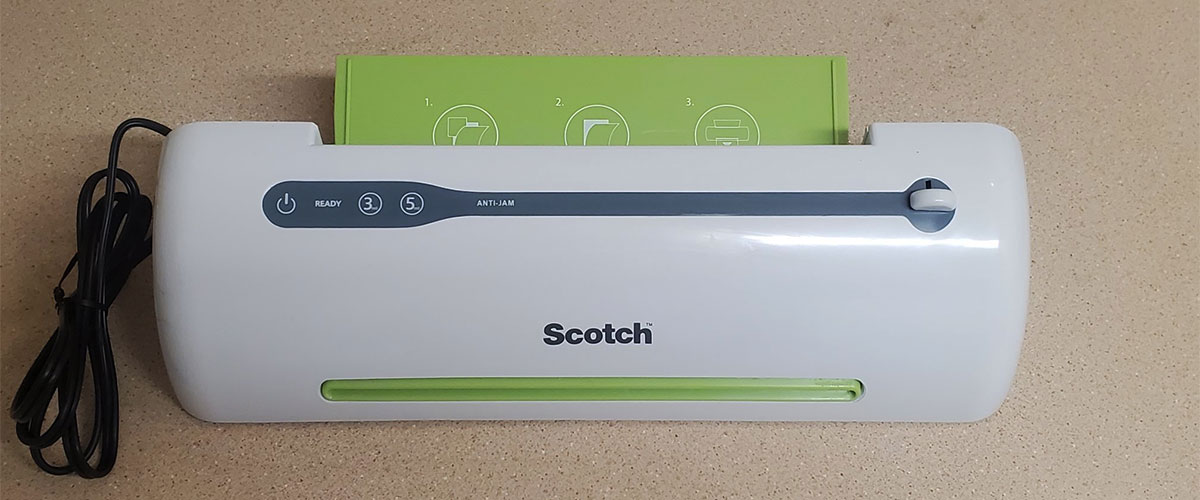 When it comes to film laminating, I had certain issues. I switched between 3 mil and 5 mil settings and waited for an hour, but there was no green light saying that the item was ready for use. I decided to check whether the machine had reached its operating temperature and fed a pouch with paper through it, but the sheet hadn't been sealed. But that happened only once. As I unplugged the item, the issue was solved.
As a budget laminator for foiling, the Scotch TL906 is a great device for home projects. If you do not plan to use the machine frequently or are making your first steps in foil crafts, this reasonably priced item will support your endeavor without eating all your money.
Key specs
Feed width, inch: 9
Max. pouch thickness, mil: 5
Jam prevention: yes
Pros
Allows to use from 3 to 5 mil pouches
Provides 9 inches of the feed width to run numerous sheets
Heats up within around 5-15 minutes
Cons
Requires multiple runs through the machine for better results
The heating element can malfunction from time to time.
Xyron Glaminator – applicator/laminator combo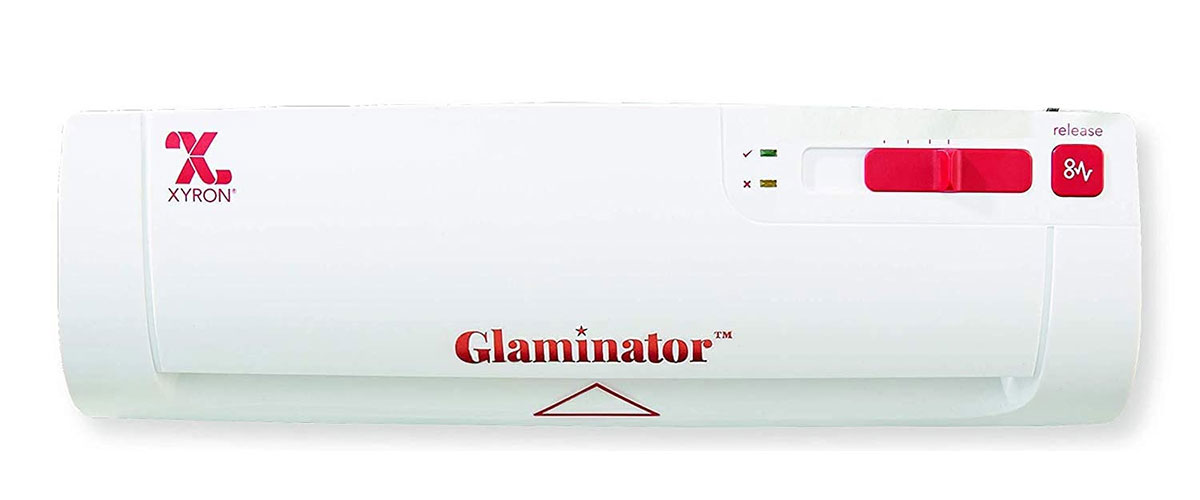 The Glaminator by Xyron has been specially designed with foil projects in mind. By combining the glaminator and laminator features, it becomes a great match for artsy-craftsy enthusiasts.
This device accepts sheets up to 9 inches wide through the 9×12 inches transfer carrier. Unlike Fellowes Saturn 3i 125 that comes with buttons for switching between the modes, this unit has a slider that allows the user to select cold or hot lamination, making it applicable both for foiling and laminating. There is no way you can control the pouch thickness in this item. The release button helps you cope with jammed projects, so you can fix the issue by gently dragging the stuck sheet out.
As you get Xyron Glaminator, you get a roll of gold foil and a reusable 9×12 inches carrier sheet. Because of the compact size, this item can do as a portable laminator, so you can effortlessly grab it at home or to the office.
The great thing about this glaminator is that it works for most paper types, including standard printer paper, cardstock, and even scrapbook paper.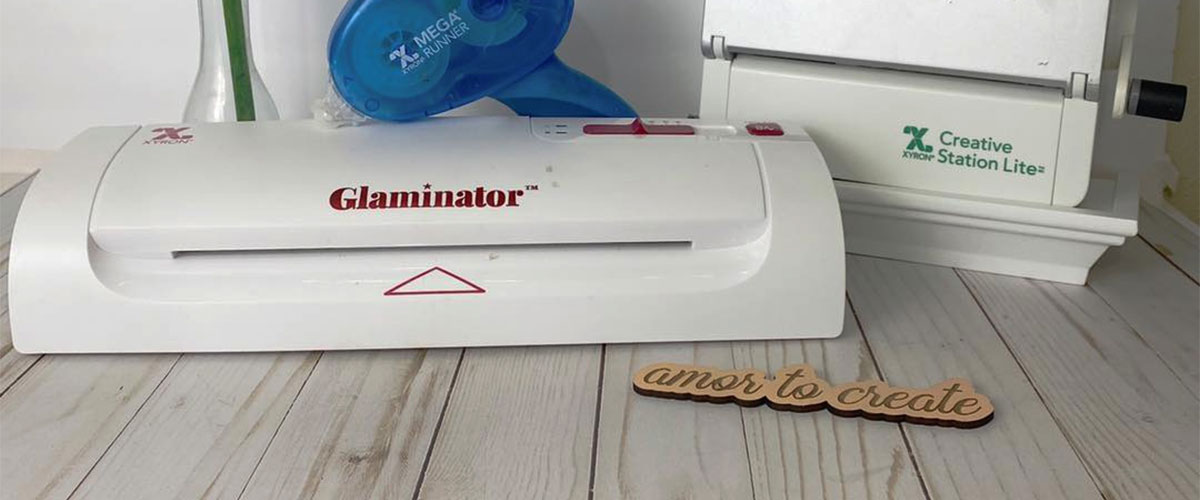 Unfortunately, the foiling envelope that comes in the pack melts up pretty fast. Another issue I spotted with this unit is that it provides astonishingly inconsistent results. In most cases, the foiled projects that come out of this machine are flawless. But the heating element acts out from time to time and doesn't provide enough heat to make the toner and foil stick together.
All in all, as the Xyron Glaminator combines the features of the applicator and laminator, it can become a great enhancement to your creative toolkit. It will allow you to laminate files using both hot and cold lamination, while you can also add more sparkle to your projects by applying shiny foil.
Key specs
Feed width, inch: 9
Max. pouch thickness, mil: 5
Jam prevention: yes
Pros
Cold and hot lamination modes allow to laminate and foil cover your projects
12 inches feed width to allow running 9 inches sheets
Comes with a free roll of foil and a carrier sheet
Compact size allows effortless unit transportation.
Cons
Operates inconsistently from time to time.
The included foiling cover melts after several uses.
Swingline Inspire Plus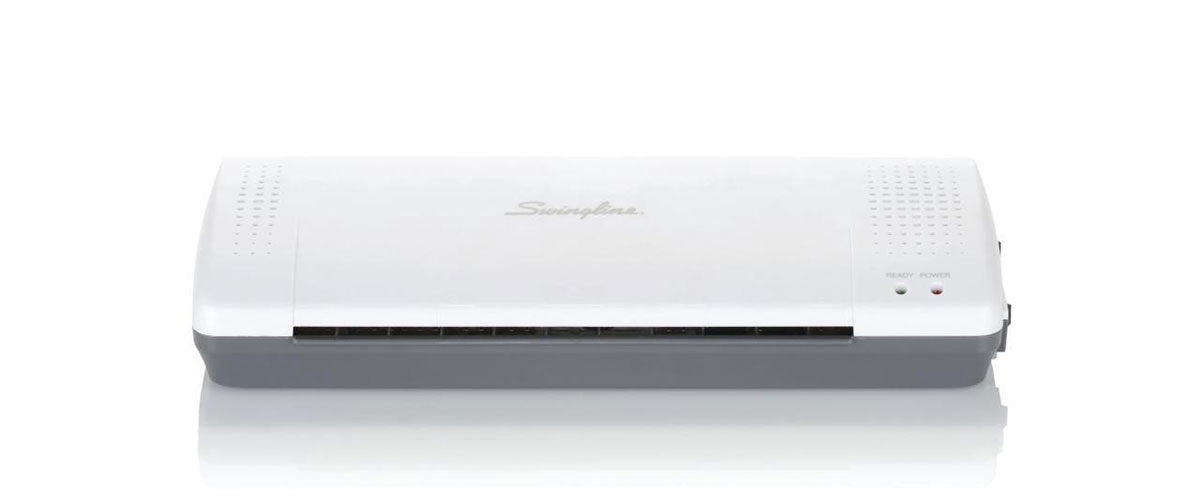 With Swingline Inspire Plus thermal pouch laminator, you can effortlessly work on your foil crafts.
By heating up in around 5 minutes and featuring the 12 ½ inches max feed width to support 12 inches of laminating pouch width, this device will help you handle your creative foiling projects of most standard sizes with ease. There are both hot and cold lamination options to cover your needs.
Just like Scotch TL906, this model allows you to use 3-5 mil pouches to get the desired foiling results. A single power setting ensures flawless use without the need to switch between the settings depending on the pouch thickness. With a jam release lever, you will quickly and easily clear misfed, wrapped, or jammed pouches.
The laminator comes with a starter pack of 5 thermal lamination pouches of standard thickness and letter size.
This item worked great for my foiling project. All the pieces of foil stuck to the toner, but I had to feed the pouch several times to get those results. Thus, it might take longer than you expect to get the job smoothly done.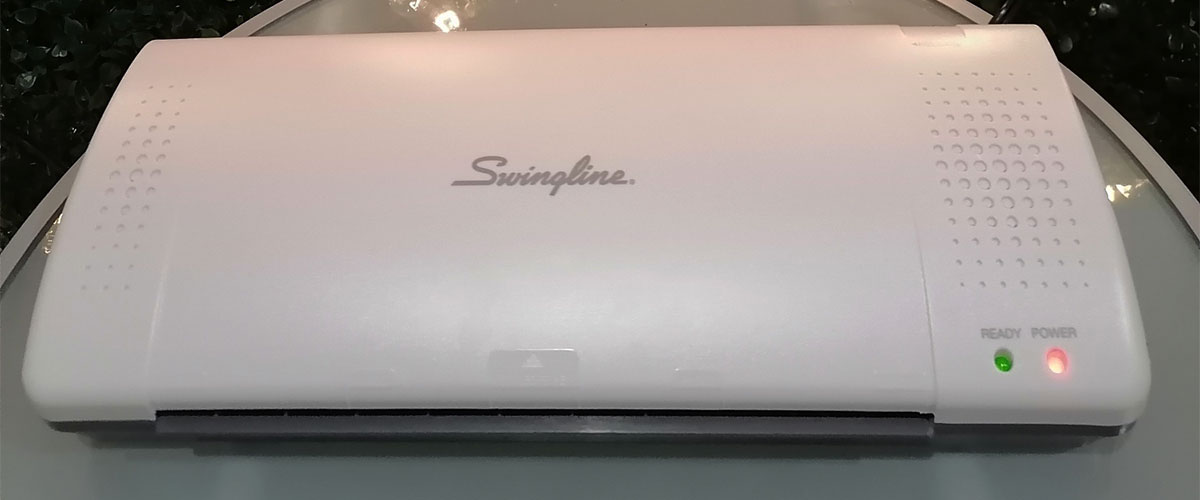 I also would like to warn you that there is no tray to line up the project, so you've got to control the process by yourself. During my laminating test, the poster was a little bit out of track, and the edges were slightly messy. I ran it through the machine, and the problem was solved – the edges were more or less of what I expected.
The Swingline Inspire Plus is a match for you if you expect to get a robust and functional laminator for your in-home or business purposes.
Key specs
Feed width, inch: 12
Heat-up time, min: 4
Max. pouch thickness, mil: 5
Jam prevention: yes
Pros
Is compatible with 3-5 mil pouches
Comes with free laminator pouches
Allows to use 12 inches sheets to cover more projects
No bubbles in foiled or laminated sheets.
Cons
Might require several runs through the machine for more accurate foiling results
No alignment tray, so you have to be attentive when placing the project.
FAQs
How to foil laminate?
To get the best results, you will need the following supplies:
A great foiling machine
Your design
Foil
Scratch paper
Scissors.
Get your design printed in solid black and the best quality possible using the laser printer. Give preference to smooth paper. All that will ensure utmost foil stickiness and gloriously flawless design.
Cover the printed project with foil (you may want to cut a piece of foil to cover a specific project area). Leave a little bit of extra space around the edge to ensure full design coverage, even when the foil shifts in the laminator. Also, the shiny foil side should go up, while the dull side should be against the toner.
Don't forget to put the scratch paper on top to protect the foil from damage.
Turn the laminator on, let it warm up, and select the appropriate settings (in particular, the thickness of the laminating sheet).
Place your project into the carrier and insert it in the pouch laminator to run it through the device. You might want to run the project several times for better stickiness, but it's not necessarily.
Peel the foil layer away from your design and enjoy the result.
What paper to use for foil lamination?
Technically, any paper that will do for a laser printer will also be appropriate for foil lamination. But mind that you might get different results based on the paper texture.
Glossy papers proved to be the best option for foil laminating projects. They are smooth and hold the toner much better than other sheets. As a result, the foil will fuse better onto the paper and leave no missed spots.
Papers with rough textures or embossing won't make a perfect match for your foil crafts projects. So, if you do not want your foiled artwork to be spotty, go for the glossy and smooth paper that would ensure the best laminating quality.
What foil can you use with a laminating machine?
Make certain you opt for thermal and toner-activated foil. This type of foil will stick to the toner when exposed to heat.
Foil thickness is another factor you should take note of. Your choice will usually depend on the pouch thickness your laminating machine can handle. Most models allow you to use foil that is as thick as 80-100 microns (0,0003-0,004 inch). More enhanced devices support 250 microns (around 0,01 inch)-thick foil.
Foil comes in various colors, starting with traditional silver and gold laminating foil and going with outstanding bright colors. It is also available in different finish variants, including metallic, glitter, matte, holographic, and more.
We are supported by our audience. When you purchase through links on our site, we may earn an affiliate commission at no extra cost to you.
Our newsletter
* We will never send you spam or share your email with third parties