Teachers love to laminate for many reasons. But what they hate is standing in line waiting to use the shared laminator in the staffroom. So, some teachers decide to buy their own devices to protect paper with warm plastic one day or another.
In this review, I will shed light on what to look for in the best laminators for teachers. You will also get a list of the items available for sale these days. I tested them all, so I will gladly share my experience and opinion. In addition, I selected the products of different price ranges, so you can pick the laminator that would work better for your needs.
Our pick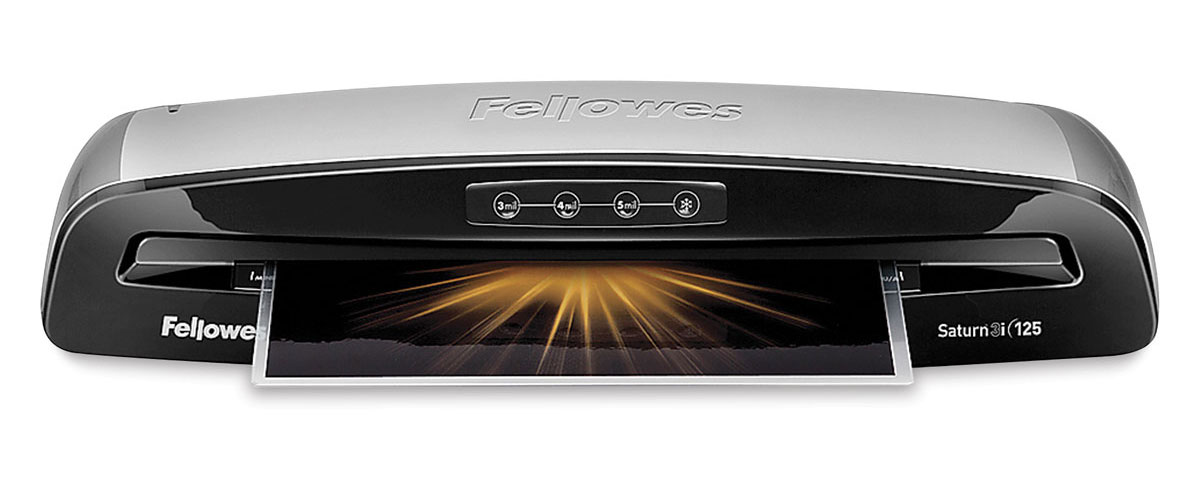 Fellowes Saturn 3i 125
Best laminator for teachers
Advanced thermal laminator for the office or classroom. Rapid 1-minute warm-up with InstaHeat Technology.
Name
Feed width
Max. pouch thickness
Jam prevention
Review
Fellowes Saturn 3i 125

best overall

9 inch
5 mil
yes
Review
Scotch TL906

also a great choice

9 inch
5 mil
yes
Review
Crenova A4

budget choice

9 inch
5 mil
yes
Review
Apache AL9
9 inch
5 mil
no
Review
Best laminators for teachers reviews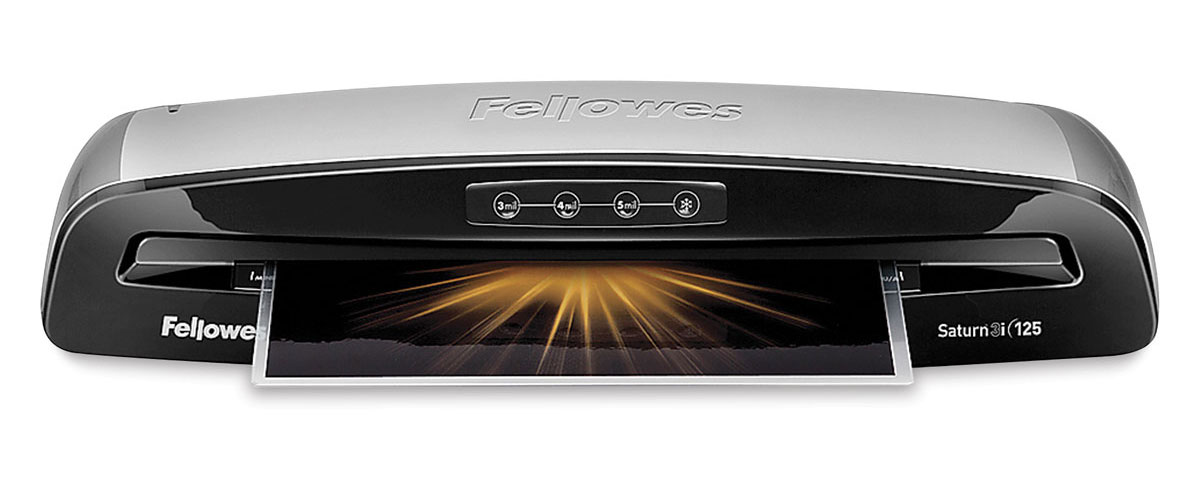 If you are currently looking for an advanced laminator for your classroom, Fellowes Saturn 3i 125 should be one of your top-priority solutions.
This device includes a lamination starter kit, so you get all the stuff to proceed with your projects immediately. It supports hot lamination for 3-mil and 5-mil pouches, as well as can be switched to the cold lamination mode. You can use self-adhesive pouches for cold lamination.
The Saturn 3i 125 laminator heats up pretty fast. For example, you've got to wait for around 5-10 minutes before the laminator gets to the operating temperature when using Scotch TL906. This item will be as hot as the lamination requires within a minute. This is possible due to the InstaHeat technology that significantly cuts the heating time. When the device is ready for use, you will hear a sound and see a green light on the indicator.
The feed width of this laminator is 12,5 inches, so it allows you to laminate documents of multiple sizes. The Fellowes Saturn 3i 125 tool features an optimal lamination speed of 12 inches per minute.
There is an auto shut-off mode to prevent overheating when the unit is not used. With a release lever, you can easily disengage the pouch when it gets jammed, or you would like to re-center the sheet.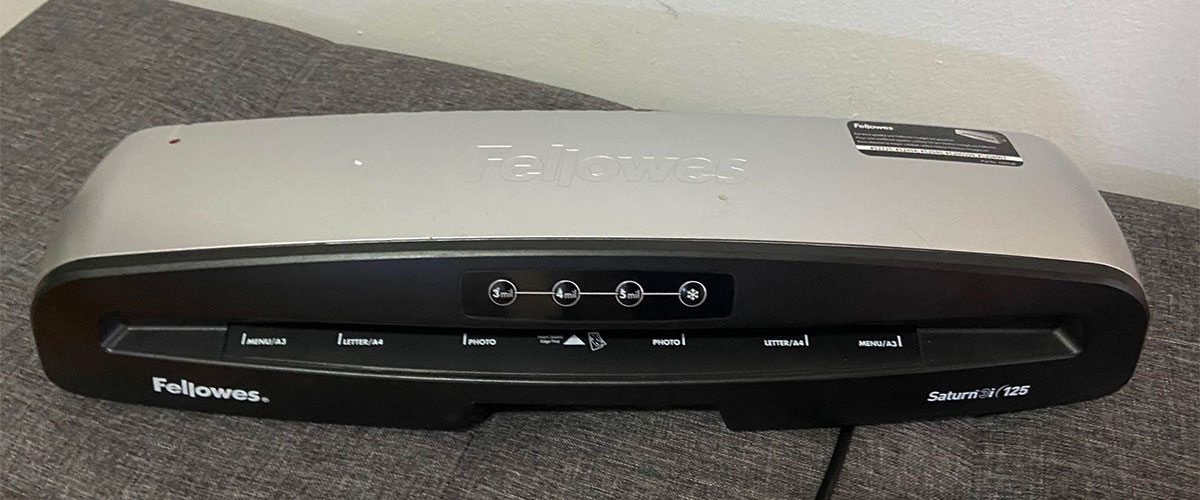 The instructions say to use special cleaning sheets, which should be purchased separately, to avoid any stripping of the final product. I've been using clean printer paper sheets, and I am absolutely happy with the results.
Regarding the lamination quality – it's great. In most cases, I was satisfied with the final product. No bubbles at all, and I love the rounded corners. However, some projects require more rigidity. The minor drawback hasn't changed my verdict – I still claim that this is the best laminator for teachers.
Key specs
Feed width, inch: 12.5
Heat-up time, min: 1
Max. pouch thickness, mil: 5
Jam prevention: yes
Pros
Standard lamination speed – 12 inches per minute
Supports both cold and hot lamination
The heating time is fast – 1 minute
The feed width (12,5 inches) allows lamination of various documents.
Cons
Sometimes projects require more rigidity.
Scotch TL906 – also a great choice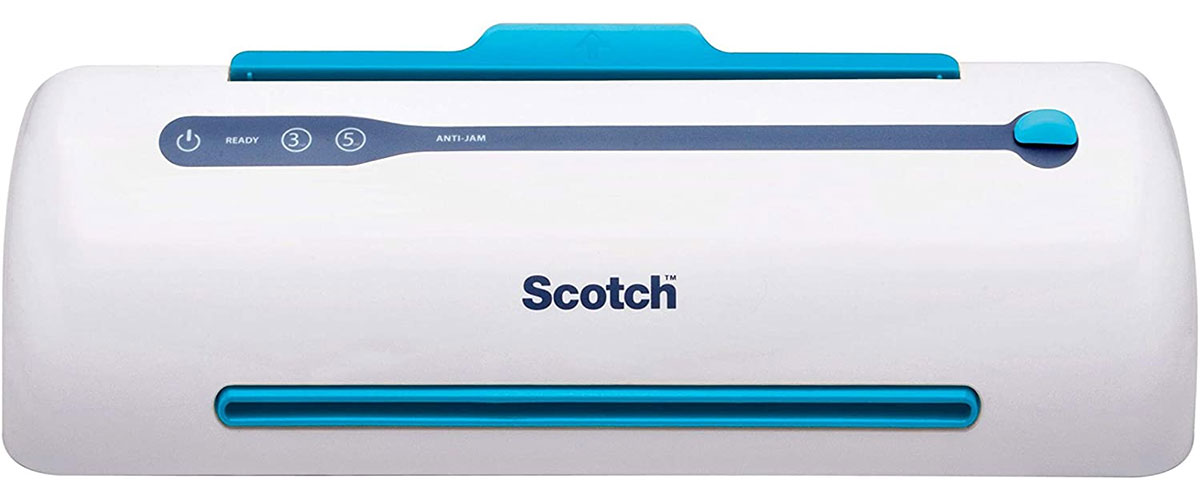 The Scotch TL906 laminator is a functional device compatible with 3-5 mil thermal pouches.
This device is slightly smaller than Fellowes Saturn 3i 125. The feed width is 9 inches (compared to 12,5 inches), but it still works great for basic projects.
If you plan to laminate the sheets, you'd better turn on the laminator 10 minutes before the process. That's the time the item needs to reach the optimal laminating temperature. The laminating speed is also somewhat slower than in the Saturn model – 15 inches per minute.
This laminator is easy to use. As you start the unit, you will see the green indicator showing that you can proceed with lamination over time. This device comes with a never-jam technology that allows you to easily release the sheet or pouch when the laminator jams it. There is also a release lever for quick pouch release. You can switch between two temperature settings using sensor buttons (3 mil and 5 mil).
The final laminating products are fine – no traces of bubbles, but I like the rounded-edges effect of the Saturn device more.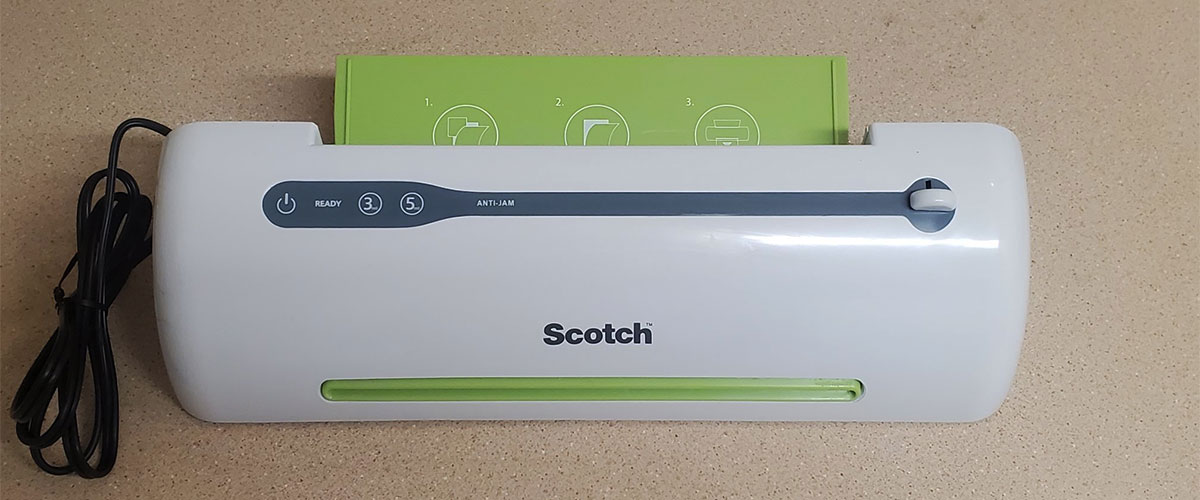 But I would like to warn you regarding the use of the Scotch TL906 laminator. I had no issues with it at all during the first use, but I was disappointed with the device after a week. As I turned it on, I noticed steam coming out. There was a strong odor of burnt plastic as well. The laminator had been operating for 15 minutes, and there was no green light notifying that it was ready for use. Meanwhile, the odor was getting stronger. The smell appeared to be the result of the laminator melting itself.
Despite the issue with the heating element (perhaps, my laminator was a defective one), I still insist that this is a great school laminator for covering the basic needs.
Key specs
Feed width, inch: 9
Max. pouch thickness, mil: 5
Jam prevention: yes
Pros
Responsive sensor buttons for ease of use
Two temp settings for 3-mil and 5-mil pouches
Never-jam technology for ease of use
Bubble-free final product.
Cons
An issue with the heating element
Slow heating – around 10 minutes.
Crenova A4 – budget choice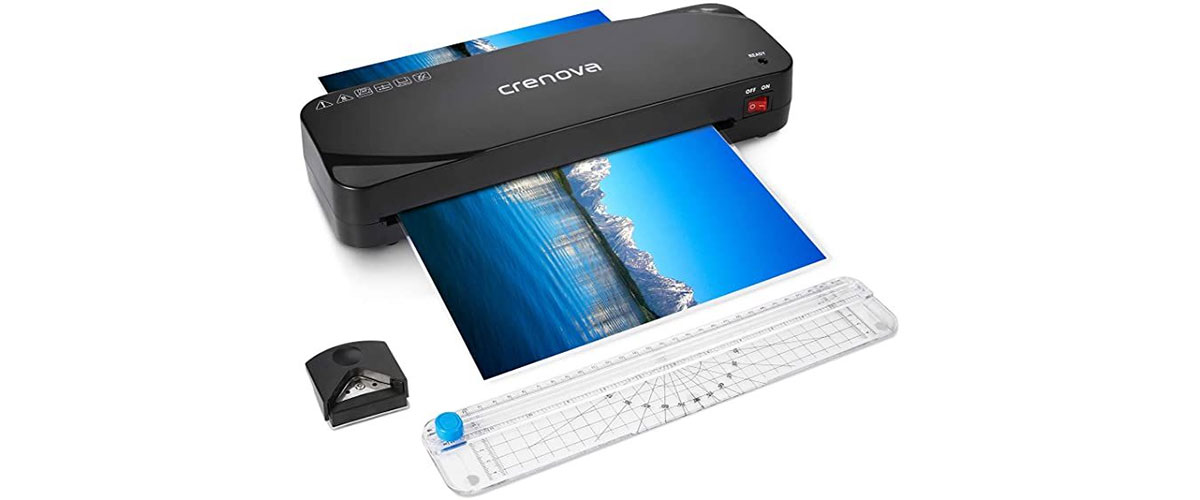 If you would like to get much more than just a laminator, you should consider the 4-in-1 Crenova A4 laminator, paper trimmer, corner rounder, and hole punch. The pack also includes 3 binder rings and 50 laminating pouches, allowing you to start laminating right away.
This device is noted by 3-5 minutes of pre-heating time – there is a light indicator showing that the laminator is ready for use. The laminating speed is much slower compared to Saturn – it's 7 inches per minute. But you definitely have other stuff to do, so you won't even notice the pace at which the item is doing its job.
The Crenova A4 laminator features a 9 inches inlet, allowing you to laminate various projects up to A4 paper size.
To get rid of jammed pouches, you've got to turn the laminating machine off and push the ABS lever until it releases the pouch.
You can use the laminating pouches within the 80-125 mic range for this laminating machine. This is not the strongest level of sheet protection, but it might be enough for teaching purposes. However, sometimes you may want to obtain a higher level of rigidity, especially when laminating sheets for primary school students. But I should admit that the included pouches are great. I replaced them with the pouches of another brand, and they didn't work well.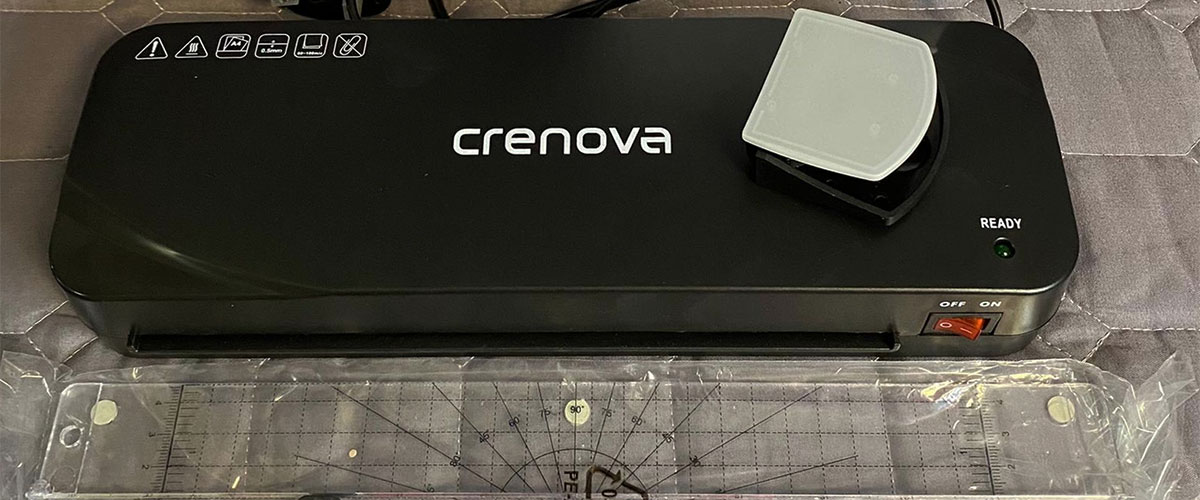 You can switch between cold and hot laminating with a button. Marks above the feed help you line the paper for neater results. The corner rounder is a bargain, so you don't have to worry about purchasing one separately.
The Crenova A4 laminator is the best laminating machine for teachers in a budget-friendly segment. It has some minor drawbacks, but they do not have any negative effect on the laminating results.
Key specs
Feed width, inch: 9
Heat-up time, min: 1.5
Max. pouch thickness, mil: 5
Jam prevention: yes
Pros
Four devices in one – a laminator, a hole punch, a corner rounder, and a paper trimmer
Comes with all essential things to start laminating right away
Supports both cold and hot laminating
A 9-inch feed inlet ensures you can handle many projects.
Cons
Slow laminating speed
80-125 mic pouches do not provide tough protection
Cumbersome procedure for releasing jammed pouches.
Apache AL9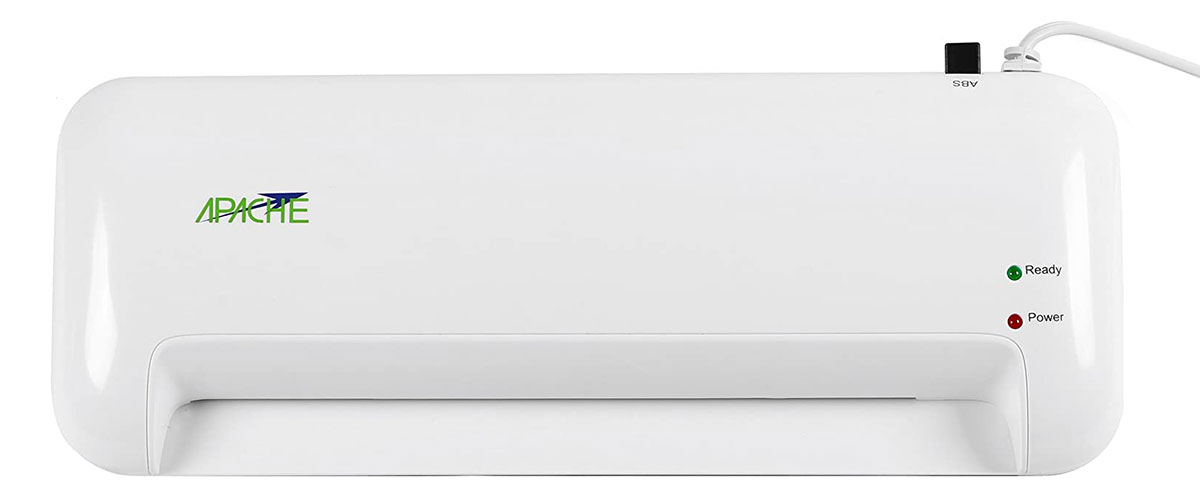 The Apache AL9 is a standard laminator that would cover the basic laminating needs of a teacher.
Featuring a 9-inches feed width and being compatible with 3-mil and 5-mil pouches, the device works great for many projects. Unfortunately, there is no way to regulate the temperature, and the fixed temp is 390.2⁰F, which is perfect for sealing paper sheets with plastic.
Similar to Scotch TL901X, this laminator doesn't have marks that allow you to center the paper correctly. Thus, you've got to be careful to ensure the best laminating results.
This laminating machine heats up quickly. It takes a minute to fully heat up, which is a surprising speed considering the device's price point. It got to the right temperature while I was putting the sheet in the pouch.
As I turned the laminator for the first time, I noticed the smell of burnt plastic. But it disappeared over several uses.
Keep in mind that the laminator has an overheating-prevention function that would turn the device off. There would be a need to reheat the tool again, but it will take less than 45 seconds. Generally, the laminator does three sheets before it reheats.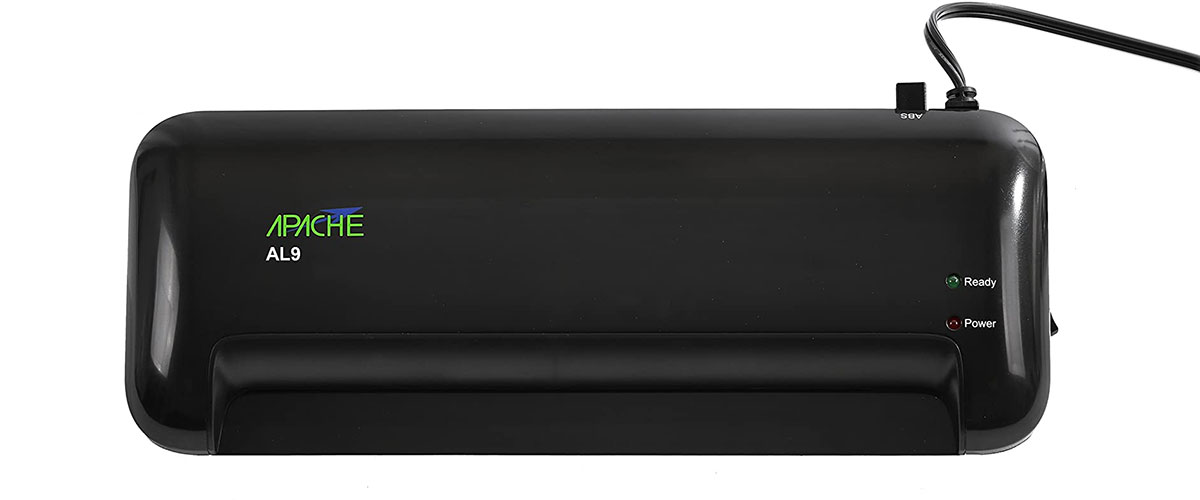 Twenty pouches are included in the pack. They work pretty well, but dirt sticks to them. Most laminated sheets are perfect, but sometimes the rollers warp them. The ABS release button allows you to get out the jammed paper.
The Apache AL9 is a great cost-effective solution for a teacher who doesn't have to deal with big volumes of laminating projects.
Key specs
Feed width, inch: 9
Max. pouch thickness, mil: 5
Jam prevention: no
Pros
Fast laminating and heating speed
Enables the use of 3-mil and 5-mil pouches
Turns off automatically to prevent overheating.
Cons
Reheats frequently, so lamination might take longer than you expected
The smell of plastic over the first uses
Some sheets get warped
No marks for centering the sheet.
Scotch TL901X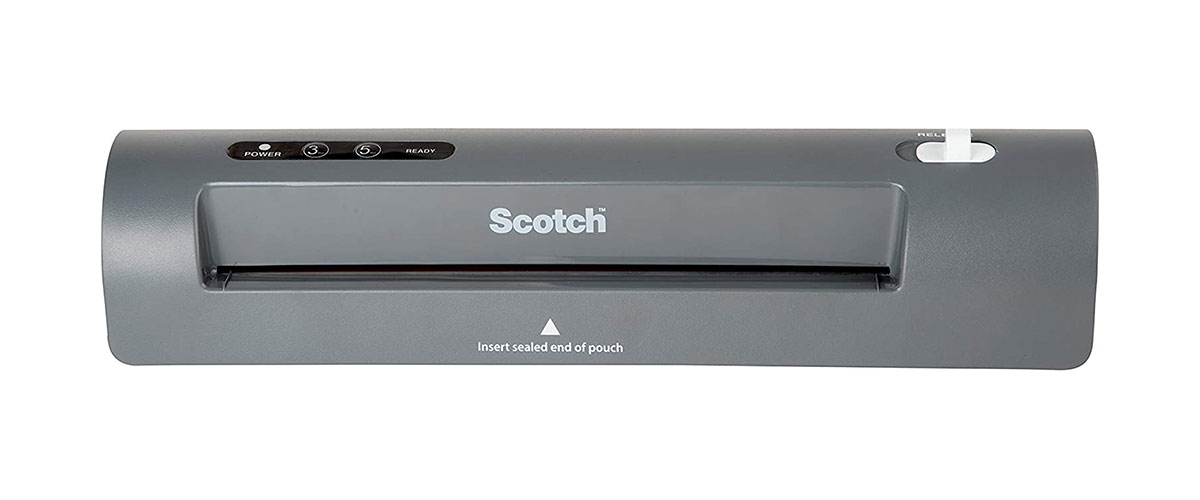 The Scotch thermal laminator would be of great assistance for every teacher.
Its extra-wide input (13 inches) provides versatility for small and big projects. Just to compare, the Apache AL9 laminator accepts only 9-inch wide sheets.
The manufacturer recommends using the branded laminating pouches (5-mil thick) for better laminating results. Unfortunately, there are only two pouches in the box, so you have to think of getting the pack of pouches along with the laminator.
The device works fine most of the time. Sometimes there are bubbles at the corners of the sheets. But the most annoying problem is that pouches get stuck in the machine and do not come out from the other side.
The back of the machine melts over use. After several months, it looks completely melted. Perhaps, that's the cause for the machine's malfunction within 2-3 months of moderate use.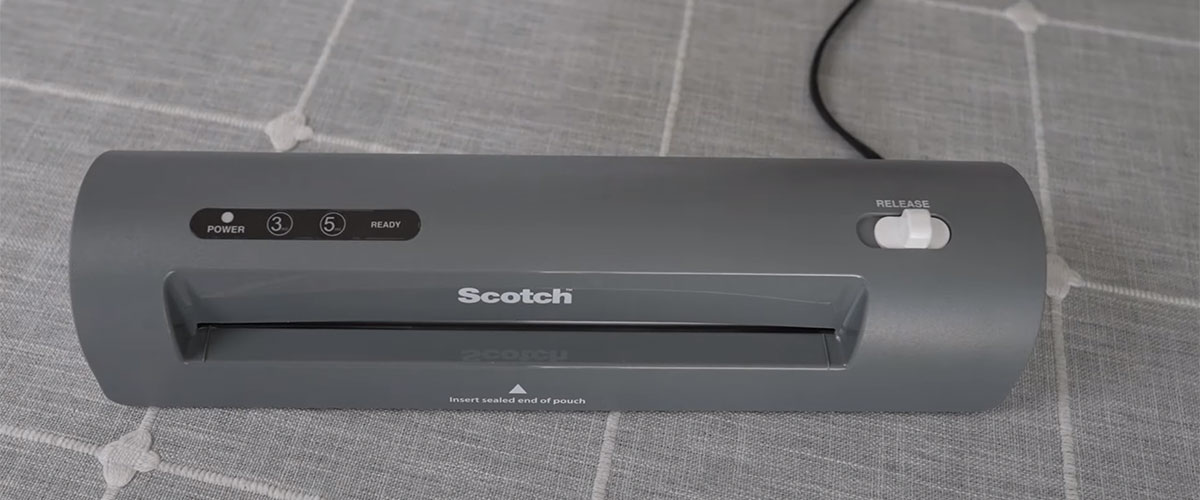 The Scotch TL901X machine has a carrying handle for convenient transportation. There is also cord storage. Thanks to the auto shut-off feature, you will avoid overheating.
You'll love this item for its fast heating time (around a minute), great adhesion, and available price. This is a great solution for teachers who do not plan to use the laminating machine heavily. I would say, it is more of a product for people who require laminating documents once in a while.
Key specs
Feed width, inch: 9
Heat-up time, min: 1.5
Max. pouch thickness, mil: 5
Jam prevention: no
Pros
Fast laminating and heating speed
Enables the use of 3-mil and 5-mil pouches
Turns off automatically to prevent overheating.
Cons
Reheats frequently, so lamination might take longer than you expected
The smell of plastic over the first uses
Some sheets get warped
No marks for centering the sheet.
Laminator for teachers buying guide
Input size
Most home laminators for teachers laminate A4 size paper. So, if you are laminating exclusively A4 paper sheets, you will be satisfied with a standard laminator. There are also options that support A3 paper. They are more expensive, but they allow laminating a wider range of projects, including posters.
When picking the laminator, you should also consider the thickness of the laminating material the device will support. Most devices allow you to use 3-mil and 5-mil pouches. 3 mil is great for thick paper like cardboard, while you can use 5 mil for laminating documents. But you can also find laminators that handle 9-mil and 10-mil pouches.
Lamination speed
Just take it for granted: laminators are slow. The slow speed is justified by the lamination process: the paper sheet carefully goes into the device to prevent jamming and then is thoroughly covered with the laminating material, which should be heated first. So, in fact, there is no way to increase the lamination speed significantly.
However, some teacher laminators do their job faster than others. For example, the industry standard for laminators is 12 inches per minute (300 mm per minute). Some advanced options offer a speed of 15 inches per minute (381 mm per minute), which is not a dramatic difference.
So, when picking the laminator, I would recommend you to consider the model that laminates at least at the standard pace, not lower.
Heating time and temperature settings
First of all, there are hot and cold laminators. Cold laminators use pressure to seal the sheet of paper with plastic. Hot laminators use heat to warm plastic and then make it stick to the paper surface.
Hot laminators are a common choice for teachers. It is very important the heating elements get to the right operating temperature before you start laminating. It takes around 5-12 minutes for the budget-friendly item to heat up. More advanced models warm up much faster – in a matter of 20-30 seconds.
Many laminators allow you to regulate the regulate the temperature range. The optimal laminating temperature is 200-250 °F. This range allows you to obtain a perfect finish.
Jam release feature
Alas, laminators jam the pouches all the time. So, the laminator with the quick jam release feature would spare you from the hassle of manually fixing the issue. If you've ever pulled out the jammed pouch or paper, you know that it's a real pain. A device with the quick release feature will allow you to pull out a pouch in mere seconds – you just flick the lever that separates the roller and pull out the sheet. That simple!
FAQ
Why do teachers need a laminator?
Laminators are an important tool for teachers because they can help to preserve and protect important documents and materials. Laminating can extend the life of papers and other materials, and it can also make them more durable and resistant to tearing or damage. In addition, laminating can also be used to create custom educational materials, such as flashcards or worksheets, that can be reused multiple times.
How would the teacher tool of a laminator help you in the early childhood education setting?
A laminator would be beneficial in the early childhood education setting as it would allow educators to create materials that are both durable and attractive. For example, educators could laminate handouts or posters to help make them last longer. In addition, laminating can also add a level of professionalism to materials.
Can you use any laminating pouch with any laminator?
No, you cannot use any laminating pouch with any laminator. Each laminating pouch has a specific thickness and this must be compatible with the laminator that you are using.
Will laminating a photo damage it?
Laminating
a photo will not damage it as long as you use the correct laminating pouch and setting on your laminator.
What temperature should a laminator be set at?
The temperature
of a laminator can vary depending on the type of laminating pouch being used. For example, a 3 mil thick laminating pouch should be laminated at a temperature between 270-280 degrees Fahrenheit.
We are supported by our audience. When you purchase through links on our site, we may earn an affiliate commission at no extra cost to you.
Our newsletter
* We will never send you spam or share your email with third parties