Whether you're looking to preserve family photos, important business documents, or create professional presentations, having the best laminator machine can make all the difference. I've personally used various laminators over the years, and I can tell you it's not just about pressing a button and watching plastic seal around a piece of paper. Choosing the right laminator machine for your specific needs is critical. Trust me, there's a huge difference between a machine that heats up in 30 seconds flat and one that takes five minutes; I've been there. So, let's jump into the nitty-gritty to help you pick a high-quality laminator of 2023 that perfectly aligns with your needs.
Our pick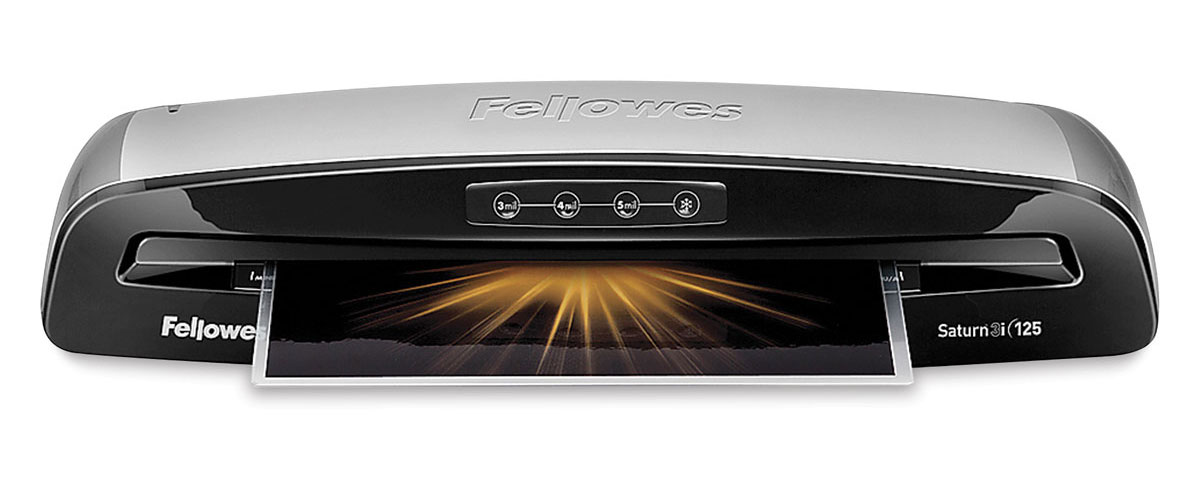 Fellowes Saturn 3i 125
Best laminator machine
The Saturn 3i A3 Laminator is ready to laminate in just 60 seconds with InstaHeat technology and laminates A3 size documents in 80-125 micron pouches.
Read the full review
.
Laminator machines comparison table
Name
Feed width
Max. pouch thickness
Jam prevention
Review
Fellowes Saturn 3i 125

best overall

12.5 inch
1 min
5 mil
Review
Fellowes Venus 2 125

office presentation laminator

12 inch
0.5 min
5 mil
Review
Scotch PRO TL906

good for teachers

9 inch
5-6 min
3-5 mil
Review
Scotch TL901X

at home laminator

9 inch
1.5 min
5 mil
Review
Crenova A4 Laminator

small laminator

10 inch
3-5 min
1.2 mil
Review
The way I tested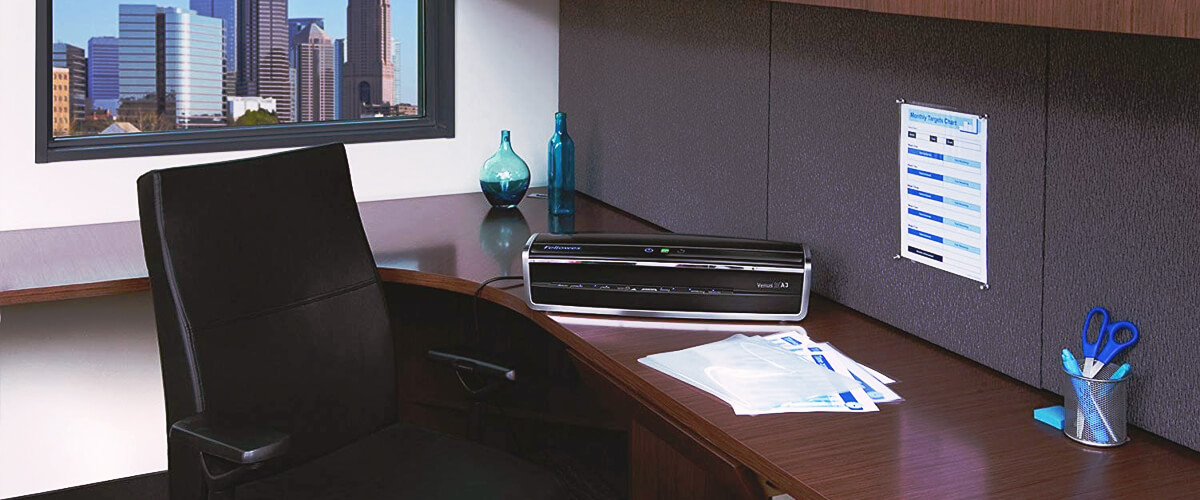 To ensure you're getting the most reliable insights, I meticulously tested each laminator on a variety of factors. Here's what my testing protocol looked like:
Quality of lamination: This is the heart of the matter. To properly evaluate each machine, I used different types of paper, from photo paper to standard printer sheets, as well as the best laminate sheets available. This helped me assess whether the laminators left bubbles, wrinkles, or warping in the finished product.
Speed of lamination: Speed matters, especially if you have a lot of items to laminate. I measured the lamination speed in inches per minute, using a standard 8.5 x 11-inch document as a benchmark.
Compatibility with various pouch thicknesses: Not all laminating pouches are the same. I tested compatibility using pouches ranging from 3 to 10 mils.
Ease of use: Here, I considered factors like how easy it was to load pouches, adjust settings, and get the machine up and running.
Noise level: I used a decibel meter to gauge the noise level for each machine during operation.
Safety features: I checked for must-have safety options like auto shut-off and jam-clearing mechanisms.
Build quality and durability: Finally, I took note of the build materials, sturdiness, and general craftsmanship.
Through this comprehensive testing, I aimed to provide you with a holistic view to help you pick the best laminator machine for your specific needs. Trust me, I left no stone unturned.
Best laminator machine reviews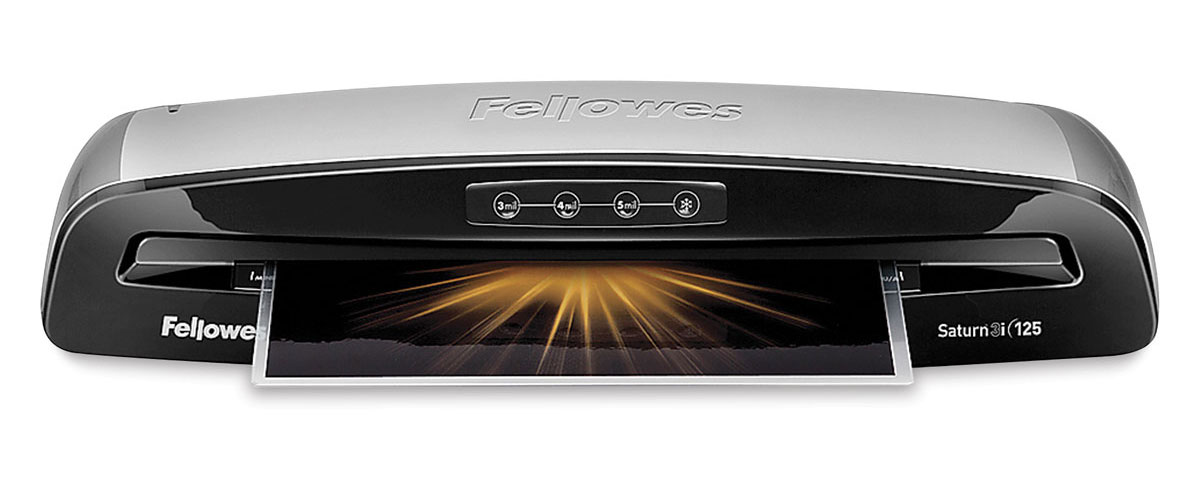 When it comes to lamination machine reviews, the Fellowes Saturn 3i 125 stands out as a top contender, and for great reason. After spending considerable time using this machine, I can confidently say it's a good choice for most laminating needs. The accuracy and precision are unparalleled; every document I laminated came out crisp, free of bubbles or imperfections.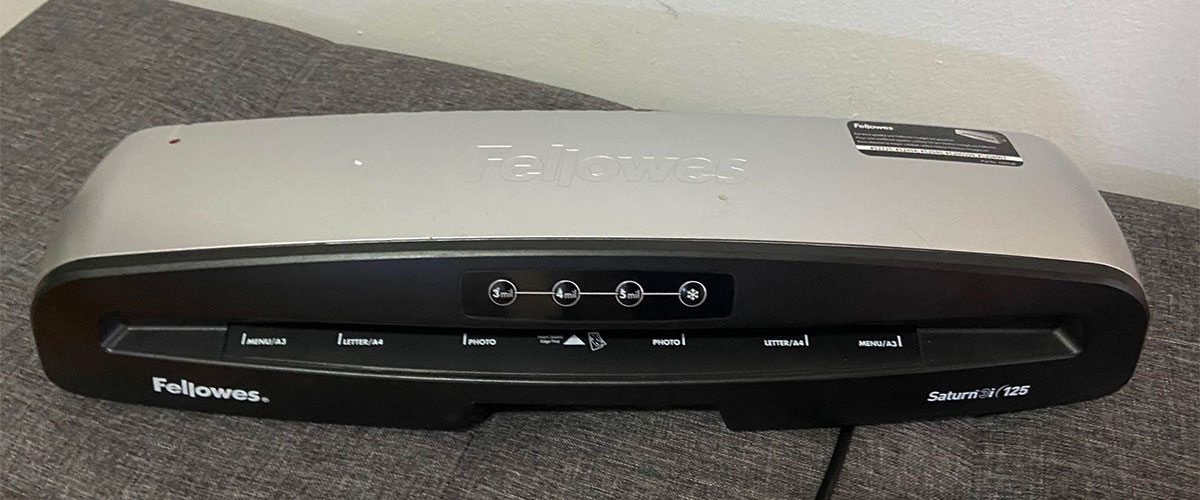 Temperature settings are another strong point for the Saturn 3i 125. It heats up remarkably fast — ready in just 60 seconds — and offers multiple temperature options. This versatility allows you to laminate different types of documents with ease.
In terms of additional features, it offers a smooth and streamlined user interface, making it easy even for lamination novices. I particularly enjoyed the simple panel that allows for quick setting adjustments without having to pore over a complicated manual.
In conclusion, the Fellowes Saturn 3i 125 is a well-rounded machine that excels in every category. From speed to safety and durability, it's the laminator that meets all the criteria for top-notch performance! If you're in the market for a reliable, high-quality laminator, this is the one to beat.
Key specs
Feed width, inch: 12.5.
Heat-up time, min: 1.
Max. pouch thickness, mil: 5.
Jam prevention: yes.
Pros
Fast heat-up time: Ready in just 60 seconds.
Offers multiple temperature options.
Automatic shut-off after 30 minutes and advanced anti-jamming technology.
Made with durable materials.
Fellowes Venus 2 125 – office presentation laminator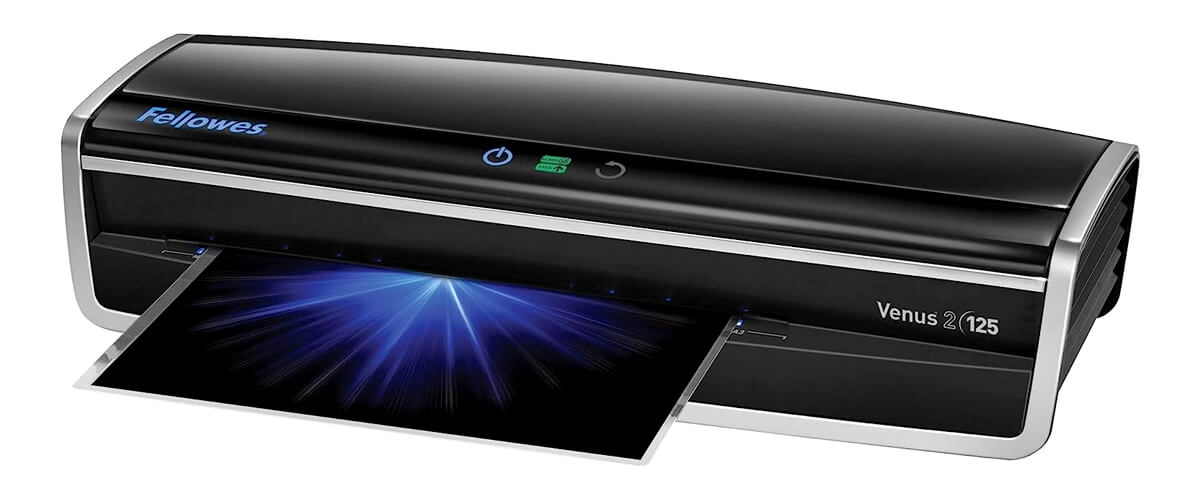 Moving on to another top-tier machine, let's talk about the Fellowes Venus 2 125. If you're in an office setting and presentations are your bread and butter, this could easily be the best laminator for office use and arguably the best thermal laminator in its class. I found that the Venus 2 125 excels in accuracy and precision. Whether it was laminating intricate designs or text-heavy documents, the machine never failed to deliver an even and blemish-free result.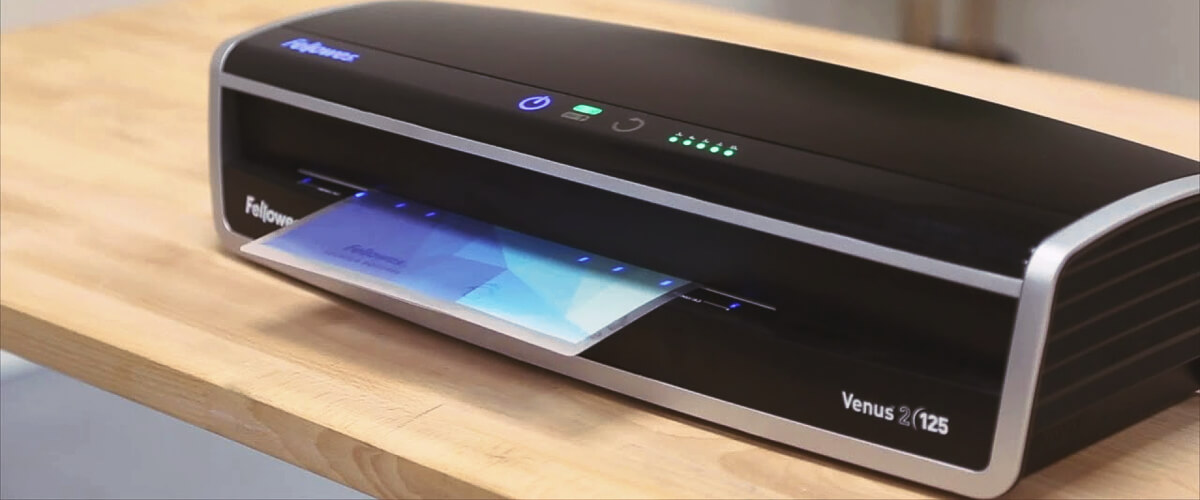 Temperature measurement is another feather in its cap. It comes with six different settings that adjust based on the thickness of the pouch you're using. This not only ensures better lamination but also simplifies the process. By the way, it heats up in under four minutes, which, while not the fastest, is still pretty respectable for a high-capacity machine.
In conclusion, the Fellowes Venus 2 125 checks almost all the boxes for an office-focused laminator. It's designed for efficiency, safety, and, most importantly, high-quality lamination, making it a top choice for any workspace.
Key specs
Feed width, inch: 12.
Heat-up time, min: 0.5.
Max. pouch thickness, mil: 5.
Jam prevention: yes.
Pros
Offers six different heat settings.
Comes equipped with a heat shield and auto shut-off function.
Built to endure the high-traffic demands of an office, it promises longevity.
Capable of operating across various voltage ranges.
Cons
The user interface could have been friendlier.
Scotch PRO TL906 – good for teachers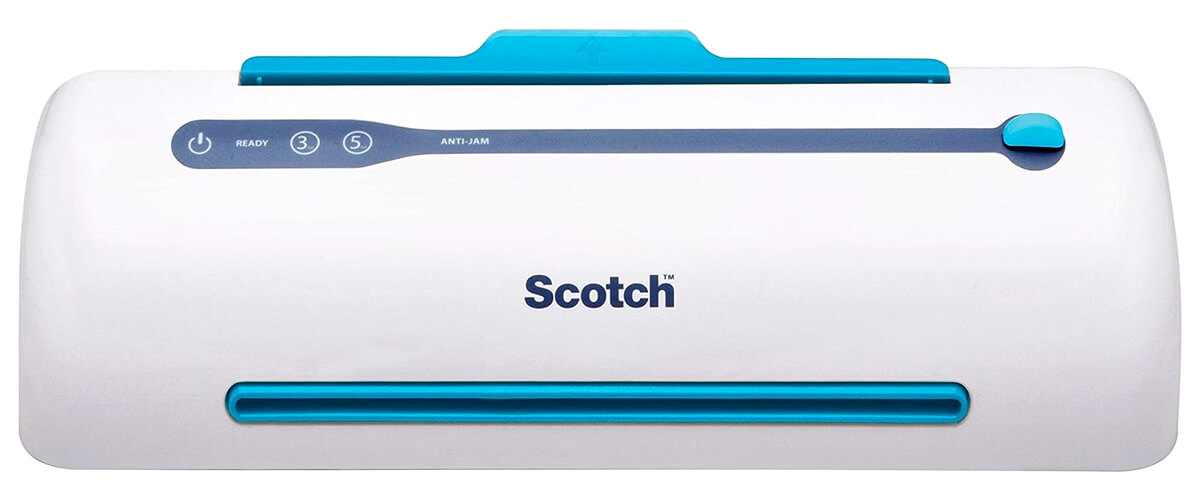 Continuing with our exploration of laminators, let's focus on a machine that's particularly appealing for educators: the Scotch PRO TL906.
Temperature-wise, this laminator brand comes with two settings, which, although not as varied as some other models, do the job well. In addition, the machine warms up in just about five minutes. Not the fastest, but not the slowest either. During this time, you can conduct a student roll call or introduce your students to the main points of the upcoming lesson.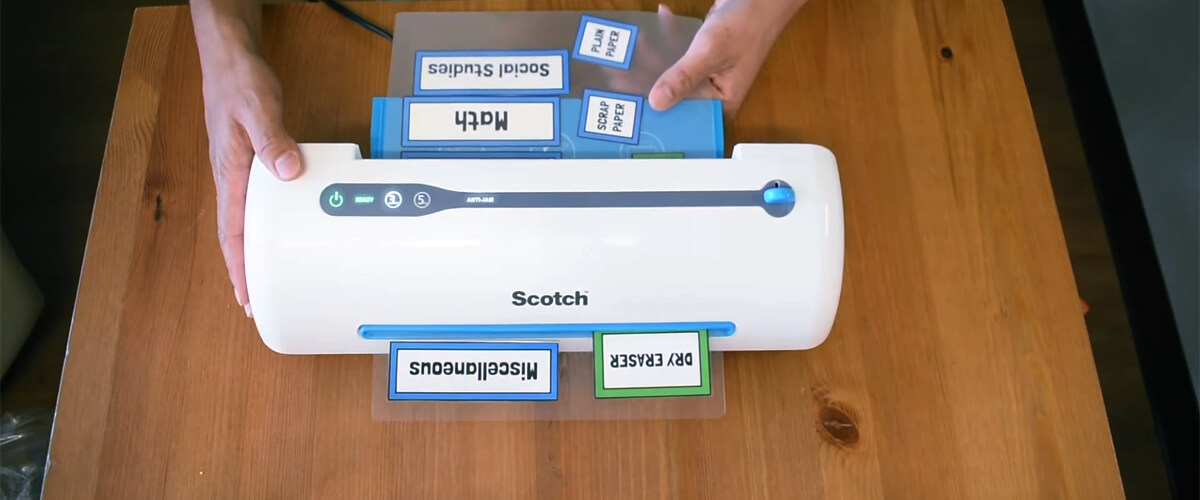 Safety-wise, the machine is well-equipped. The auto shut-off feature is quite handy for a busy teaching environment where distractions can easily occur. It also has a hidden built-in cutter for added safety, and in my experience, the cutter was effective and easy to use.
To sum up, the Scotch PRO TL906 is a reliable and safe choice for teachers and homeschooling parents. While it might not have all the bells and whistles of a high-end office laminator, it covers all the basics quite effectively.
Key specs
Feed width, inch: 9.
Heat-up time, min: 5-6.
Max. pouch thickness, mil: 3-5.
Jam prevention: yes.
Pros
Comes with an auto shut-off and a hidden built-in cutter.
Handles both 3 and 5 mil pouches.
Designed to withstand the rigors of a classroom or homeschooling setting.
Cons
Takes around five minutes to heat up.
Only offers two temperature options.
Scotch TL901X – at home laminator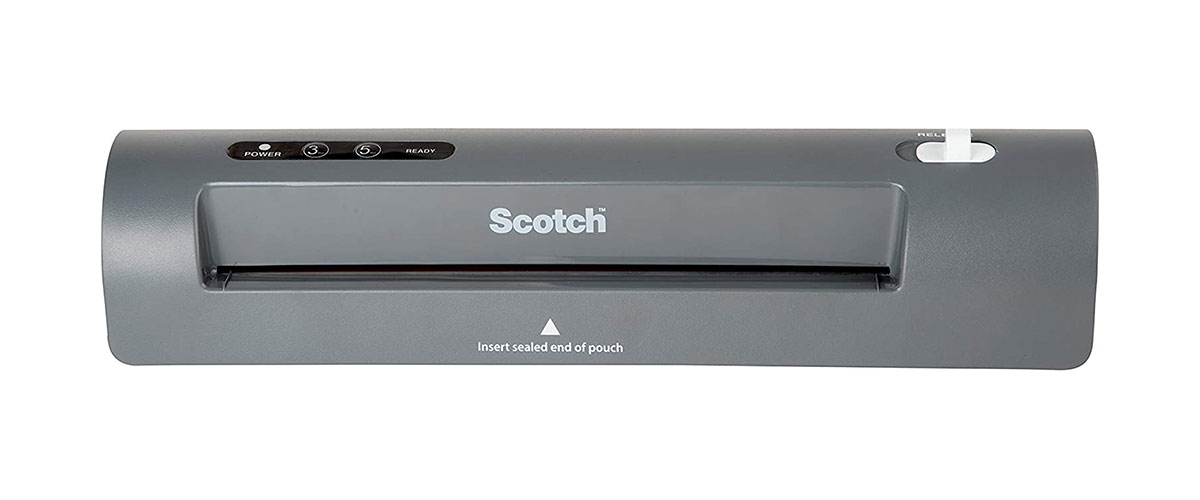 Switching gears to laminators tailored for use at home, let me introduce you to the Scotch TL901X. While it's not as feature-rich as some of the office-centric models, it's a contender for the best laminator for homeschool needs. In my time using this machine, I've been impressed by its accuracy and precision; the lamination comes out crystal clear without any air bubbles, making it ideal for preserving children's artwork or important documents.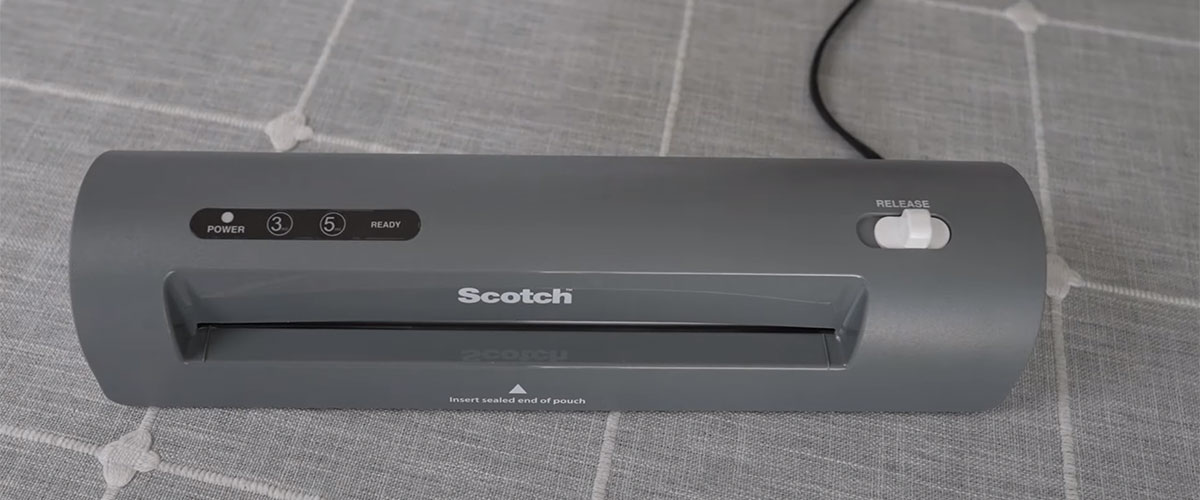 When it comes to temperature settings, this model keeps it simple with just two options. But those settings are quite effective, producing consistent lamination every time. The laminator also has a quicker heat-up time of about two to three minutes, which I found to be convenient for small, quick tasks around the home.
In conclusion, the Scotch TL901X proves to be one of the best home laminators, offering a reliable and user-friendly option for both home and homeschool use. While it may not be packed with advanced features, it nails the basics.
Key specs
Feed width, inch: 9.
Heat-up time, min: 1.5.
Max. pouch thickness, mil: 5.
Jam prevention: no.
Pros
Ready to use in just 2-3 minutes.
Produces bubble-free and clear laminates.
Comes with an auto shut-off to prevent overheating.
Cons
Only offers two temperature settings.
While sturdy enough for home use, it might not hold up under more demanding conditions.
Crenova A4 Laminator – small laminator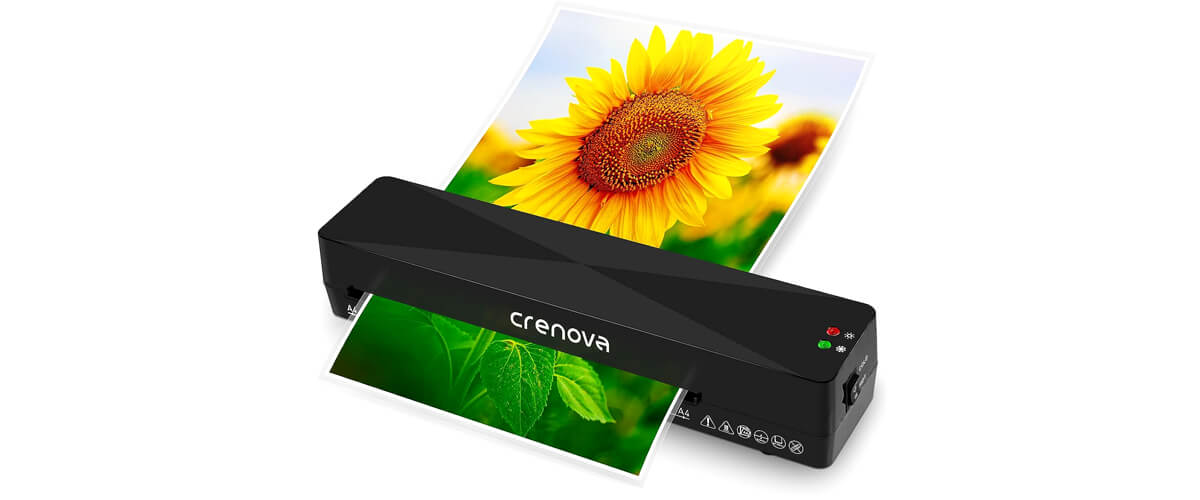 Switching from heavy-duty models, let's focus on something more compact and ideal for personal use — the Crenova A4 Laminator. Dubbed as a personal laminator, this small and lightweight machine really caught my eye for its convenience, ergonomics, and ease of use. One of the first things I noticed while using it was its impressive accuracy and precision; it managed to laminate photographs and documents without leaving air bubbles or imperfections.
Concerning the voltage and current range, this little machine is designed to be compatible with standard home electrical systems, so there is no need to worry about that. Build quality is robust for its size, but I wouldn't expect it to endure the same exposure as larger commercial laminators.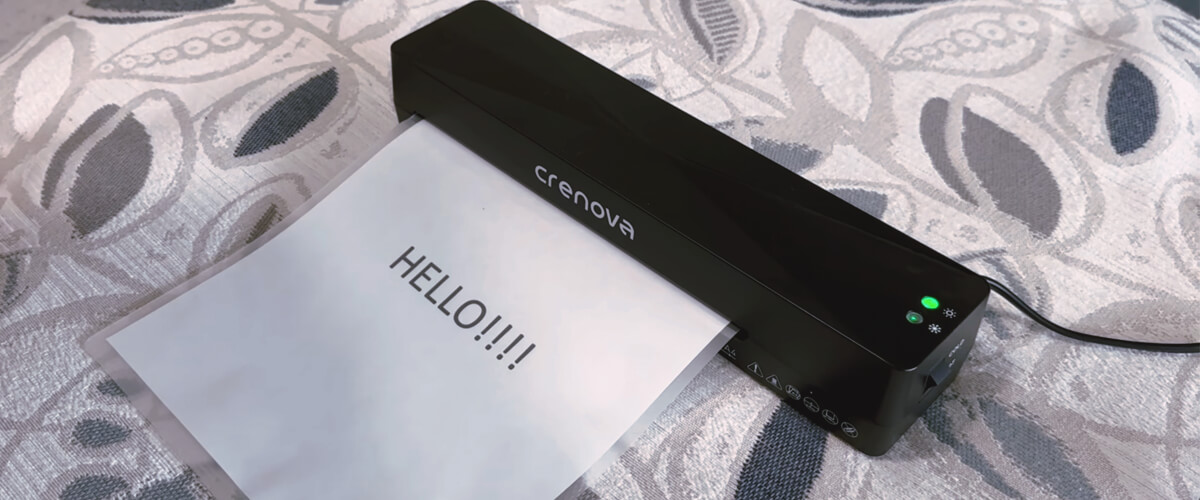 Regarding temperature measurement, it offers a fairly fast heat-up time of around 3-5 minutes. However, it's limited to a few pre-set temperature settings.
Lastly, one additional feature I appreciated was the built-in paper cutter. Is it convenient? Undeniably!
In summary, the Crenova A4 Laminator is a reliable, compact option for personal laminating tasks. This model would often be considered the best cheap laminator due to its lower price point while still offering decent performance for light use.
Key specs
Feed width, inch: 10.
Heat-up time, min: 3-5.
Max. pouch thickness, mil: 1.2.
Jam prevention: yes.
Pros
Warms up in just 3-5 minutes.
Lightweight and small.
Has a built-in paper cutter.
Cons
Only offers a few pre-set options.
You may also need
Scotch Thermal Laminating Pouches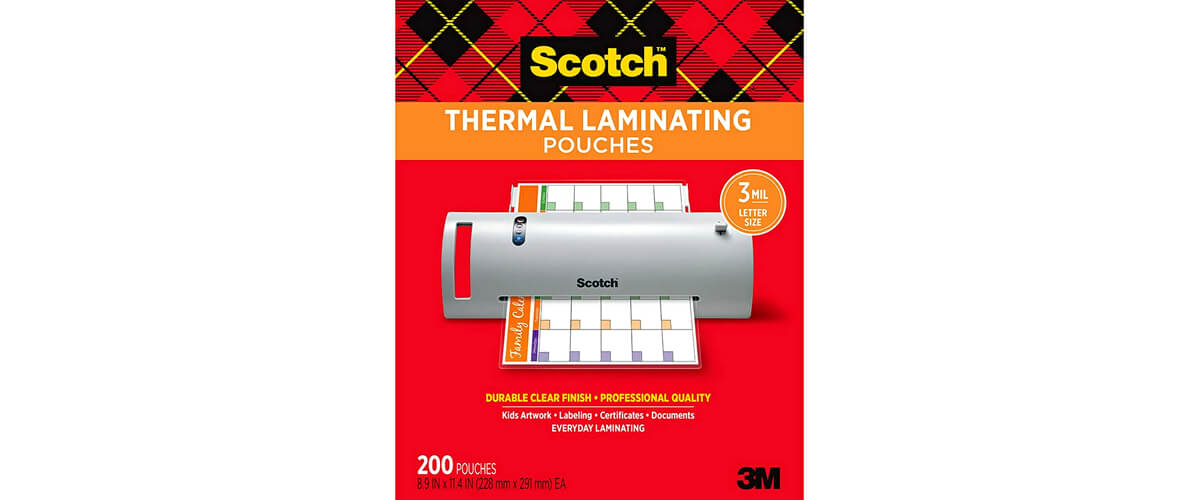 The Scotch thermal laminating pouches are a reliable choice for all your lamination needs. These 3-mil pouches ensure that your important documents, photos, or teaching materials are preserved in a high-quality, durable manner. What sets these laminating pouches apart is their consistently clear and bubble-free finish.
Types of laminators
Here, I want to share the different types of laminators available in the market and delve into their features, pros, and cons.
| Type of Laminator | Characteristics | Pros | Cons |
| --- | --- | --- | --- |
| Pouch laminators | Uses pre-cut laminating pouches; suitable for small to medium-volume lamination projects. | Easy to use, compact, portable, and ideal for homes and small offices. | Limited to the size of the pouch; not suitable for large-scale projects. |
| Roll laminators | Uses large rolls of laminating film; suited for high-volume lamination tasks. | Efficient for large projects; often used in schools and large offices. | Takes up more space; generally more expensive. |
| Cold laminators | Uses pressure-sensitive adhesive; no heat required. | No warm-up time; suitable for heat-sensitive documents. | Generally more expensive; less durable than thermal lamination. |
| Hot laminators | Uses heat-activated adhesive; requires warm-up time. | Durable finish; available in both pouch and roll formats. | Not suitable for heat-sensitive materials; may require longer warm-up. |
| Dual laminators | Capable of both hot and cold lamination processes. | Versatile; accommodates a variety of lamination needs. | Can be more expensive; may take up more space than single-purpose models. |
Factors to consider when choosing a laminator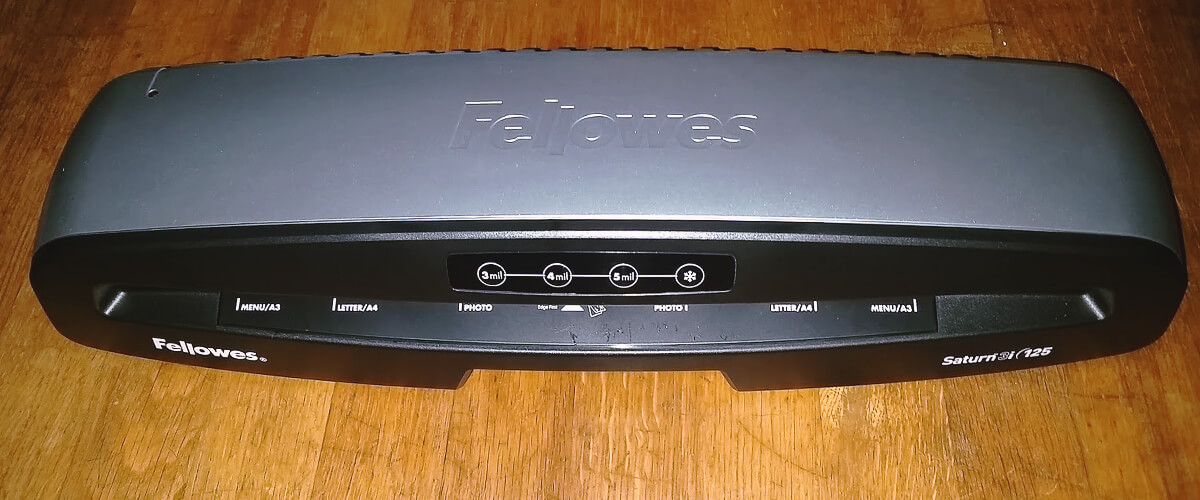 Laminating size
Choosing the right laminator involves considering various factors, one of which is the size of the documents or materials you plan to laminate. Laminators come in different sizes, and their capabilities vary accordingly. Here are some points to consider:
Standard sizes: Most home and office laminators are designed to accommodate standard document sizes like Letter (8.5 x 11 inches) or Legal (8.5 x 14 inches).
Wide-format laminators.
Versatility: It's worth considering whether the laminator can handle a variety of document sizes and thicknesses.
Laminating speed
The rate at which a laminator can seal your documents, typically measured in inches per minute (IPM), can greatly impact your overall productivity. If you're dealing with high-volume lamination, opting for a machine with a faster IPM is advisable. On the other hand, for home use or sporadic projects, a slower speed may be sufficient.
Sectors where laminating speed is important:
Commercial printing and graphics.
Schools and educational institutions.
Office settings.
Heating system
Hot roller systems
One of the key components to consider when choosing a laminator is the heating system it uses. Among the various options, hot roller systems stand out for several reasons.
Hot roller systems ensure consistent and even heating across the entire lamination surface. This uniform heating eliminates the risk of air bubbles, creases, or cold spots, resulting in a high-quality, professional finish. It's precisely this feature that makes hot roller laminators a go-to choice in professional printing, photography, and graphic design, where they are often employed for laminating posters, photos, and marketing materials.
Thermal pouch systems
Thermal pouch systems are known for their simplicity and affordability. They use pre-sealed pouches for laminating, which are fed through the laminator, where the adhesive on the pouch is activated by heat.
Temperature control
Temperature control is a crucial feature in a laminator as it directly impacts the quality of lamination and compatibility with various types of laminating materials. Some laminators feature pre-set temperature settings for pouches of standard thickness, simplifying the lamination process.
Common misconceptions about laminators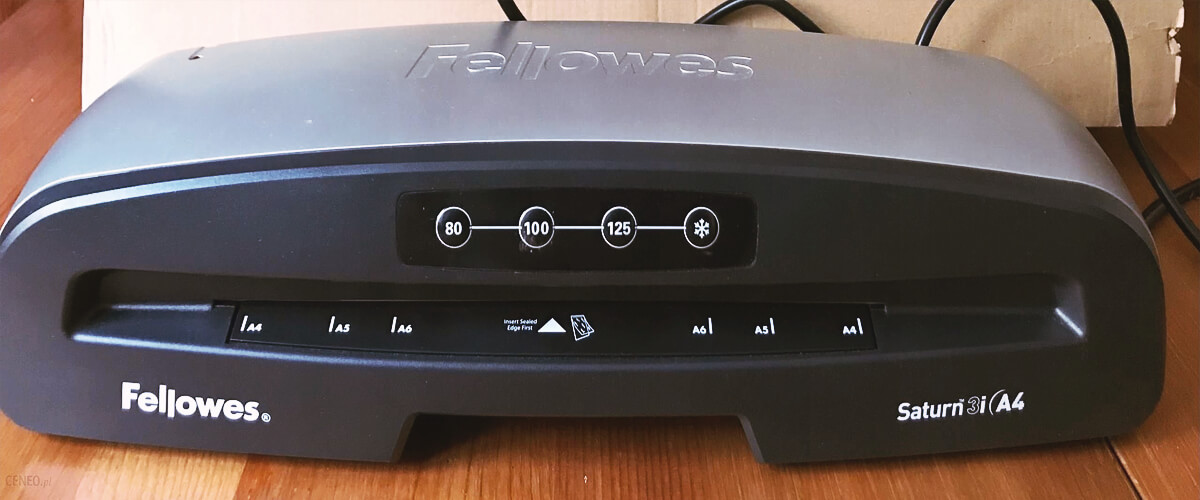 When it comes to laminators, there are several misconceptions that people often hold. Clarifying these myths can help you make a more informed choice when selecting and operating a laminator.
Laminators always damage documents
One common misconception is that laminators always damage documents. However, this is not true. When used correctly and following the manufacturer's recommendations—including choosing the appropriate thickness of laminating pouches—a laminator can actually protect and laminate documents without causing any harm. It's all about knowing how to operate the machine properly and understanding the specifications of the laminating materials.
All laminators overheat quickly
Another myth is that all laminators overheat quickly. While some older or low-quality models might be prone to overheating, many modern laminators are equipped with safety features, such as automatic shut-off mechanisms, to prevent overheating. High-quality laminators often have thermal management systems that regulate the machine's temperature, ensuring it stays within a safe operating range. So you definitely don't have to worry about this aspect.
Laminators are noisy machines
The notion that laminators are always noisy is also a misconception. While it's true that laminators do produce some noise — particularly when the rollers are engaged—many modern models are designed to operate relatively quietly. This makes them suitable for quiet office and home environments. Don't worry, you won't wake up the kids and certainly won't scare the neighbors with a strange and loud sound. It will just be barely audible.
FAQ
What are the benefits of laminating documents or materials?
Laminating can provide a host of advantages, including protecting your important documents from environmental hazards like spills or dirt. It also adds durability, preventing tears and wrinkles. Aesthetic improvements are another benefit; laminated items often look more professional and vibrant.
Are cheap laminators worth it?
If you only need to laminate items occasionally and aren't overly concerned about the quality, a less expensive laminator might suffice. However, lower-cost models might lack advanced features like adjustable temperature controls or fast lamination speeds.
Which is better, a hot or cold laminator?
The better option between hot and cold laminators largely depends on your specific needs. Hot laminators are typically better for general use, offering higher-quality, more durable lamination.
Can a laminator burn paper?
The risk of a laminator burning paper is quite low, especially if the device is used according to manufacturer guidelines. Modern laminators often come with safety features like temperature control settings and auto shut-off mechanisms to prevent overheating.
We are supported by our audience. When you purchase through links on our site, we may earn an affiliate commission at no extra cost to you.
Our newsletter
* We will never send you spam or share your email with third parties