This Fluke 117 review is dedicated to a compact electrician's multimeter with non-contact voltage detection. It works great for detecting live and ghost currents. It is a decent element of the inventory for professional electricians and those enthusiasts who want to get into electrical work equipped with high-end devices.
Features and specs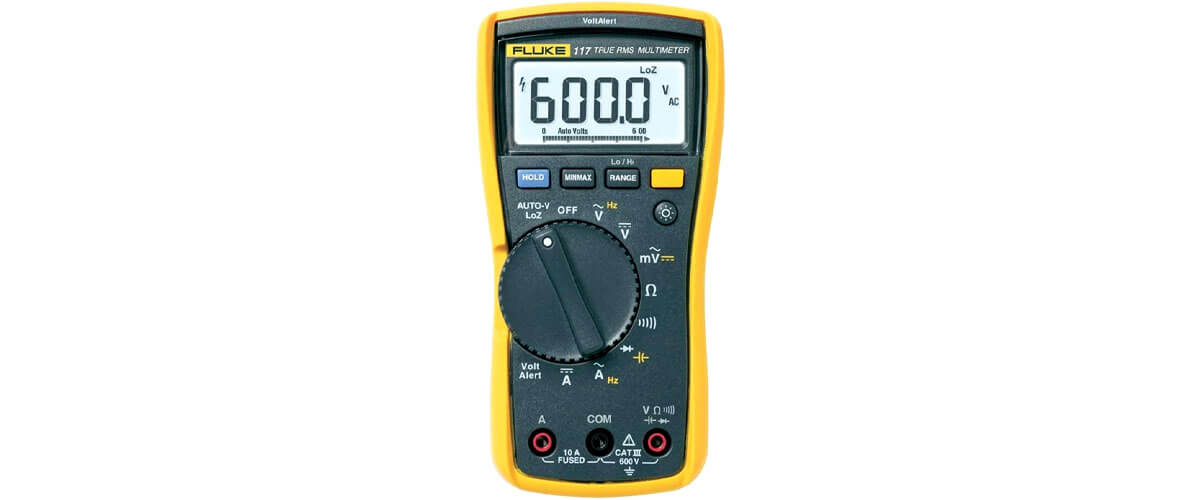 The Fluke 117 digital multimeter has been specially designed for electricians, so it will help perform the work more effectively and easier. Just to show you how it will enable these specialists to get the job done, let's compare it with Fluke 116, another product in the multimeter lineup. The 116 provides micro-amps to test flame sensors, making it a good choice for HVAC specialists. At the same time, it doesn't induce non-contact voltage detection, which is handy for electricians. This feature of 117 enables you to define whether a circuit is live or not without attaching the leads to it. Thus, the electrician's job becomes much easier and safer.
Due to its compactness, you can haul this item everywhere to measure resistance, continuity, frequency, capacitance, and test diodes. Fluke 117 lets you get an idea of AC/DC voltage, Lo-Z capacitance, and DC amps. It has a 10 amp current range for making both AC or DC measurements, but it lacks the mA and uA range.
The Fluke 117 specs include the AutoVolt feature. With this option, you get AC/DC voltage measurements in seconds without switching manually. In addition, this multimeter model boasts a CAT III 600V rating, which offers a high level of protection. So, it's safe to work on most panel boards, switchgear, feeders, outlets, and other equipment.
Unfortunately, there is no auto-hold feature in this model. Hence, you have to find a way to push the hold button with both of your hands tied up holding probes. Because of this, you may find that Fluke 117 is hard to use in some situations.
Key specs
AC voltage: 600V/0.01V (±1.0% + 3).
DC voltage: 600V/0.1V (±0.5% + 2).
DC millivolts: 600mV/0.1mV (± 0.5% + 2).
DC amps: 6A/0.001A (± 1% + 3).
Capacitance, nF: 1000/1 (± 1.9% + 2).
Resistance, Ohm: 600/0.1 (± 0.9% + 2).
Size, cm/in: 16.7 x 8.4 x 4.6 / 6.5 x 3.3 x 1.8.
Weight, g: 550.
Design and materials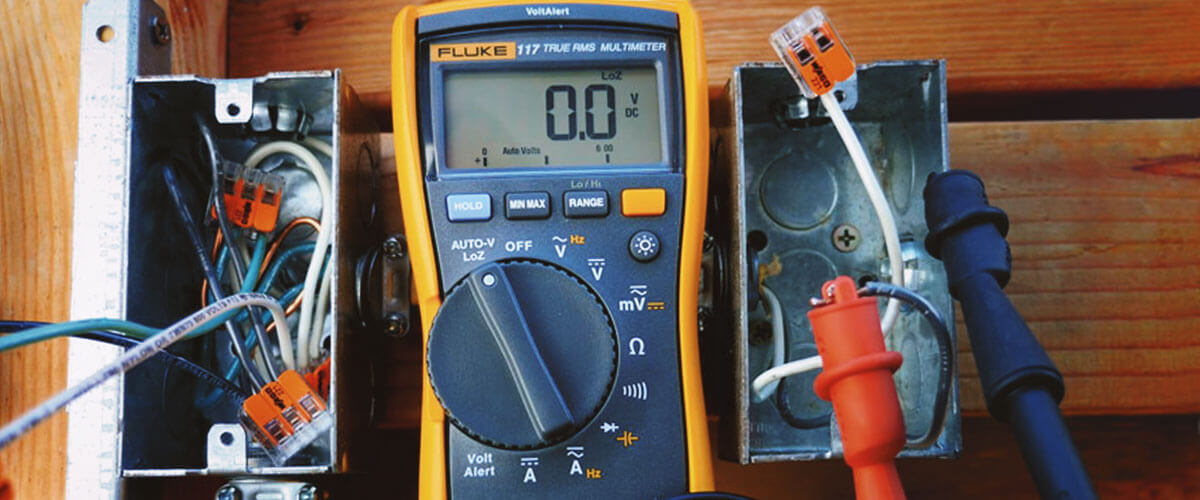 The Fluke company has always been the standard of quality, and the Fluke 117 true RMS multimeter doesn't disappoint the brand's fans with the build quality.
Despite its light weight, Fluke 117 is heavy-duty and easily wins the status of one of the sturdiest meters on the market. In addition, it has a rubber holster for protection from all sides. Besides, it makes the meter feel good in your hands, even with gloves on.
The battery access compartment is a hit. It looks innovative and features direct PCB soldiered tabs and a "one-way" 9V battery door, which enables you to install the battery without a fuss. The mode dial is also decently made. Because of the off-center design, you can roll it from side to side with your thumb.
Display
Fluke 117 has a 6000-count display with 4 updates per second, which is a good numeric resolution. The display contrast is fine but not brilliant. Because of this, the measurements can be hard to read from certain angles. However, the bar graph is responsive and reliable.
Pros and cons
Pros
Well-built and sturdy, thanks to the rubber holster.
Non-contact voltage detection facilitates the process of taking measurements.
The AutoVolt feature lets measure AC/DC voltage in seconds.
Designed especially for electricians to measure resistance, continuity, frequency, capacitance, and test diodes.
Cons
The display can be hard to read from certain angles.
Comes without an auto-hold feature.
You may lack the mA and uA range.
We are supported by our audience. When you purchase through links on our site, we may earn an affiliate commission at no extra cost to you.
Our newsletter
* We will never send you spam or share your email with third parties