In the world of Heating, Ventilation, and Air Conditioning — commonly known as HVAC — the right tools are crucial for both troubleshooting and maintenance. As an expert who has spent years in the field, I can't stress enough how important it is to have the best HVAC multimeter at your disposal. Yes, this is exactly the area where saving on the quality of the device can play a trick on you. And saving 20-30$ on a multimeter, you can end up losing hundreds and even thousands of dollars.
These complex systems control the climate and air quality in residential and commercial buildings, making our living and working environments comfortable year-round. Any malfunction in an HVAC field can be disruptive and potentially dangerous and requires prompt attention from skilled professionals. Given the complexity of HVAC systems, choosing a reliable and efficient multimeter is critical for accurate diagnosis and timely repairs. In this article, I'll share my personal experience and recommendations for the top 5 HVAC multimeters in 2023 that every professional tech should consider.
Our pick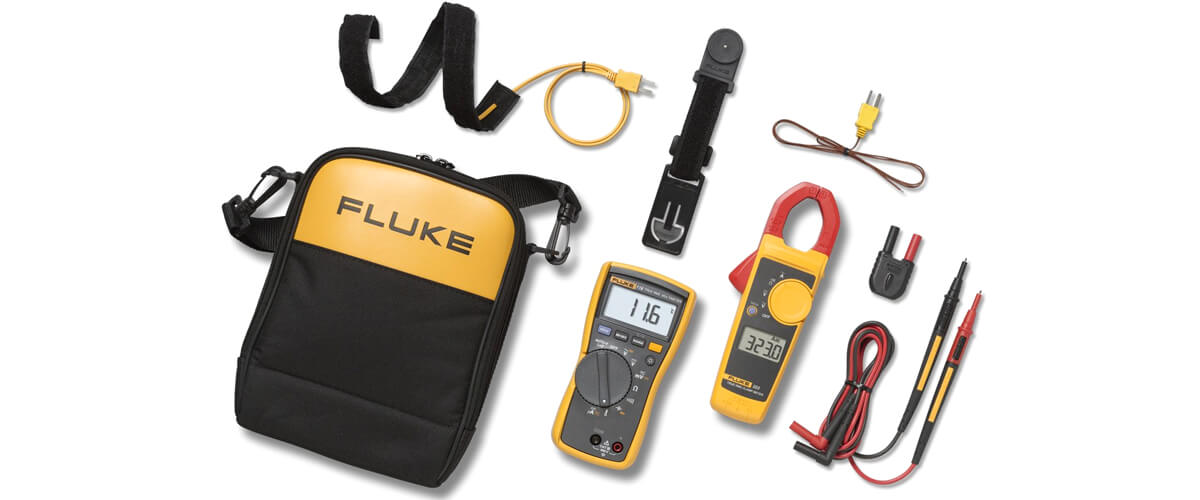 Fluke 116/323 Multimeter and Clamp Meter
Best HVAC multimeter
The Fluke 116/323 HVAC Combo Kit includes a multimeter, clamp meter, built-in thermometer for HVAC applications, and compact, ergonomic design for one-handed operation.
Read the full review
.
HVAC multimeters comparison table
Name
AC voltage
DC voltage
DC millivolts
DC amps
Review
Fluke 116/323 Multimeter and Clamp Meter

best overall

600V/0.01V (± 1.0% + 3)
600V/0.1V (± 0.5% + 2)
600mV/0.1mV (± 0.5% + 2)
600μA/0.1μA (± 1.0% + 2)
Review
Fieldpiece HS36

also a great choice

600V/0.01V (± 1.2% + 5)
600V/0.1V (± 0.5% + 2)
400mV/0.1mV (± 0.5% + 2)
600V/0.1V (± 0.5% + 2)
Review
UEi Test Instruments DL429B

under $300

600V/0.1V (± 1.0% + 3)
600V/0.1V (± 0.5% + 4)
600mV/0.1mV (± 1.0% + 3)
600V/0.1V (± 2.0% + 8)
Review
Klein Tools CL320KIT HVAC Electrical Test Kit budget kit

600V/1V (± 1.5% + 5)
600V/1V (± 1.0% + 3)
400mV/0.1mV (± 1.0% + 8)
200μA/0.1μA (± 1.0% + 5)
Review
Why do HVAC technicians need special multimeters?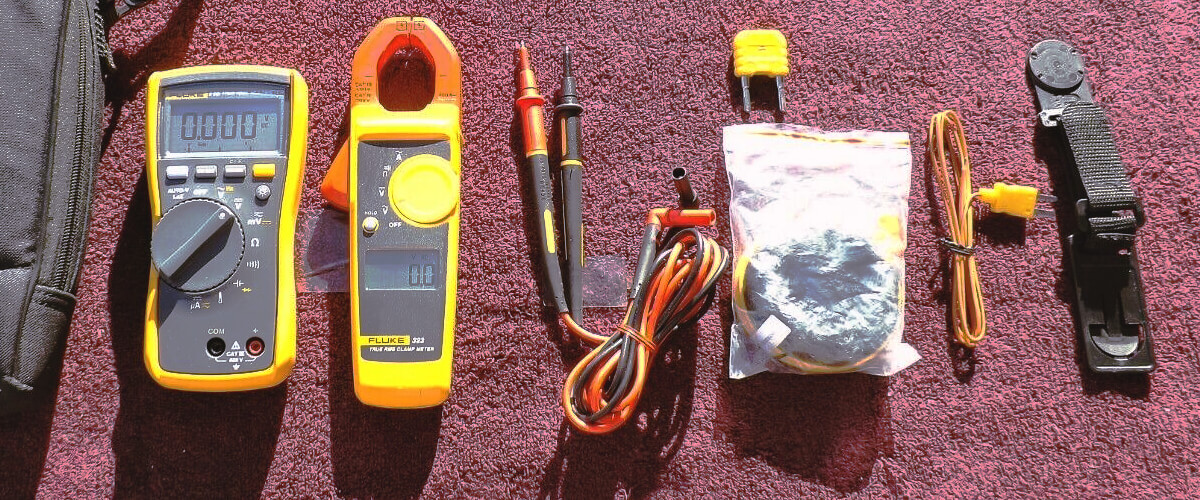 The role of a multimeter in the HVAC industry is akin to a stethoscope in medicine. It's an indispensable tool for diagnosing and understanding the electrical health of complex systems. Unlike regular or automotive electricians, HVAC technicians encounter a unique set of challenges that require specialized equipment.
Unique Electrical Issues in HVAC
Variable frequencies: HVAC systems use different frequencies, requiring a multimeter capable of accurate readings across a range of hertz.
Temperature measurements: HVAC techs often need to measure temperature directly, something not commonly needed in other electrical fields.
High voltage systems: Commercial HVAC systems can operate on much higher voltages, necessitating the use of a multimeter capable of handling these levels safely.
Multiple units: HVAC systems are often integrated with multiple components, from air handlers to compressors, requiring a versatile tool for diverse diagnostic tasks.
Differences from automotive and regular electrician multimeters
| Criteria | HVAC multimeters | Automotive multimeters | Regular electrician multimeters |
| --- | --- | --- | --- |
| Frequency range | Wide range | Limited range | Medium range |
| Temperature measurement | Yes | No | Rarely |
| Voltage capacity | High | Medium | Medium to high |
| Specialized features | Capacitance, airflow, temperature | RPM, dwell angle | Basic electrical measurements |
After years of using different types of multimeters, I've noticed that specialized devices, often referred to as HVAC voltage meters, are tailored to meet the specific challenges and needs of HVAC technicians. Whether it's handling high voltage systems safely or measuring airflow and temperature, good HVAC multimeters come equipped with the functionalities essential for our line of work.
How did I test?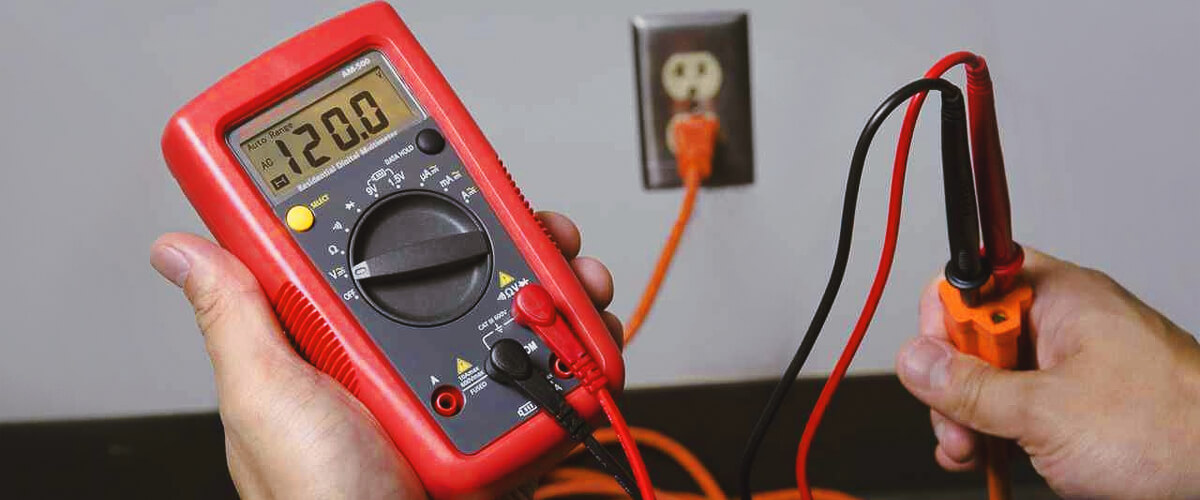 Testing multimeters for HVAC applications is a meticulous task, and I took this one very seriously. I started off by carefully selecting a range of popular HVAC multimeter models from well-known manufacturers. To ensure a fair assessment, I established a set of comparison criteria that cover essential functionalities needed for HVAC work. These included temperature measurement capabilities, True RMS accuracy, voltage and current range, safety features, resistance and capacitance measurements, durability, and ease of use.
Each multimeter was subjected to a series of accuracy tests. This involved measuring known electrical quantities like voltage, current, resistance, and capacitance to see how closely each device's readings matched the expected values. For assessing temperature measurement capabilities, calibrated temperature sources and thermocouples were employed. I evaluated the accuracy and response time of each multimeter's temperature measurement feature.
At the end of the day, several models that are quite popular among professionals fell short:
Testo 760-2: Despite being from a reputable brand, this multimeter consistently showed imprecise readings, especially when measuring alternating current and voltage.
Amprobe – AM-520: While its features looked promising on paper, it showed poor durability during my tests. It couldn't withstand minor drops or the typical wear and tear encountered in HVAC environments.
After using these multimeters, I concluded that while they might have potential, they didn't meet the robust demands of HVAC work. For those in search of the best HVAC multimeters, it's essential to focus on tools that are truly tailored to meet the unique challenges of this field.
Best HVAC multimeter reviews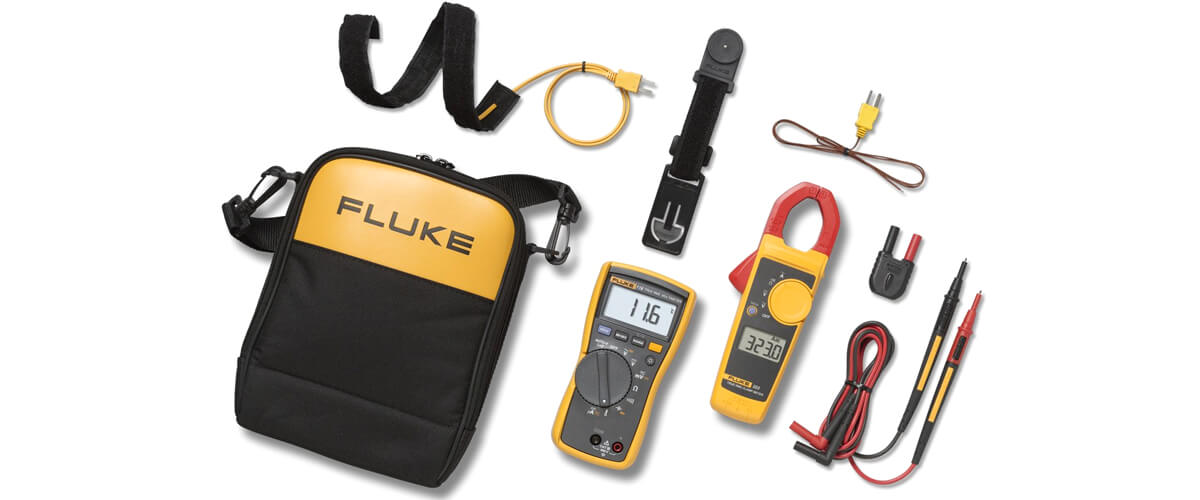 I'd like to start with the Fluke 116/323 combo. Let me just say this isn't merely the best multimeter for HVAC; it's the best HVAC meter package you can get your hands on! While we're mainly talking about multimeters, it's hard to overlook this comprehensive set that includes both a versatile multimeter and a clamp meter. Essentially, you're solving a multitude of tasks with a single purchase.
In terms of accuracy and precision, the Fluke 116/323 delivers impeccable results. Whether you're measuring voltage, current, or resistance, it stays true to its readings. I've personally found it extremely reliable, particularly when handling those tricky, variable-frequency HVAC systems.
Functionality is where this package really shines. With features like temperature measurement, True RMS, and even microamps for flame sensor tests, it has everything an HVAC technician could ask for. Battery life is commendable, too, saving me the worry of frequent replacements.
So, summing up, the Fluke 116/323 combo is the best Fluke multimeter for HVAC professionals. It offers an all-in-one solution, blending reliability, durability, and versatility into one compact package. After using this set, I'm convinced it's a must-have for any serious HVAC professional.
Key specs
AC voltage: 600V/0.01V (± 1.0% + 3).
DC voltage: 600V/0.1V (± 0.5% + 2).
DC millivolts: 600mV/0.1mV (± 0.5% + 2).
DC amps: 600μA/0.1μA (± 1.0% + 2).
Capacitance, nF: 1000/1 (± 1.9% + 2).
Resistance, Ohm: 600/0.1 (± 0.9% + 1).
Size, cm/in: 16.7×8.4×4.6/6.5×3.3×1.8.
Weight, g: 550.
Pros
An all-in-one tool for HVAC professionals.
Delivers accurate and reliable readings.
Stands up to the wear and tear of daily HVAC work.
Has each functionality an HVAC technician might need.
Cons
Battery life: While generally good, there are other models on the market with longer-lasting batteries.
Fieldpiece HS36 – also a great choice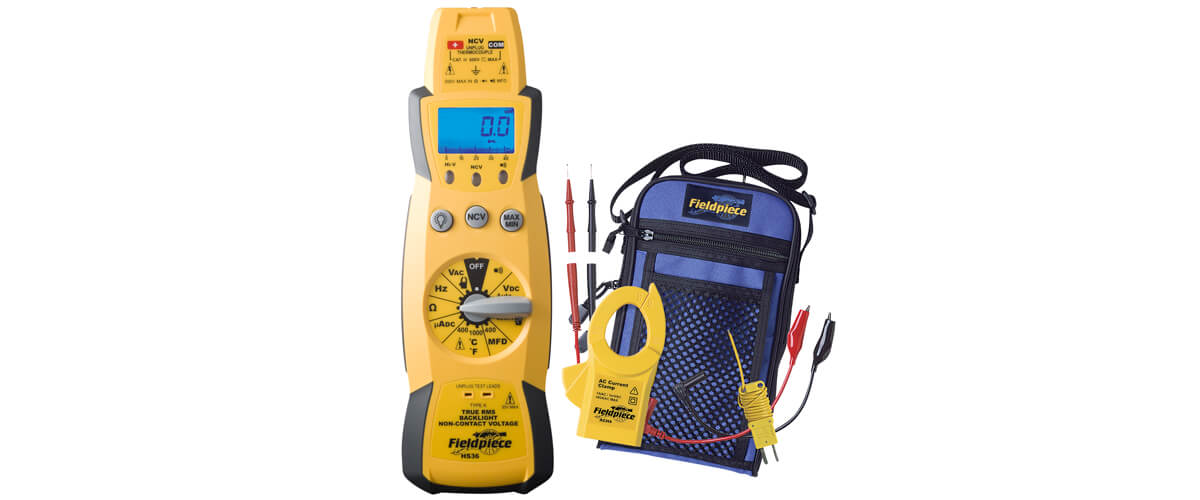 Shifting gears, let's delve into the Fieldpiece HS36, another exceptional package that certainly earns its place as one of the best Fieldpiece multimeters for HVAC. By the way, much like the Fluke 116/323 combo, the HS36 also comes as a package deal featuring both a multimeter and a clamp meter.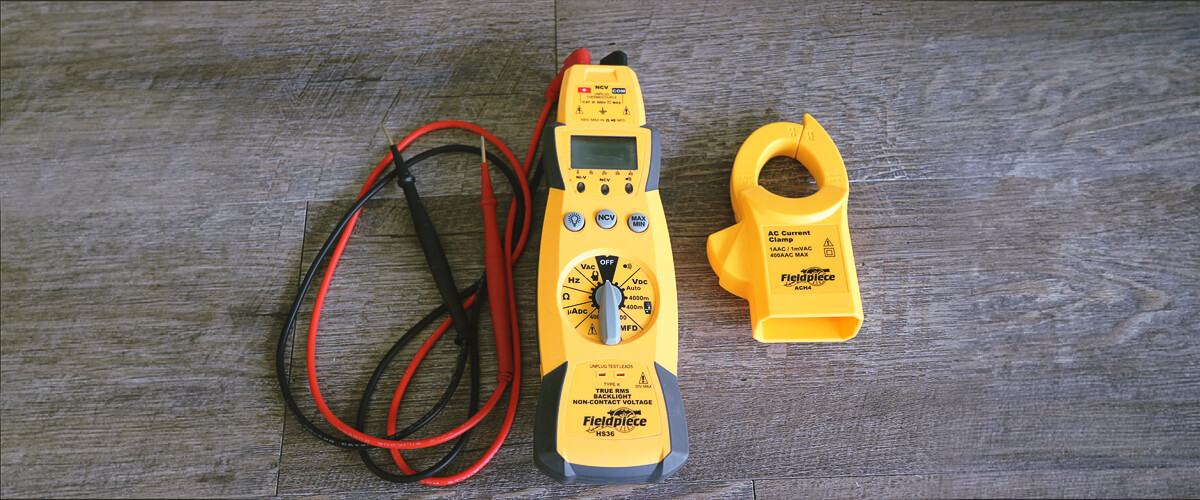 In my experience, the HS36 excels in terms of accuracy and precision. Whether I was measuring AC or DC currents, it rarely disappointed me. On that note, its measurement range and resolution are expansive, making it adaptable to a variety of HVAC situations.
The unit is also ergonomic, designed for easy portability, and is backed with safety features that comply with industry standards. In a nutshell, if you're not going for the Fluke 116/323 for any reason, the Fieldpiece HS36 makes for a compelling alternative. It brings together accuracy, durability, and a range of features that any HVAC professional would appreciate.
Key specs
AC voltage: 600V/0.01V (± 1.2% + 5).
DC voltage: 600V/0.1V (± 0.5% + 2).
DC millivolts: 400mV/0.1mV (± 0.5% + 2).
DC amps: 600V/0.1V (± 0.5% + 2).
Capacitance, nF: 400/1 (± 1.9% + 2).
Resistance, Ohm: 400/0.1 (± 1.0% + 4).
Size, cm/in: 16.5×7.6×29.7/6.5x3x11.7.
Weight, g: 748.
Pros
Serving multiple needs in HVAC work.
Constant and fluctuating electrical parameters.
Easy-to-read backlit display and intuitive navigation.
Additional handy features: non-contact voltage detection and a built-in flashlight.
Cons
Although battery life is generally good, the feature-rich design can demand frequent battery replacements.
UEi Test Instruments DL429B – under $300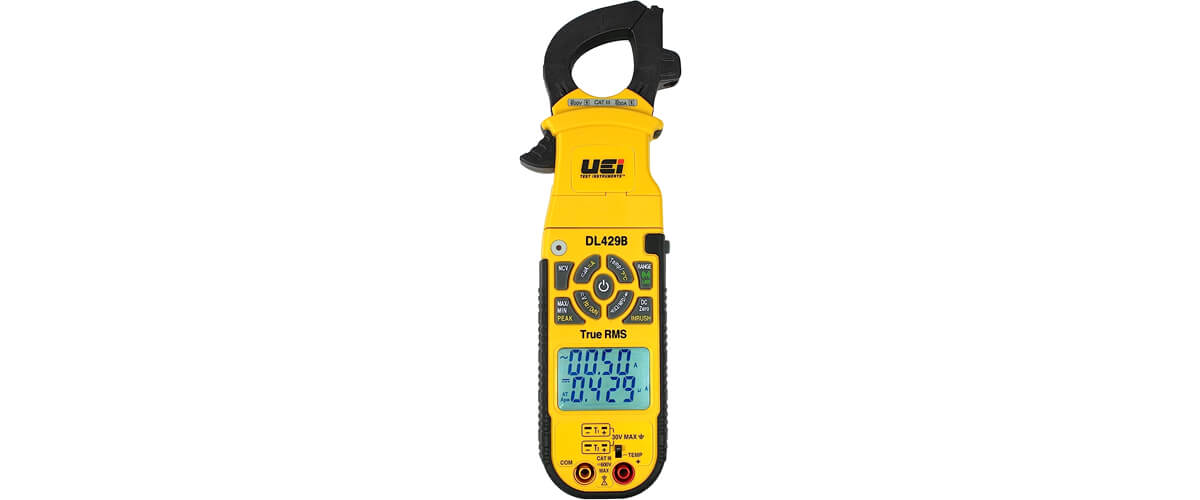 The next tool I want to pay your attention to is DL429B. If you're working within a budget but still require a reliable and feature-rich digital multimeter, then the UEi DL429B deserves your consideration. Falling under the $300 mark, it's an excellent choice for those who want quality without burning a hole in their pockets.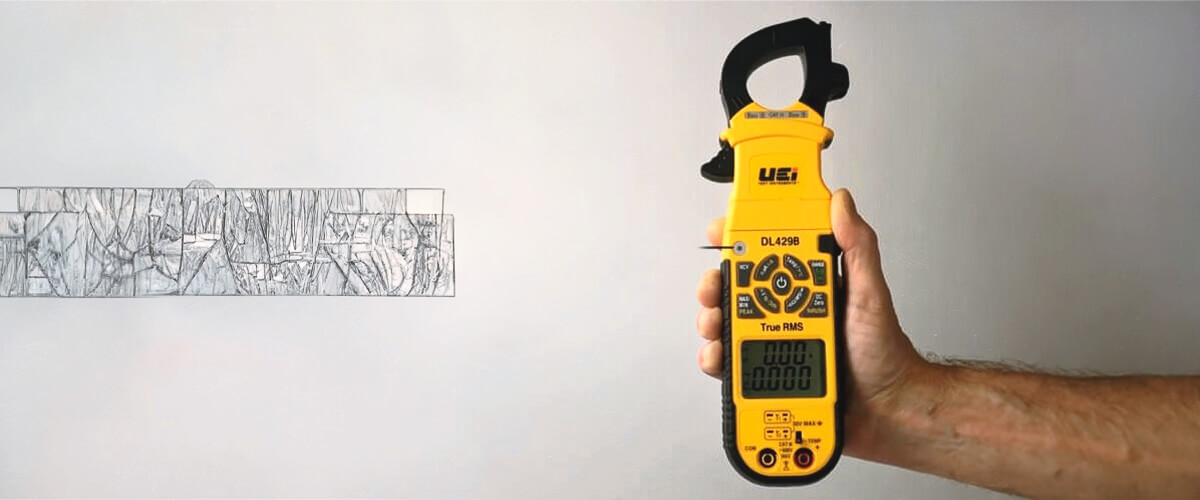 In my own practice, I've found that the UEi DL429B doesn't lag behind in terms of accuracy and precision. Even when compared to more expensive units, it held its own quite well, especially on HVAC-specific tests like temperature measurements and microamps. The measurement range and resolution are expansive enough to cover most HVAC applications you'd encounter in the field.
To sum it up, the UEi DL429B offers an impressive feature set and dependable performance at a sub-$300 price point. It's a solid choice for HVAC professionals who are looking for good value for their investment.
Key specs
AC voltage: 600V/0.1V (± 1.0% + 3).
DC voltage: 600V/0.1V (± 0.5% + 4).
DC millivolts: 600mV/0.1mV (± 1.0% + 3).
DC amps: 600V/0.1V (± 2.0% + 8).
Capacitance, nF: 600/1 (± 1.2% + 3).
Resistance, Ohm: 600/0.1 (± 0.8% + 3).
Size, cm/in: 25.9×6.3×3.8/10.2×2.5×1.5.
Weight, g: 430.
Pros
Excellent price-to-performance ratio.
The dual display enables simultaneous readings.
Rugged build quality.
Cons
Limited high-end features compared to premium models, which may restrict some advanced diagnostics.
Battery life, while good, may require frequent recharging during heavy use.
Klein Tools CL320KIT HVAC Electrical Test Kit – budget kit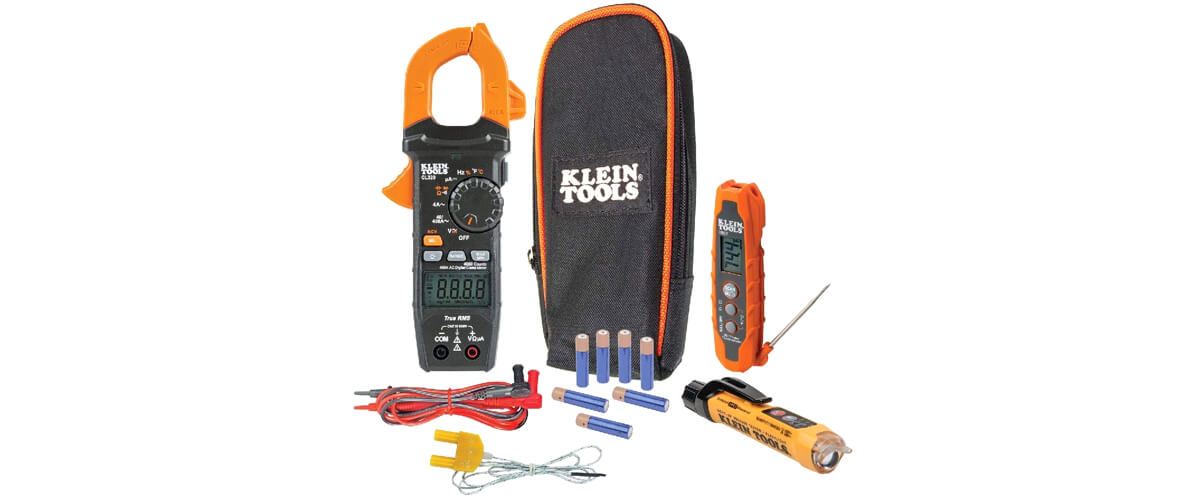 Shifting our focus, let's explore the Klein Tools CL320KIT, an affordable electrical test kit for HVAC that features an HVAC Digital Clamp Meter. From my experience using it for basic HVAC troubleshooting tasks, I can say that it's pretty accurate and straightforward to use, especially if you're on a tight budget. Its accuracy and precision are generally reliable for basic tasks, though not on par with higher-end models like the Fluke 116/323.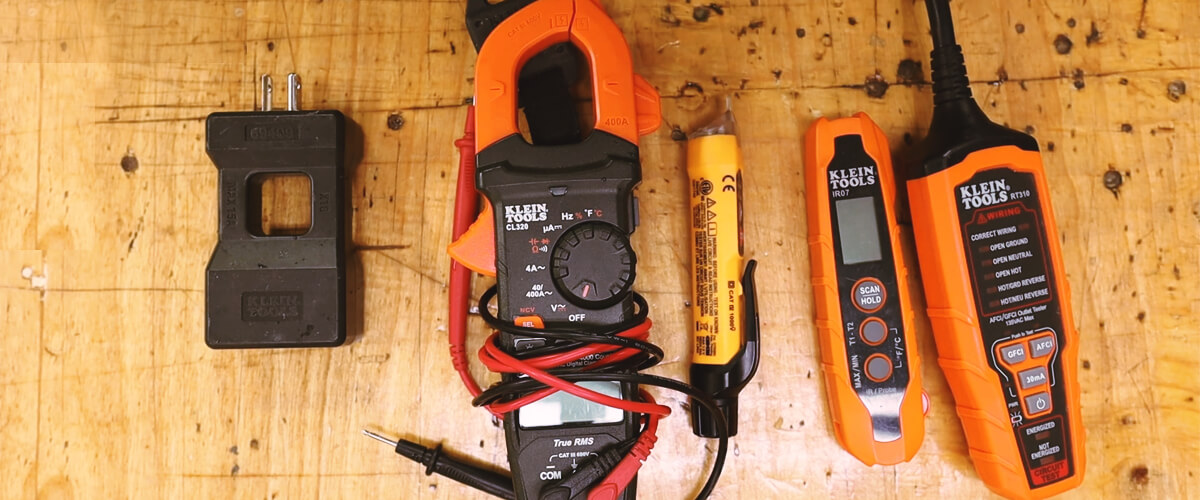 The measurement range and resolution are adequate for most routine HVAC work, but they don't offer the breadth you'll find in more expensive units. In terms of build quality and durability, the Klein Tools kit holds its own quite well, especially considering its price point. The user interface and display are intuitive and easy to read, which is a plus for those who are new to the field.
All in all, if you're on a tight budget, the Klein Tools CL320KIT can be a serviceable option. However, if you're considering long-term use and versatility, you may find it more beneficial to invest in a more premium kit right off the bat.
Key specs
AC voltage: 600V/1V (± 1.5% + 5).
DC voltage: 600V/1V (± 1.0% + 3).
DC millivolts: 400mV/0.1mV (± 1.0% + 8).
DC amps: 200μA/0.1μA (± 1.0% + 5).
Capacitance, nF: 400/1 (± 4.0% + 8).
Resistance, Ohm: 400/0.1 (± 1.2% + 5).
Size, cm/in: 21.5x9x3.8/8.4×3.5×1.5.
Weight, g: 310.
Pros
A budget-friendly introduction to HVAC electrical measurements.
The display and controls are intuitive.
Compact design and decent battery lifespan.
Cons
Suitable for basic tasks but may not meet the demands of more complex HVAC projects in the long run.
Doesn't offer the extended range and high-precision measurements that more advanced or specialized tasks might require.
Amprobe AM-560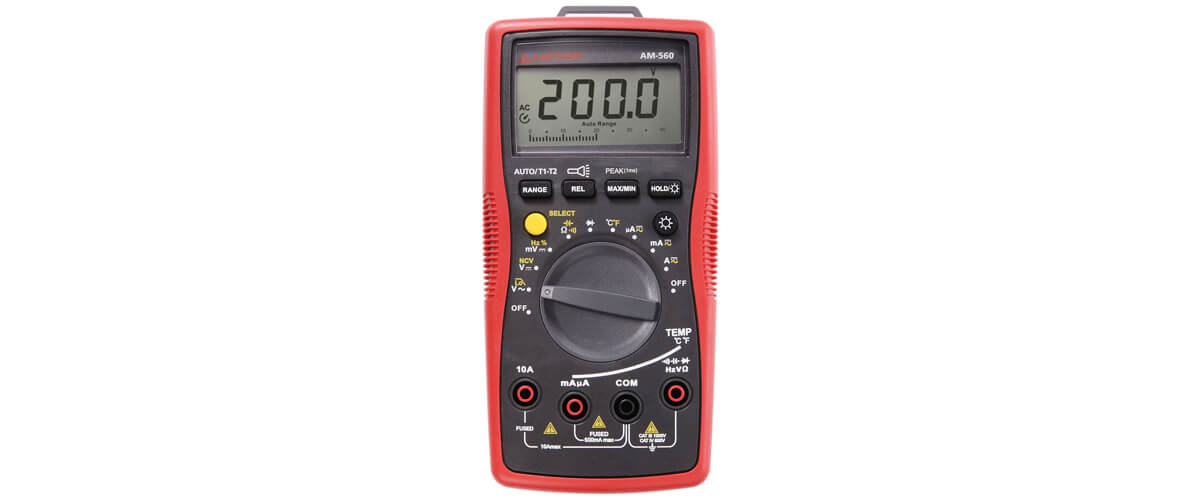 Continuing with our exploration of HVAC multimeters, let's delve into the Amprobe AM-560. This device makes a good impression right off the bat with its commendable accuracy and precision. For HVAC professionals who need reliable data, this multimeter doesn't disappoint. Its measurement range and resolution are both versatile and robust, giving you the ability to handle various tasks with ease.
When it comes to build quality and durability, the Amprobe AM-560 is designed to withstand the rigors of the field. However, during my own experience using this multimeter, I did notice that it is not as resilient as some other high-end models when it comes to handling drops or intense mechanical stresses.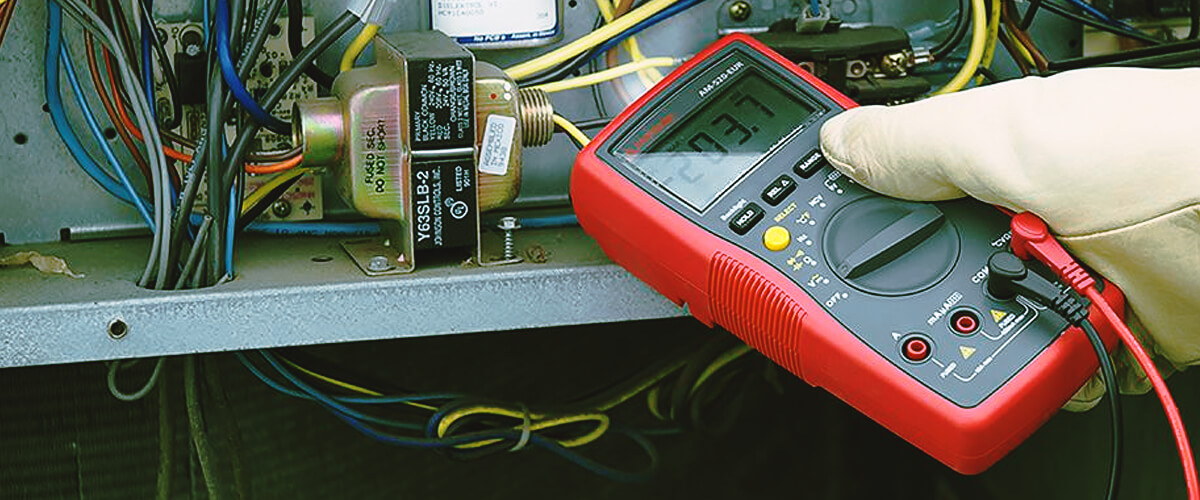 By the way, the device's display is clear, and the user interface is fairly straightforward, making readings easy to interpret. It comes with an array of functionality and features, including the capability to measure temperature, which is crucial for HVAC tasks.
In conclusion, the Amprobe AM-560 is a reliable and versatile tool, ideal for a wide range of HVAC applications. It may not be the most durable option out there, but it compensates with its accuracy and broad range of features. If you're in the market for a good, all-around multimeter, this could well be a suitable choice.
Key specs
AC voltage: 600V/0.1V (± 1.0% + 3).
DC voltage: 600V/0.1V (± 0.5% + 2).
DC millivolts: 600mV/0.1mV (± 0.5% + 3).
DC amps: 10A/0.1A (± 1.5% + 3).
Capacitance, nF: 600/1 (± 3.0% + 5).
Resistance, Ohm: 600/0.1 (± 1.2% + 2).
Size, cm/in: 18.2x9x4.5/7.2×3.5×1.8.
Weight, g: 354.
Pros
Precise measurements in various HVAC applications.
Versatile functionality: can also measure temperature.
The display is easy to read, and the controls are intuitive.
Cons
While solid, it's not designed to handle extreme physical stresses, as well as some other high-end models.
Although respectable, the battery life isn't groundbreaking and might require frequent replacements in heavy-duty applications.
How does a clamp meter differ from a standard multimeter?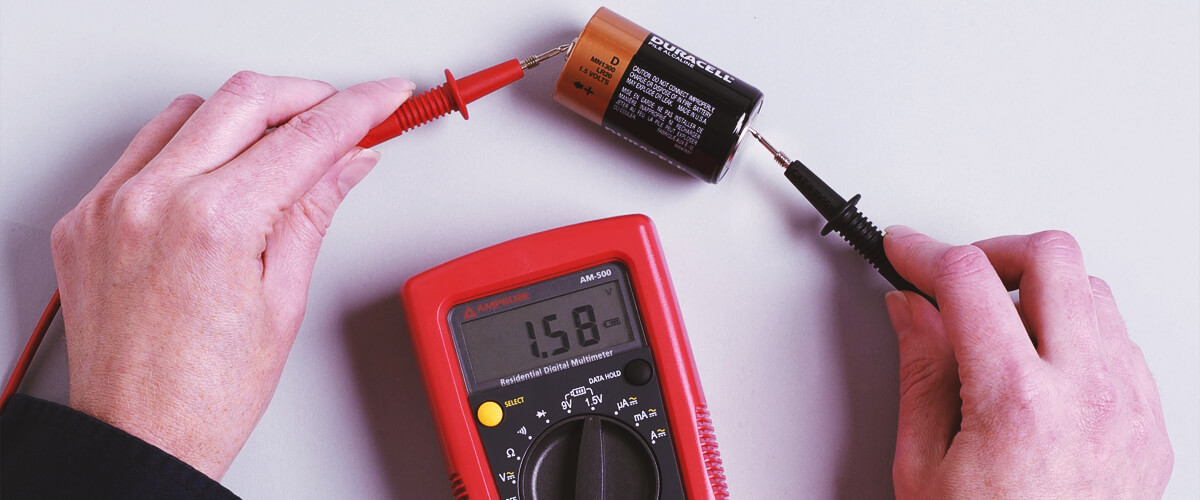 A standard multimeter requires direct contact with a circuit for measuring electrical parameters, often necessitating circuit disconnection. In contrast, a clamp meter uses electromagnetic induction to measure current without touching the wire, providing a safer and quicker method. If you're in the market for the best clamp multimeter for HVAC, it's essential to know that this non-intrusive approach is particularly valuable for high-voltage HVAC systems, where safety is critical. Both tools are essential, but the choice between them often depends on the specific measurement needs and safety considerations.
Recommended accessories to consider when using an HVAC multimeter
When using an HVAC multimeter, certain accessories can make your job easier and more accurate:
Crocodile clips: These can be attached to the ends of test leads for secure connections to wires and terminals, freeing your hands for other tasks.
Temperature sensors: If your multimeter has temperature-measuring capabilities, consider specialized temperature sensors or thermocouples for precise readings.
Adapters with clamps: Useful when you can't attach measuring clamps, these adapters enable your HVAC multimeter to function as a clamp meter for current measurements.
Non-contact voltage detector: A valuable safety tool that quickly identifies the presence of voltage in wires or circuits without requiring physical contact.
FAQ
Can I use a regular multimeter or an automotive multimeter for HVAC work?
Yes, you can use a regular or automotive multimeter for basic HVAC tasks, but they will not cope with most specific tasks. Only specialized devices will be able to cover the entire range of issues in this area and provide correct measurements.
Are there any industry standards or certifications that HVAC multimeters should meet?
Absolutely. Look for HVAC multimeters that meet or exceed standards like the International Electrotechnical Commission's (IEC) 61010 or are CAT III/CAT IV safety certified.
Can I use my HVAC multimeter for tasks beyond electrical measurements?
Certainly. Many HVAC multimeters come with additional features like temperature, humidity, and pressure sensors that make them versatile tools not only for electrical measurements but also for understanding the overall environment in which an HVAC system operates.
We are supported by our audience. When you purchase through links on our site, we may earn an affiliate commission at no extra cost to you.
Our newsletter
* We will never send you spam or share your email with third parties