If you are into a car repair business or would like to mess around with your vehicle, it's no wonder you are looking for the best multimeters for automotive. Since many car systems like ignition, fuel, and charging networks depend on electricity, these tools will help you quickly define and troubleshoot such issues. Using this device, you can measure voltage, current, and resistance in the electric components of your car.
Our pick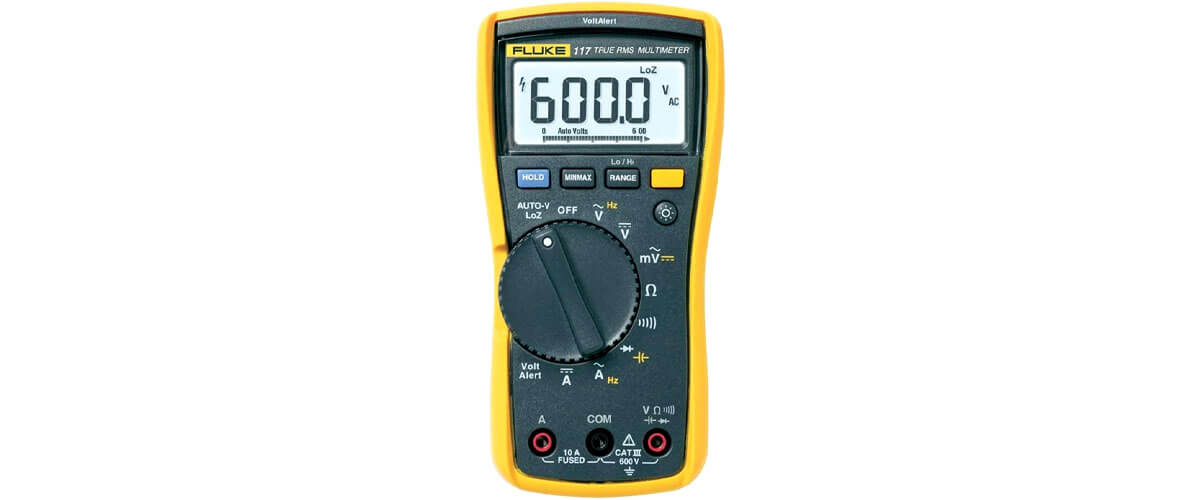 Fluke 117
Best multimeter for automotive
The Fluke 117 Electricians Multimeter is a compact, CAT III 600 V, True-rms meter that includes an easy-to-use interface with a bright backlight for darker worksites.
Read the full review.
Name
AC voltage
DC voltage
DC millivolts
DC amps
Review
Fluke 117

best overall

600V/0.01V (±1.0% + 3)
600V/0.1V (±0.5% + 2)
600mV/0.1mV (± 0.5% + 2)
6A/0.001A (± 1% + 3)
Review
AstroAI DM6000AR

budget pick

600V/0.01V (±1.2% + 6)
600V/0.1V (± 0.8% + 3), 1000V/1V (± 1% + 5)
600mV/0.1mV (± 0.8% + 5)
6A/0.001A (± 1.5% + 3)
Review
Fluke 88V

premium choice

600V/0.01V (± 0.5% + 2), 1000V/1V (± 0.5% + 2)
600V/0.1V (± 0.1% + 1), 1000V/1V (± 0.1% + 1)
600mV/0.1mV (± 0.3% + 1)
6A/0.001A (± 1.2% + 2)
Review
There is an abundance of multimeters on the market today to meet your budget and different requirements. However, the variety of options may make it a bit overwhelming to pick the one that aligns with your needs. In addition, beginners may find it incredibly daunting to settle on a suitable multimeter. So, whether you are a pro or a newbie, you will benefit from looking through this review. I will guide you through the assortment of multimeters and give you an idea about decent products.
Best multimeter for automotive reviews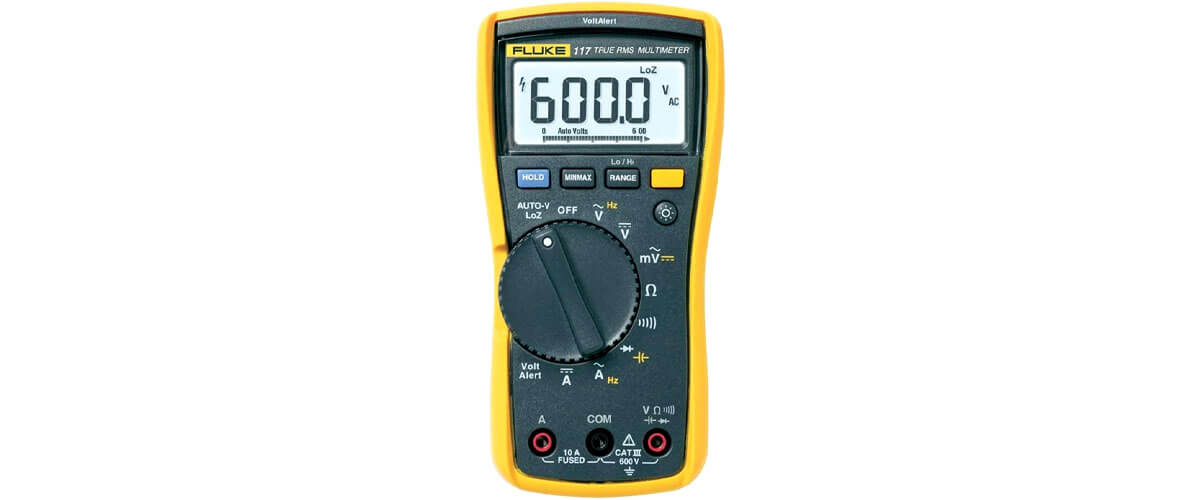 With this compact and CAT III-rated multimeter by Fluke, you can take on any challenging task that requires accuracy, mobility, and higher safety measures.
The prominent feature of the Fluke 117 multimeter is non-contact voltage detection. Because of it, this model may be more appealing than the AstroAI DM6000AR. With this device, you do not have to carry additional tools around to detect the presence of voltage when troubleshooting or working on a failed asset.
This automotive DMM will ensure you get accurate voltage, current, resistance, continuity, frequency, and capacitance measurements. With the True RMS technology, you can rest assured that you are not misled by the measurements, even with non-linear loads. Also, you can use min/max/average readings depending on your needs.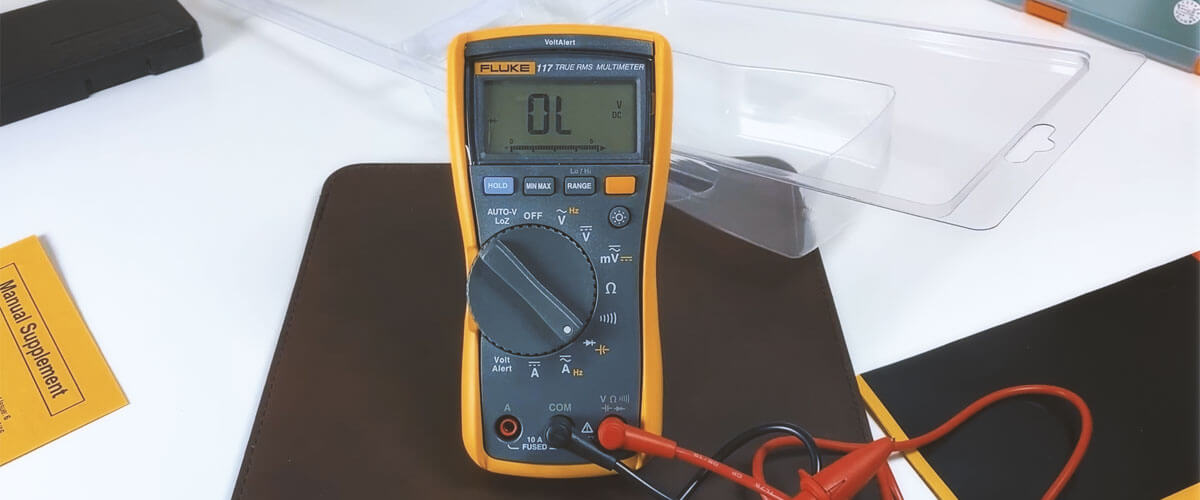 I am a fan of Fluke's AutoVolt feature. It automatically selects AC/DC voltage, helping me save time and move from job to job much quicker. Besides, I find the LED-backlit display convenient for working in dim lighting. One more handy feature is the ability to couple the multimeter with a magnetic hanger for hands-free use.
There are only a few things I am not enthusiastic about in this device. First, the manual and the multimeter are out of sync. Fluke has changed how you read capacitance, so the manual is slightly outdated and may be hard for beginners to catch up on the readings. Second, I am disappointed that this model doesn't have an mA range.
Weighing all pros and cons, I am more than certain that this is the best multimeter for automotive. It's compact, so you can attach it to a magnetic hanger for convenience. Also, the non-contact voltage detection, AutoVolt feature, and many more make this unit handy for multiple tasks around your vehicle.
Key specs
AC voltage: 600V/0.01V (±1.0% + 3).
DC voltage: 600V/0.1V (±0.5% + 2).
DC millivolts: 600mV/0.1mV (± 0.5% + 2).
DC amps: 6A/0.001A (± 1% + 3).
Capacitance, nF: 1000/1 (± 1.9% + 2).
Resistance, Ohm: 600/0.1 (± 0.9% + 2).
Size, cm/in: 16.7 x 8.4 x 4.6 / 6.5 x 3.3 x 1.8.
Weight, g: 550.
Pros
Non-contact voltage detection for quick current troubleshooting.
An AutoVolt option to quickly switch between the tasks.
Compact and compatible with a magnetic holder.
Has a LED-backlit screen for working even in dim light.
Cons
The manual is slightly outdated.
The lack of mA range makes it harder to read the measurements more accurately.
AstroAI DM6000AR – budget pick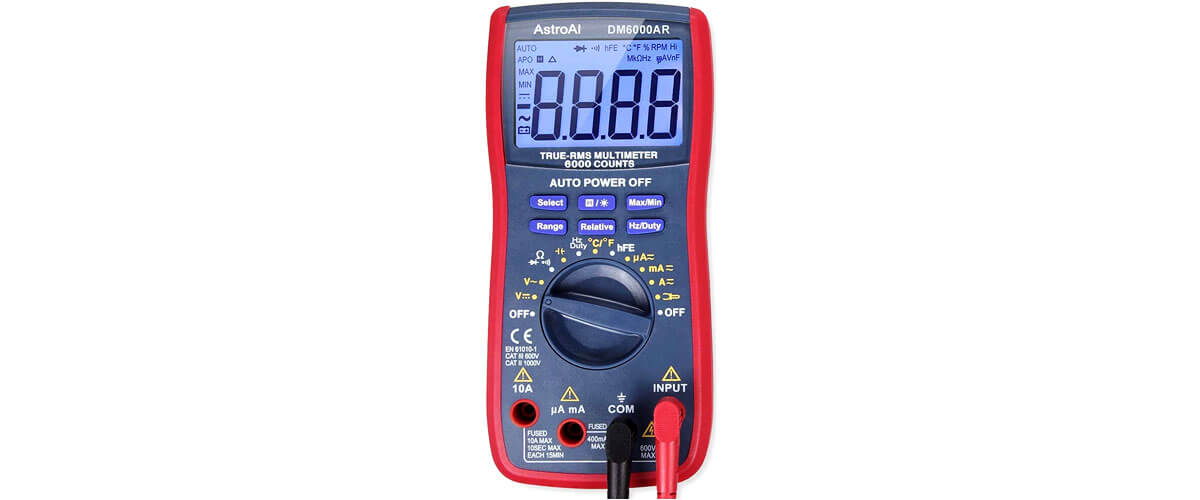 When getting a versatile multimeter is your goal, you should not pass by the AstroAI DM6000AR. Even though this is a budget-friendly option, it will surprise you with the accuracy of AC/DC current, AC/DC voltage, capacitance, frequency, duty cycle, resistance, diode, continuity, and temperature measurements. As you see, it can measure more metrics than more expensive analogs.
I want to admit that this model has a well-thought-out design. What I like the most about AstroAI DM6000AR is the large LCD-backlit screen that makes reading the measurements in lowlight environments pretty simple. The polarity, overload, and low battery indicators always keep you in the loop of what's happening with the device or its battery. Also, I can't ignore the importance of the support data hold. In addition, the hanging magnet and kickstand are very handy when you have to work hands-free.
However, I find the auto shut-off feature in this automotive digital multimeter too annoying. First, it will make a beeping sound after you haven't used the device for a few minutes. Then, the backlight switches off after 30 seconds, and you have to retake the measurements.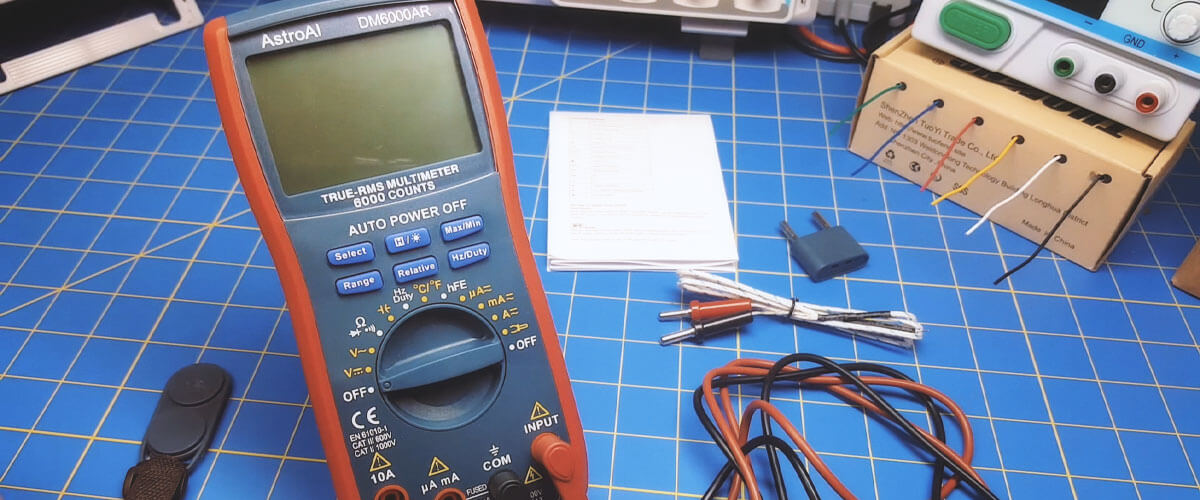 The auto-ranging capability and true RMS for measuring AC current and voltage are true time-savers. Moreover, the safety of this unit won't disappoint you. A double ceramic fuse protects it from overloading.
A pair of test leads are cheaply made, so you may want to replace them. You will also find a K-type thermocouple and a multi-function socket. However, I would like to have seen a pair of alligator clips in the package as well.
AstroAI DM6000AR is the best automotive multimeter for you when budget and accuracy matter. If your automotive projects require multiple electrical measurements, this device is the option that will meet the needs.
Key specs
AC voltage: 600V/0.01V (±1.2% + 6).
DC voltage: 600V/0.1V (± 0.8% + 3), 1000V/1V (± 1% + 5).
DC millivolts: 600mV/0.1mV (± 0.8% + 5).
DC amps: 6A/0.001A (± 1.5% + 3).
Capacitance, nF: 600/1.
Resistance, Ohm: 600/0.1 (± 1.5% + 3).
Size, cm/in: 21.9 x 5.7 x 17 / 8.6 x 2.2 x 6.6.
Weight, g: 580.
Pros
Enables measuring nearly everything, from current and voltage to diode and temperature.
A large LCD screen with a backlit allows seeing readings even in dim light.
Accurate measurements due to a true RMS technology.
Cons
The included test leads are of poor quality.
It would be nice to add alligator clips to the package.
Fluke 88V – premium choice
The Fluke 88V is a rather good model specifically designed for the garage. This item measures up to 1000 V AC and DC, current up to 10 A, 20 A for around 30 seconds with a frequency of 200 kHz and % duty cycle, delivering speed and accuracy of measurements. Moreover, with the manual- and auto-ranging modes, you can obtain flexibility for a wide range of automotive projects. Besides, the 88V is designed to be used in high-energy environments, so it has been CAT III 1,000V and CAT IV 600V safety rated.
In addition to the standard multimeter features in Fluke 117 (voltage, current, continuity, and resistance), this unit will give you an idea about pulse width, duty cycle, and diode testing. These new measurements are helpful for auto mechanics. For example, with the pulse width function, you can get the millisecond resolution of fuel injectors to determine how efficiently an engine is running. Add these features to RPM measurements with optional inductive pickup, an analog bar graph to track changing or unstable signals, and Min/Max/Average recording with alerts, and you will understand that this is the only tool you will need in your garage.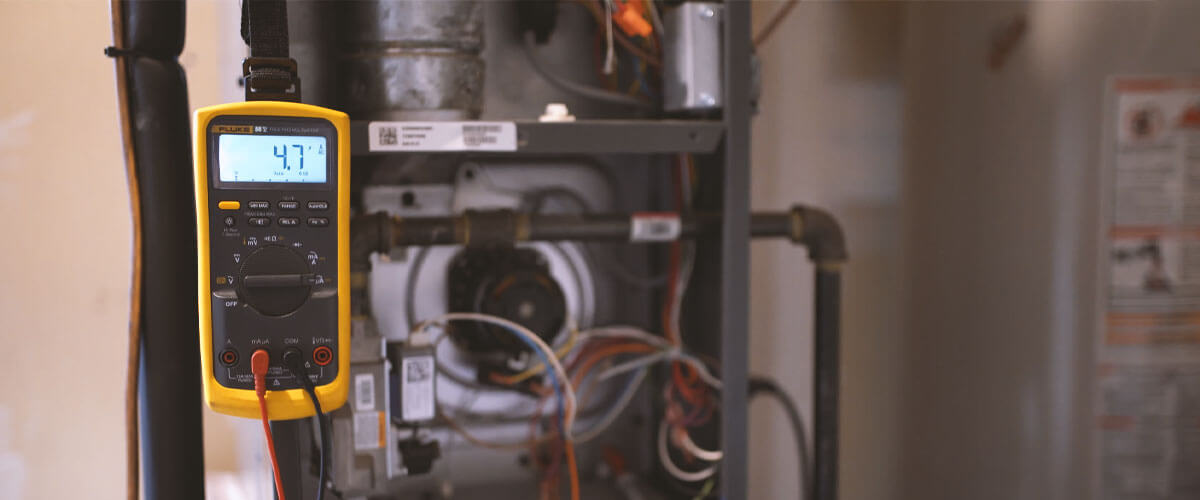 The display is not as large as you may want it to be while working with vehicles. But what I like about the screen is the two-level bright white backlight, which adds extra visibility. Moreover, the optional magnetic hanger is the right accessory to attach the device to any steel surface for easier set-up and viewing. But let me warn you about the leads. Fluke has specific leads that do not pair with other tools or from other brands.
If you take your mechanic job seriously, you should get the Fluke 88V model. It is a top multimeter for cars, which will let you perform automotive tasks easier and faster. Its peculiar features like pulse width, temperature measurement, and more ensure you get all you need to work with the vehicle's electrical components.
Key specs
AC voltage: 600V/0.01V (± 0.5% + 2), 1000V/1V (± 0.5% + 2).
DC voltage: 600V/0.1V (± 0.1% + 1), 1000V/1V (± 0.1% + 1).
DC millivolts: 600mV/0.1mV (± 0.3% + 1).
DC amps: 6A/0.001A (± 1.2% + 2).
Capacitance, nF: 1000/1 (± 1% + 2).
Resistance, Ohm: 600/0.1 (± 0.4% + 2).
Size, cm/in: 5.2 x 9.8 x 20.1 / 2.06 x 3.86 x 7.93.
Weight, g: 624.
Pros
Covers a wide range of measurements.
Measures current and voltage pretty fast.
Has manual and automatic modes for flexibility.
You will hear a signal when the measurements are taken.
Cons
The leads are Fluke-specific.
Innova 3340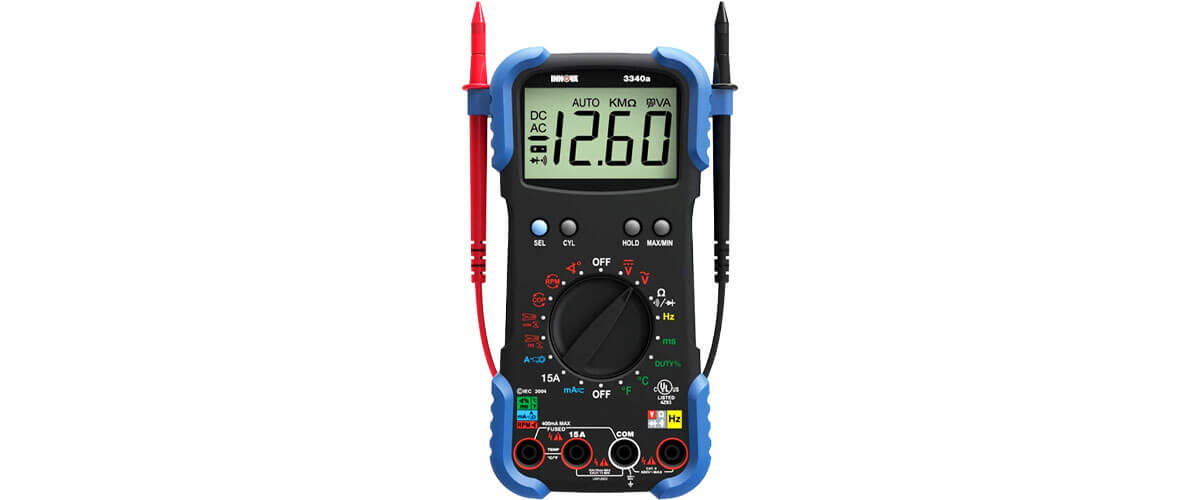 If you are desperate to find a multimeter with various RPM measurements, I have good news for you. The Innova 3340 unit will cover your needs and deliver accurate measurements when you work in your garage.
So, aside from standard multimeter features, the Innova product also has automotive-specific functionality, enabling you to measure RPM, dwell, frequency, temperature, pulse width, and duty cycle. Use this multimeter for testing ​​alternator diodes, solenoids, breaker points, wiring, switches, and more. With auto-ranging, auto shut-off, and overload protection capabilities, you can be sure that users of all skill levels can utilize this unit.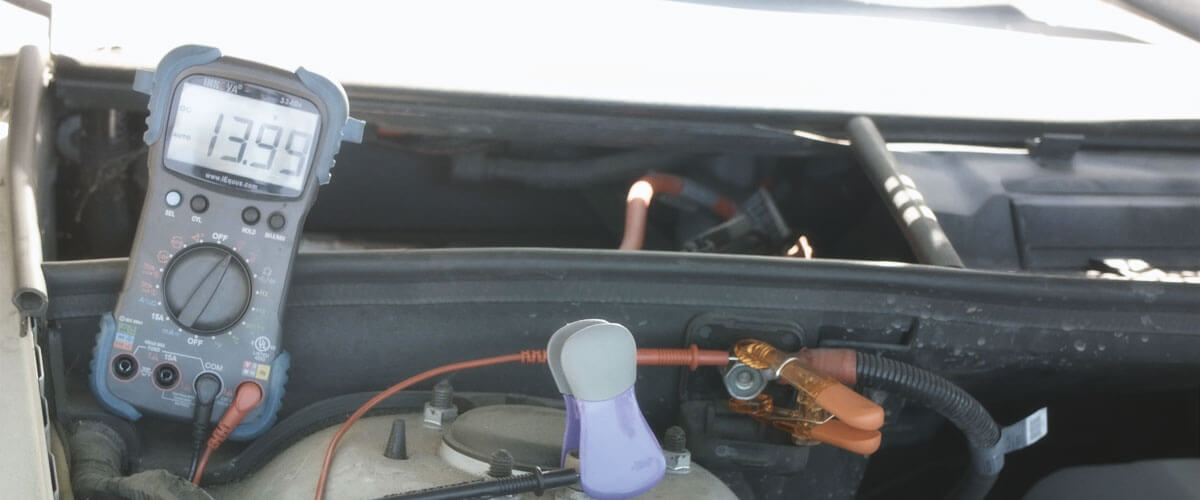 I am not totally happy with the safety rating. Innova 3340 is only CAT II rated, meaning it can hardly be used with high-energy devices since it can stand single-phase AC loads. Luckily, there is a 10 MegOhm impedance that prevents damage to the vehicle's ECU. Another thing that disappointed me in this multimeter was the lack of backlight on display.
The package includes a temperature probe, inductive RPM clamp, and carrying case. The nylon case is convenient, and I use it for storing this multimeter.
The Innova 3340 auto-ranging digital multimeter is a good choice for amateurs who want a decent tool for messing around with a car. It allows measuring all vehicle-critical metrics but won't overwhelm you with redundant features that may distract your attention.
Key specs
AC voltage: 600V/1V (± 1.2% + 8).
DC voltage: 600V/1V (± 0.8% + 5).
DC millivolts: 400mV/0.1mV (± 0.8% + 5).
DC amps: 4A/0.01A (± 1.5% + 5).
Resistance, Ohm: 400/0.1 (± 1% + 4).
Size, cm/in: 17.3 x 16.7 x 4.3 / 6.8 x 6.5 x 1.7.
Weight, g: 260.
Pros
Allows taking RPM, dwell, frequency, temperature, pulse width, and duty cycle measurements.
Easy to use thanks to auto-ranging, auto shut-off, and overload protection capabilities.
Comes with an RPM clamp and a storage pouch.
Cons
Only CAT II rated.
Does not have a back-lit display.
Klein Tools MM400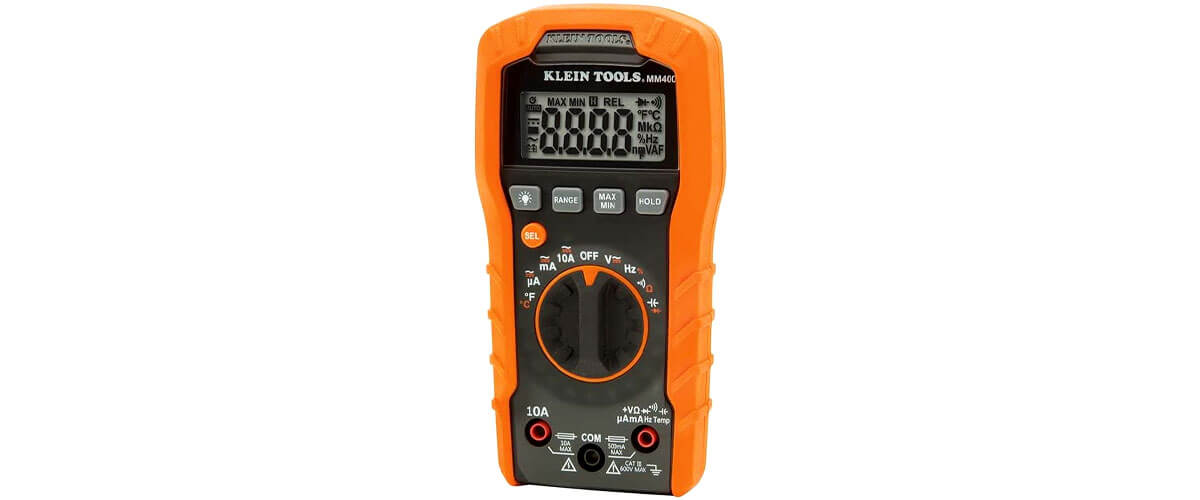 With this Klein Tools multimeter that measures 600V AC/DC voltage, 10A AC/DC current, and 40 MOhms resistance, you can be ready for nearly any automotive challenge. This unit will let you get a view of temperature, capacitance, frequency, duty cycle, test diodes, and continuity. With the digital auto-ranging feature, you can avoid the fuss of manually setting the range of measurements, saving a lot of time. I want to admit that this function works pretty fast.
The Klein Tools MM400 outshines Innova 3340 in terms of the safety rating. This item is CAT III 600V rated, so it boasts a higher transient withstand capacity and more advanced protection than its competitor.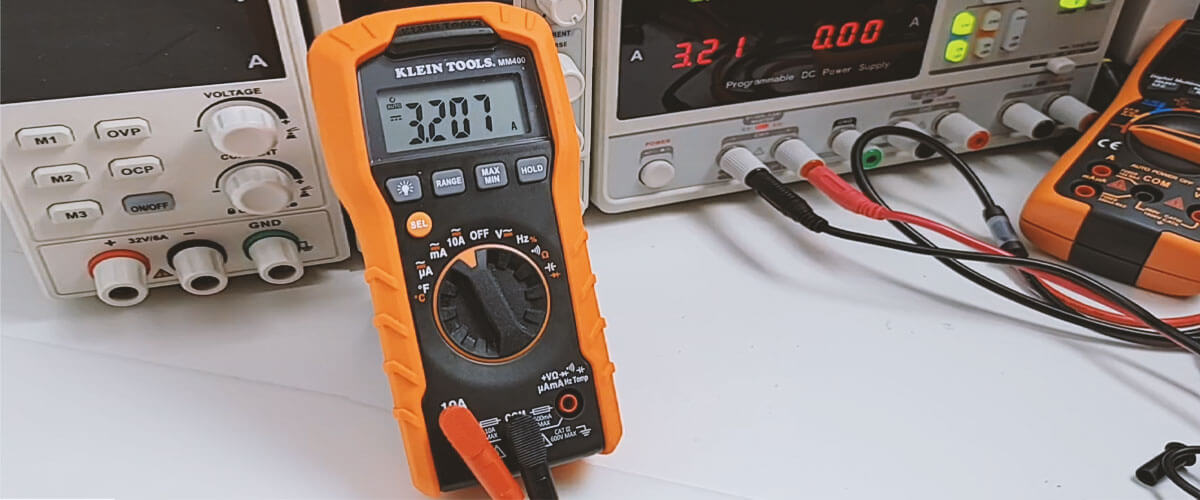 The multimeter comes with test leads, a type-K thermocouple, a thermocouple adapter, and a manual. It feels solid right out of the box. No wonder the description says that this unit can withstand a 3.3-foot (1 m) drop. I haven't tested this multimeter for durability yet, but I can tell you right away that the probes are a little flimsy. So, despite the tough design of the product, its components are not that well-made.
The LCD panel in this item is quite average. It has large digits for better reliability, even from a distance. There is a backlight, which you won't find in Innova 3340. But it is not bright, making reading digits slightly challenging.
Klein Tools MM400 is a good multimeter for an auto electrician's toolkit. It allows measuring the basic metrics while troubleshooting issues with your vehicle's electrical components.
Key specs
AC voltage: 400V/0.01V (±1.5% + 5), 600V/1V (± 2.0% + 5 ).
DC voltage: 400V/0.01V (±(1.2% + 3), 600V/1V (± 1.5% + 3).
DC millivolts: 400mV/0.1mV (± 1.2% + 3).
DC amps: 4A/0.01A (± 1.5 % + 5).
Capacitance, nF: 400/0.1 (± 3.0% + 5).
Resistance, Ohm: 400/0.1 (± 1.5% + 5).
Size, cm/in: 15.3 x 7.8 x 4.5 / 6. x 3 x 1.7.
Weight, g: 231.
Pros
CAT III 600V rated for higher protection.
An auto-ranging feature is fast and accurate.
A screen has large digits and is backlit.
Cons
Probes are flimsy.
The backlight is not bright.
Multimeter for automotive buying guide
Safety rating
Every car multimeter should follow the safety testing guidelines to ensure the device doesn't pose any threat to you or your vehicle. There are four levels of safety ratings, which depend on the type of load: CAT I, CAT II, CAT III, and CAT IV. The latter will ensure you can safely use the multimeter for measuring any low-voltage and high-energy connections.
Display and size
Multimeters come in different sizes and display styles. Regarding the tool size, I recommend considering the one that will meet your lifestyle and the range of uses. For example, if you carry the multimeter in a backpack pocket or attach it to a belt, you will have to get a compact tool that won't hinder your motions.
The size, clarity of readouts, and lighting are critical factors for picking the multimeter for auto mechanics. They will affect how well you can read the metrics from different angles and in various conditions. To ensure you do not depend on the light level and can read the figures clearly, I would advise buying a device with a backlight, preferably LED.
Multimeter leads
When you are in search of a good automotive multimeter, you can't miss checking the type of lead it has and how long the cables are. Most of the models you will find on the market come with a standard set of probes, which is more than enough for basic automotive tasks. If you hunt for a specific type of probe, read the product descriptions carefully to be sure the divide of your choice has it. In addition, there are short and long cables, so the choice depends on your preferences and the working environment.
Main uses
A multimeter is a practical tool for every person who has to deal with car repair or maintenance. This device is indispensable for measuring voltage, current, and resistance in the electric components of a vehicle. Also, you can gauge the strength of your battery and spot many electric-related issues. Therefore, it is essential to think of possible use cases of the multimeter for automotive use to make sure it covers all your needs.
In addition, the frequency of use, the number of readings, and the level of your skills will dictate what type of multimeter you need to purchase.
FAQ
Why may you need a multimeter for cars?
There are a few reasons you may need a multimeter for cars. One is if you are experiencing problems with your car battery. It is also an indispensable tool for diagnosing various electrical problems in cars. The multimeter will help you determine whether there is a problem with the charging system, the ignition system, or another part of the car's electrical system.
What type of multimeter should I use for the car: digital or analog?
A digital multimeter would be more appropriate, as it is more precise than an analog multimeter.
How much money do I need to spend on a multimeter?
The cost of a multimeter depends on its functionality, brand, and other criteria. So assess your budget and determine the range of tasks to be solved. But I recommend buying a digital, high-quality, and, most importantly, safe multimeter.
Is a cheap multimeter worth it?
If it suits you in its characteristics and is safe to use, you can buy it. How long it will last and how it will perform is another matter.
How to calibrate a multimeter?
To
calibrate a multimeter
:
Refer to your multimeter's manual to find the recommended calibration procedure.
Follow the steps in the calibration procedure to calibrate your multimeter.
Test your multimeter's accuracy by measuring a known voltage or resistance value.
How to test the starter with a multimeter?
First, make sure the multimeter is set to the DC voltage setting.
Next, connect the black probe of the multimeter to the negative terminal of the battery, and then connect the red probe of the multimeter to the positive terminal of the battery.
Finally, touch the probes of the multimeter to each of the terminals on the starter. If electricity is present, then the multimeter will read a voltage.
If the reading is low, it could mean that the starter is bad and needs to be replaced.
We are supported by our audience. When you purchase through links on our site, we may earn an affiliate commission at no extra cost to you.
Our newsletter
* We will never send you spam or share your email with third parties