If you are into a car repair business or would like to mess around with your vehicle, it's no wonder you are looking for the best multimeters for automotive. Since many car systems like ignition, fuel, and charging networks depend on electricity, these tools will help you quickly define and troubleshoot such issues. Using this device, you can measure voltage, current, and resistance in the electric components of your car.
There is an abundance of multimeters on the market today to meet your budget and different requirements. However, the variety of options may make it a bit overwhelming to pick the one that aligns with your needs. In addition, beginners may find it incredibly daunting to settle on a suitable multimeter. So, whether you are a pro or a newbie, you will benefit from looking through this review. I will guide you through the assortment of multimeters and give you an idea about decent products.
Our pick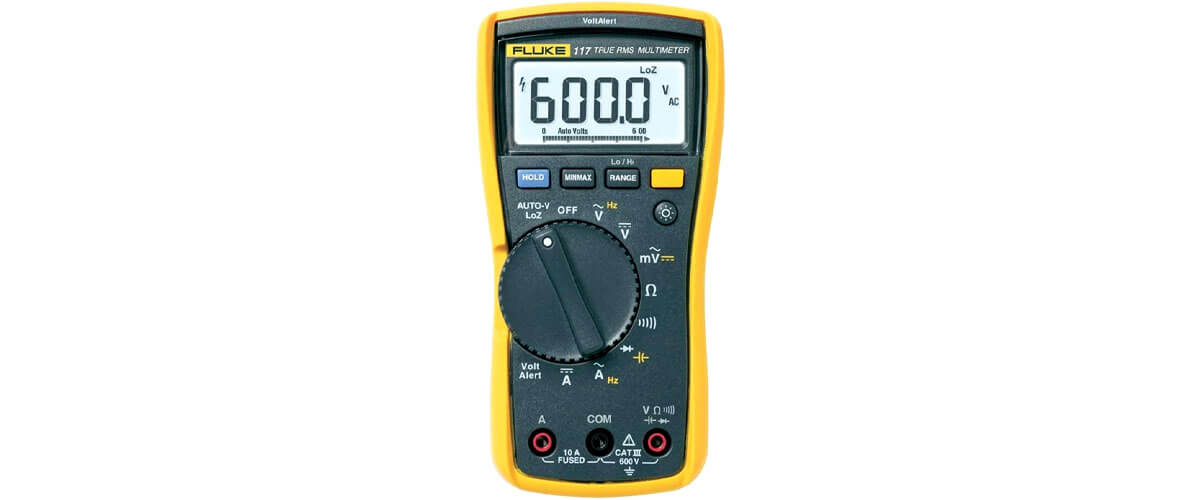 Fluke 117
Best multimeter for automotive
The Fluke 117 Electricians Multimeter is a compact, CAT III 600 V, True-rms meter that includes an easy-to-use interface with a bright backlight for darker worksites.
Read the full review.
Multimeters for automotive comparison table
Name
AC voltage
DC voltage
DC millivolts
DC amps
Review
Fluke 117

best overall

600V/0.01V (±1.0% + 3)
600V/0.1V (±0.5% + 2)
600mV/0.1mV (± 0.5% + 2)
6A/0.001A (± 1% + 3)
Review
Fluke 87V MAX

premium choice

1000V/1V (± 0.7% + 4)
1000V/1V (± 0.5% + 1)
600mV/0.1mV (± 0.3% + 1)
6A/0.001A (± 0.2% + 4)
Review
AstroAI M4K0R

budget

600V/0.01V (± 1.0% +5)
600V/0.1V (± 0.5% +5)
600mV/0.1mV (± 0.8% + 5)
10A/0.001A (± 1.2% + 5)
Review
How have I tested?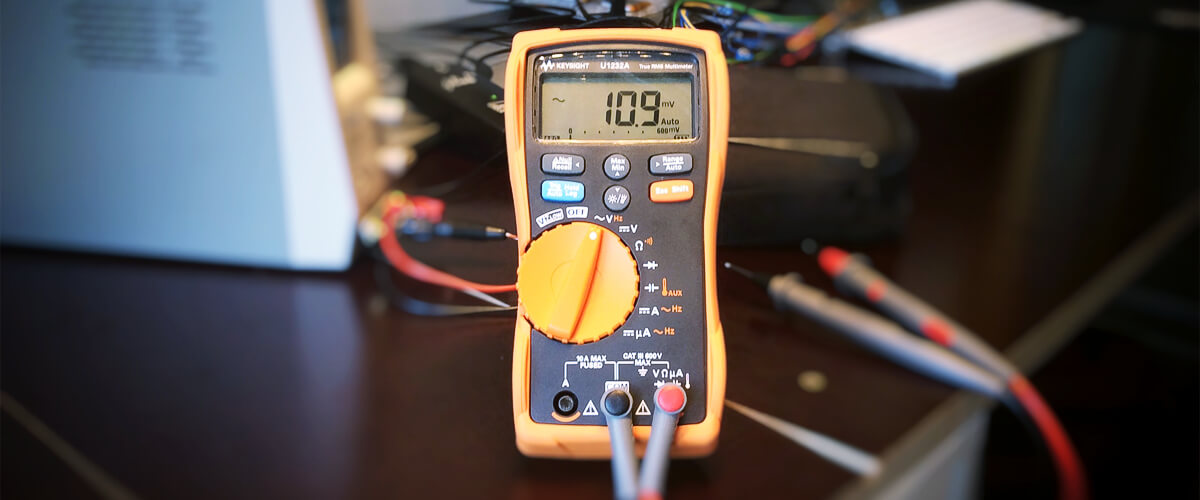 Having spent countless years immersed in the realm of electronics, the multimeter has become my trusty companion, guiding me through the intricacies of my work. With a penchant for delving into automotive electronics, I embarked on a mission to unearth the best fluke multimeter for automotive, a tool that could weather the rough terrains of auto mechanics. However, I decided not to limit myself to one brand (even if it's an excellent one) and analyzed models from different manufacturers.
My journey led me to enlightening conversations with seasoned auto electricians and extensive perusal of online automotive forums. A resounding consensus emerged – two factors reigned supreme: the sturdiness of design and the precision of measurements. After all, our workspace is anything but forgiving, and a reliable multimeter is paramount, given the inevitable tumbles it might endure.
Intrigued by many multimeter reviews and armed with newfound knowledge, I ventured into testing multimeters. One, in particular, caught my eye – the VENLAB Digital Multimeter (B0BJKHG6TQ). My excitement dwindled as its performance proved inconsistent, yielding varying readings with each trial. Regrettably, it fell short of the accuracy I demanded.
Another contender is the WeePro Vpro850L. I was impressed by its compactness, but its fragility left much to be desired. In our demanding environment, where resilience is non-negotiable, this delicate device didn't make the cut.
In the end, my quest for the best multimeter for mechanics continues. Each discovery took me one step closer to the perfect tool that seamlessly combines sturdiness and precision, enhancing my ability to decipher the intricate electrical puzzles within vehicles.
Best multimeter for automotive reviews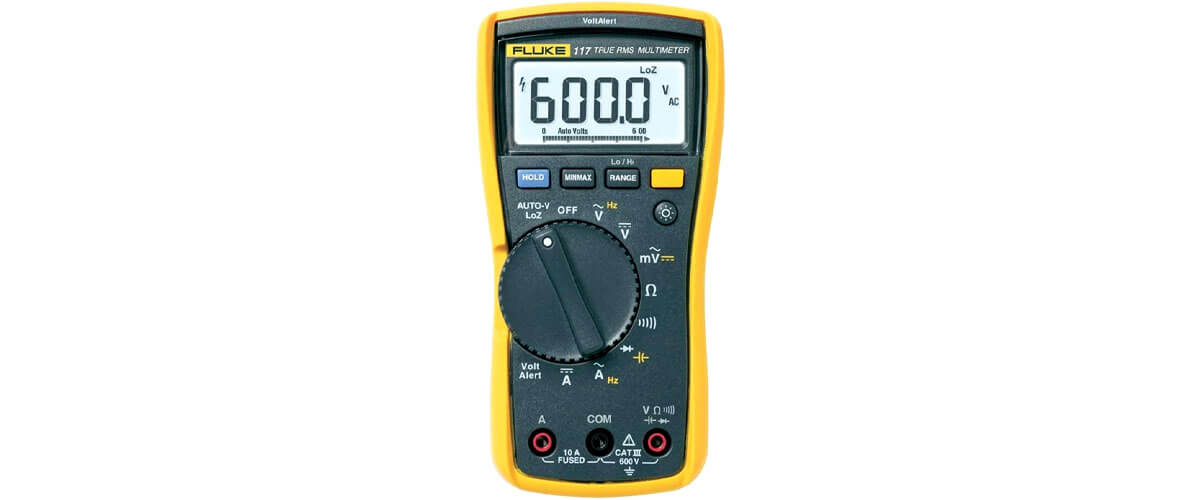 With this compact and CAT III-rated multimeter by Fluke, you can take on any challenging task that requires accuracy, mobility, and higher safety measures.
The prominent feature of the Fluke 117 multimeter is non-contact voltage detection. Because of it, this model may be more appealing than the AstroAI DM6000AR. With this device, you do not have to carry additional tools around to detect the presence of voltage when troubleshooting or working on a failed asset.
This automotive DMM will ensure you get accurate voltage, current, resistance, continuity, frequency, and capacitance measurements. With the True RMS technology, you can rest assured that you are not misled by the measurements, even with non-linear loads. Also, you can use min/max/average readings depending on your needs.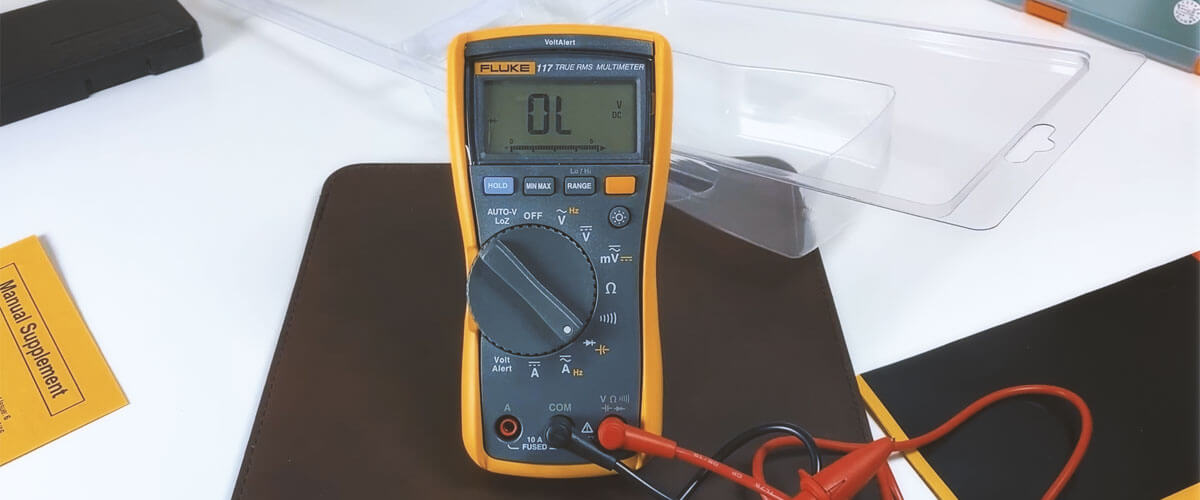 I am a fan of Fluke's AutoVolt feature. It automatically selects AC/DC voltage, helping me save time and move from job to job much quicker. Besides, I find the LED-backlit display convenient for working in dim lighting. One more handy feature is the ability to couple the multimeter with a magnetic hanger for hands-free use.
There are only a few things I am not enthusiastic about in this device. First, the manual and the multimeter are out of sync. Fluke has changed how you read capacitance, so the manual is slightly outdated and may be hard for beginners to catch up on the readings. Second, I am disappointed that this model doesn't have an mA range.
Weighing all pros and cons, I am more than certain that this is the best multimeter for automotive. It's compact, so you can attach it to a magnetic hanger for convenience. Also, the non-contact voltage detection, AutoVolt feature, and many more make this unit handy for multiple tasks around your vehicle.
Key specs
AC voltage: 600V/0.01V (±1.0% + 3).
DC voltage: 600V/0.1V (±0.5% + 2).
DC millivolts: 600mV/0.1mV (± 0.5% + 2).
DC amps: 6A/0.001A (± 1% + 3).
Capacitance, nF: 1000/1 (± 1.9% + 2).
Resistance, Ohm: 600/0.1 (± 0.9% + 2).
Size, cm/in: 16.7×8.4×4.6/6.5×3.3×1.8.
Weight, g: 550.
Pros
Non-contact voltage detection for quick current troubleshooting.
An AutoVolt option to quickly switch between the tasks.
Compact and compatible with a magnetic holder.
Has a LED-backlit screen for working even in dim light.
Cons
The manual is slightly outdated.
The lack of mA range makes it harder to read the measurements more accurately.
Fluke 87V MAX – premium choice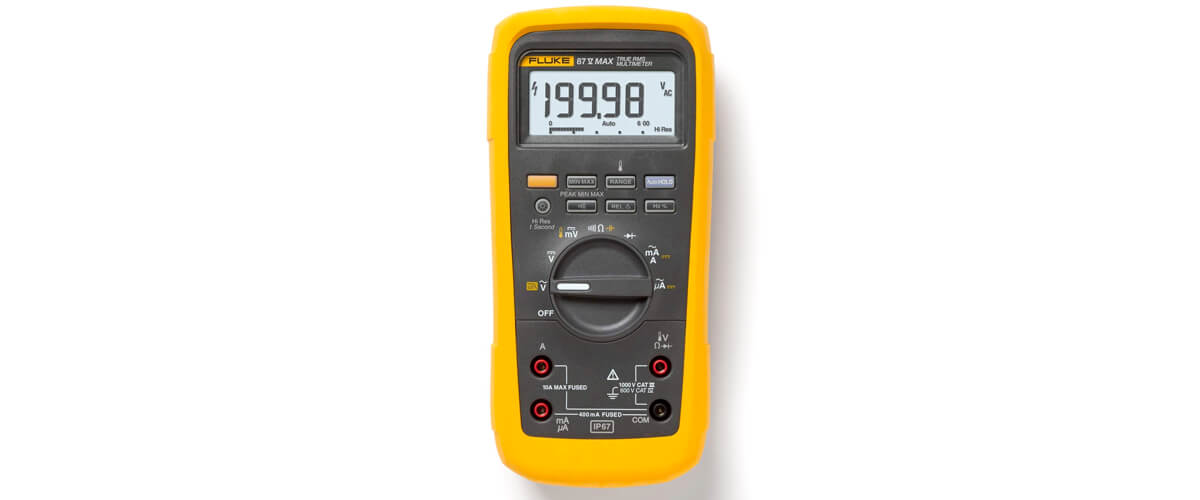 This multimeter isn't just a continuation of the brand's legacy; it's the best Fluke multimeter for automotive that boasts a plethora of enhancements over its renowned predecessor.
In the demanding landscapes of damp, dusty, or dimly lit work sites, the 87V MAX stands as a beacon of reliability. Its robust design, encased within an IP67-rated industrial fortress, ensures that this multimeter tester will triumph no matter the challenges Mother Nature throws. Even its holster serves a dual purpose as a probe holder, enabling seamless one-handed operation – a testament to the thoughtfulness of its design.
Equipped to withstand the harshest blows, the 87V MAX has been subjected to a 4-meter drop test – a testament to its resilience in the face of adversity. When temperatures plummet or soar, it remains unfazed, offering accurate measurements within the temperature range of -40 °C to +55 °C.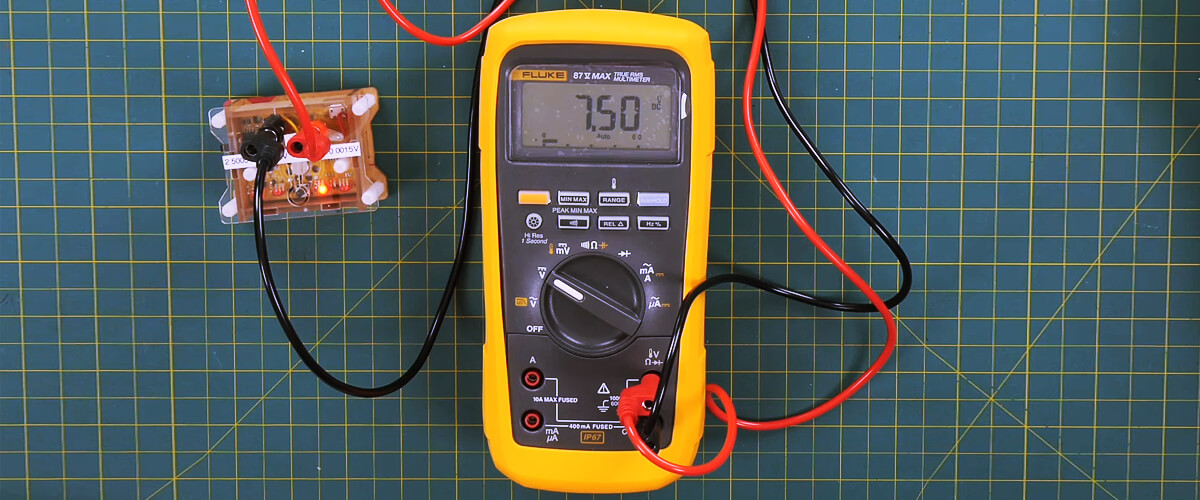 Its user-friendliness knows no bounds. The sizable display digits, accompanied by a 2-level bright white backlight and backlit keypad buttons, ensure visibility even in the dimmest corners. The 19,999 count display mode elevates measurement reading to an art form, regardless of the work environment's challenges.
With a battery life that stretches up to 800 hours, the 87V MAX isn't just a top multimeter for cars; it's a companion that never quits. Armed with the capacity to measure up to 1000 V AC and DC, up to 10 A (and 20 A for 30 seconds), and frequencies up to 200 kHz, it's a juggernaut in the world of measurements. If that's not enough, it even houses a built-in thermometer for those moments when precision knows no bounds.
Overall, the Fluke 87V MAX is one of the best-value digital automotive multimeters that is designed to withstand harsh industrial environments. Its accurate and fast measurements, clear dual screen, built-in thermometer, and CAT IV rating make it a popular choice for professionals in various industries.
Key specs
AC voltage: 1000V/1V (± 0.7% + 4).
DC voltage: 1000V/1V (± 0.5% + 1).
DC millivolts: 600mV/0.1mV (± 0.3% + 1).
DC amps: 6A/0.001A (± 0.2% + 4).
Capacitance, nF: 9999/1 (± 1% + 2).
Resistance, Ohm: 600/0.1 (± 0.2% + 2).
Size, cm/in: 25.4×15.2×7.6/10x6x3.
Weight, g: 183.
Pros
The clear, backlit dual screen allows for easy viewing of multiple measurements at once.
Built-in thermometer for measuring temperature.
Excellent battery life (up to 800 hours).
Chunky holster that doubles as a test probe holder for easier operation.
Cons
Premium price compared to other multimeters.
Some users may find its size and weight to be bulky and heavy.
AstroAI M4K0R – budget pick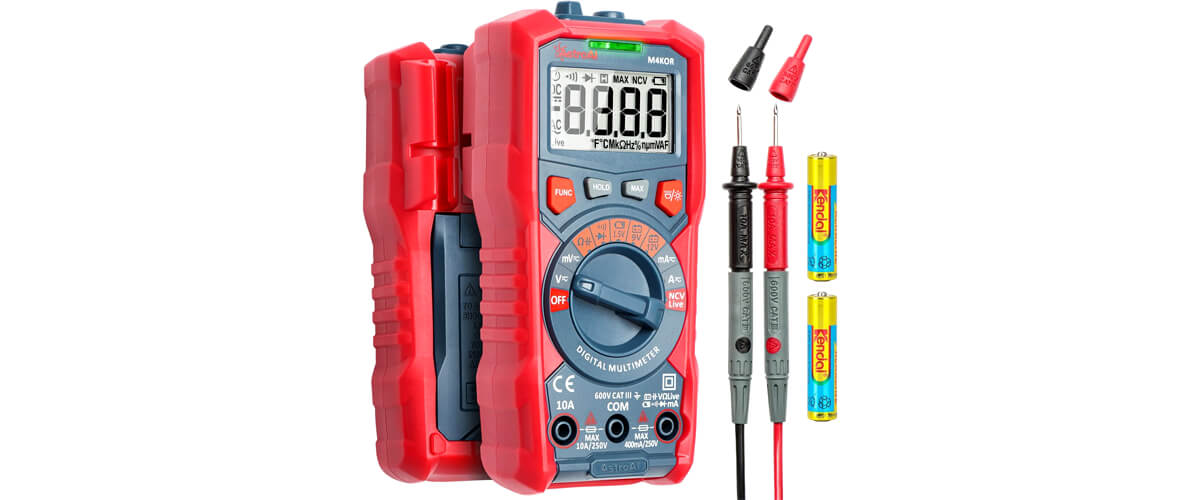 When I stumbled upon the AstroAI M4K0R, I knew I had unearthed a gem in the realm of multimeters. This isn't just a good multimeter for automotive applications; it's a versatile powerhouse that elevates precision and safety to unparalleled heights.
From the outset, the auto-ranging capability shines through. Accurate AC/DC voltage measurements up to 600V, current up to 10A, and resistance up to 40MΩ are effortlessly within reach. It's a digital symphony of accurate diagnostics, especially useful when delving into complex vehicular electrical systems. It's a really wonderful professional automotive multimeter for diagnosing automotive and household problems.
What truly makes the M4K0R one of the top multimeters is its holistic approach to automotive care. The battery voltage tester, with its three voltage modes catering to 1.5V, 9V, and 12V batteries, serves as a guardian angel for those moments when battery health is paramount. The multimeter's visual language speaks volumes: a red glow for low voltage and a green beacon for sufficient power, making battery assessments a breeze.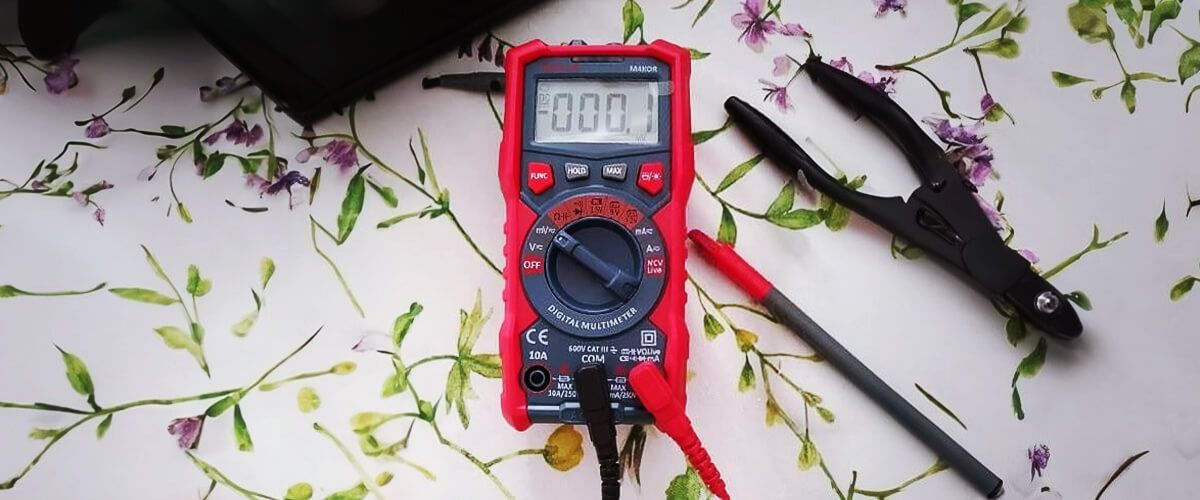 Safety, a cornerstone of automotive work, is embraced with vigor. The non-contact voltage testing combines auditory and visual cues, alerting you to potential hazards. The NVC function dances in harmony with a red alarm light, detecting high voltage with unwavering accuracy.
Operating the M4K0R is a symphony of simplicity. The backlight and flashlight features transform it into a tool that thrives in any lighting condition, while the LCD display paints data in vibrant clarity.
The AstroAI M4K0R is the best automotive multimeter and a companion that navigates the intricacies of vehicular diagnostics with finesse. With a 3-year warranty as a testament to its longevity, the M4K0R is poised to revolutionize how we perceive and use a digital multimeter on a car.
Key specs
AC voltage: 600V/0.01V (± 1.0% +5).
DC voltage: 600V/0.1V (± 0.5% +5).
DC millivolts: 600mV/0.1mV (± 0.8% + 5).
DC amps: 10A/0.001A (± 1.2% + 5).
Capacitance, nF: 400/1.
Resistance, Ohm: 400/0.1 (± 1.0% + 5).
Size, cm/in: 15×7.3×5/5.9×2.8×1.9.
Weight, g: 219.
Pros
Comes with various features and functions.
Can measure temperature in Fahrenheit or Celsius.
Has a red indicator light and audio alarm to alert you to live wires.
Cons
The magnet holder is quite weak.
May not be suitable for high-end applications.
Innova 3340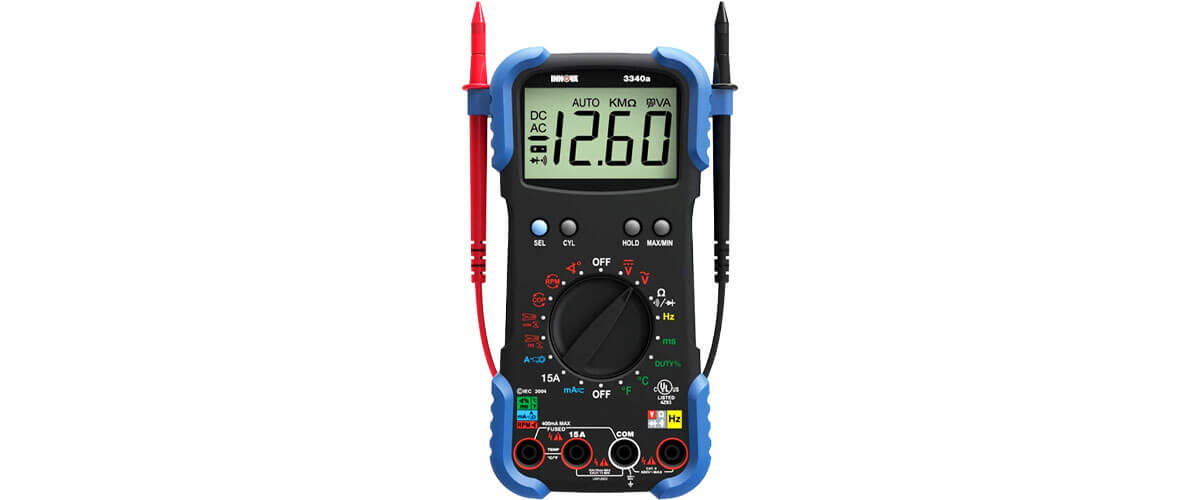 If you are desperate to find a multimeter with various RPM measurements, I have good news for you. The Innova 3340 unit will cover your needs and deliver accurate measurements when you work in your garage.
So, aside from standard multimeter features, the Innova product also has automotive-specific functionality, enabling you to measure RPM, dwell, frequency, temperature, pulse width, and duty cycle. Use this multimeter for testing ​​alternator diodes, solenoids, breaker points, wiring, switches, and more. With auto-ranging, auto shut-off, and overload protection capabilities, you can be sure that users of all skill levels can utilize this unit.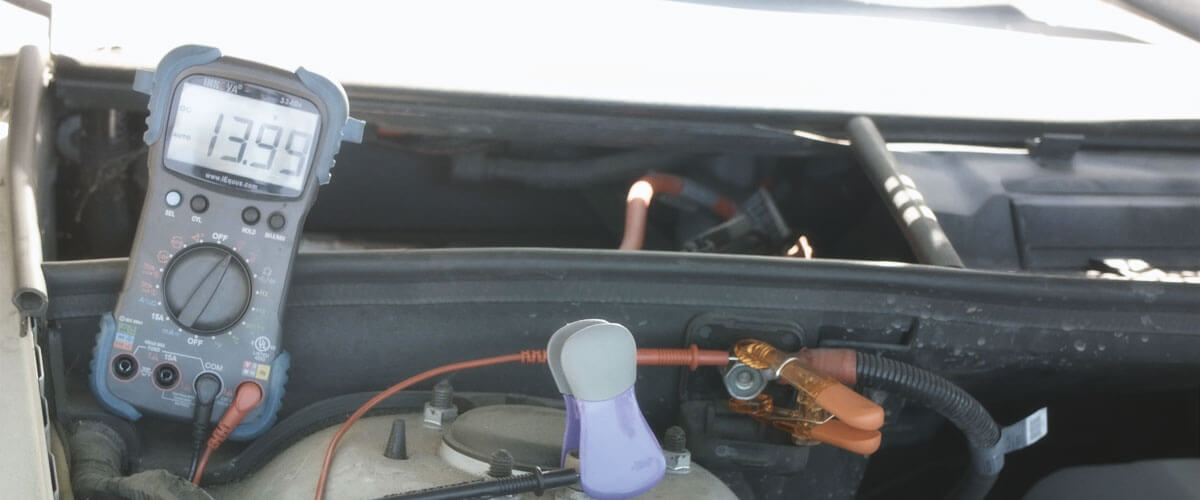 I am not totally happy with the safety rating. Innova 3340 is only CAT II rated, meaning it can hardly be used with high-energy devices since it can stand single-phase AC loads. Luckily, there is a 10 MegOhm impedance that prevents damage to the vehicle's ECU. Another thing that disappointed me in this multimeter was the lack of backlight on display.
The package includes a temperature probe, inductive RPM clamp, and carrying case. The nylon case is convenient, and I use it for storing this multimeter.
The Innova 3340 auto-ranging digital multimeter is a good choice for amateurs who want a decent tool for messing around with a car. It allows measuring all vehicle-critical metrics but won't overwhelm you with redundant features that may distract your attention.
Key specs
AC voltage: 600V/1V (± 1.2% + 8).
DC voltage: 600V/1V (± 0.8% + 5).
DC millivolts: 400mV/0.1mV (± 0.8% + 5).
DC amps: 4A/0.01A (± 1.5% + 5).
Resistance, Ohm: 400/0.1 (± 1% + 4).
Size, cm/in: 17.3×16.7×4.3/6.8×6.5×1.7.
Weight, g: 260.
Pros
Allows taking RPM, dwell, frequency, temperature, pulse width, and duty cycle measurements.
Easy to use thanks to auto-ranging, auto shut-off, and overload protection capabilities.
Comes with an RPM clamp and a storage pouch.
Cons
Only CAT II rated.
Does not have a back-lit display.
Klein Tools MM400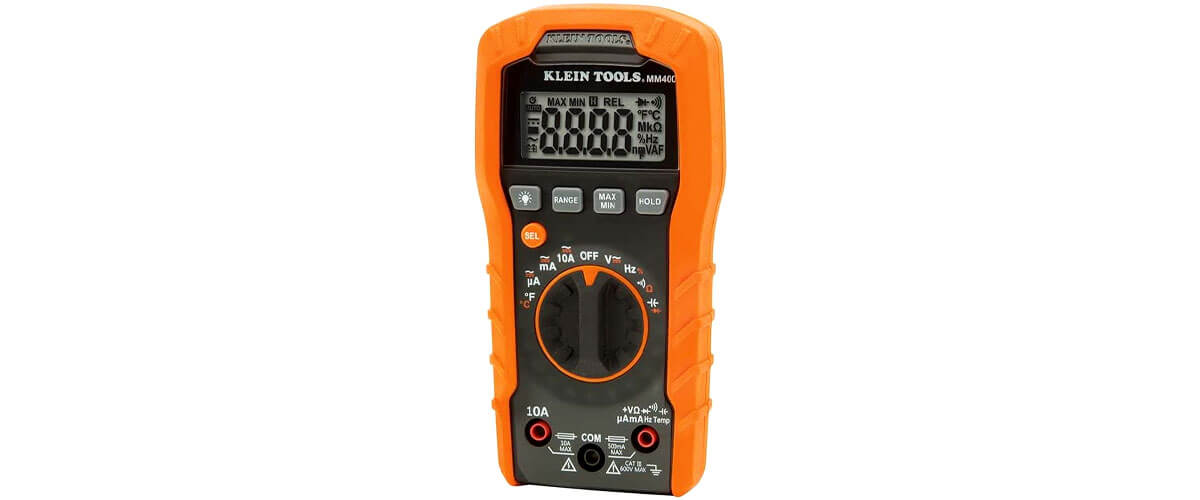 With this Klein Tools multimeter that measures 600V AC/DC voltage, 10A AC/DC current, and 40 MOhms resistance, you can be ready for nearly any automotive challenge. This unit will let you get a view of temperature, capacitance, frequency, duty cycle, test diodes, and continuity. With the digital auto-ranging feature, you can avoid the fuss of manually setting the range of measurements, saving a lot of time. I want to admit that this function works pretty fast.
The Klein Tools MM400 outshines Innova 3340 in terms of the safety rating. This item is CAT III 600V rated, so it boasts a higher transient withstand capacity and more advanced protection than its competitor.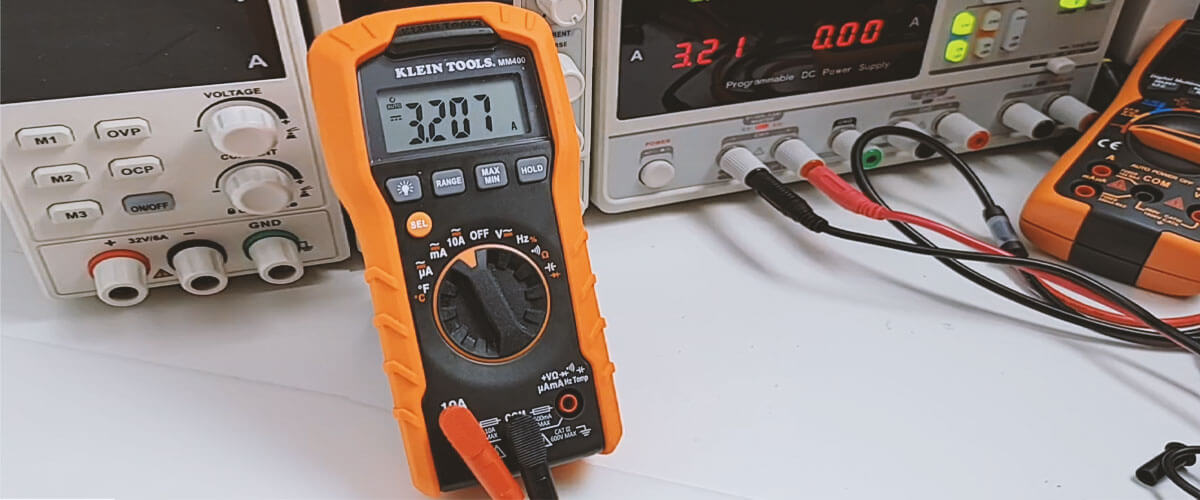 The multimeter comes with test leads, a type-K thermocouple, a thermocouple adapter, and a manual. It feels solid right out of the box. No wonder the description says that this unit can withstand a 3.3-foot (1 m) drop. I haven't tested this multimeter for durability yet, but I can tell you right away that the probes are a little flimsy. So, despite the tough design of the product, its components are not that well-made.
The LCD panel in this item is quite average. It has large digits for better reliability, even from a distance. There is a backlight, which you won't find in Innova 3340. But it is not bright, making reading digits slightly challenging.
Klein Tools MM400 is a good multimeter for an auto electrician's toolkit. It allows measuring the basic metrics while troubleshooting issues with your vehicle's electrical components.
Key specs
AC voltage: 400V/0.01V (±1.5% + 5), 600V/1V (± 2.0% + 5 ).
DC voltage: 400V/0.01V (±(1.2% + 3), 600V/1V (± 1.5% + 3).
DC millivolts: 400mV/0.1mV (± 1.2% + 3).
DC amps: 4A/0.01A (± 1.5 % + 5).
Capacitance, nF: 400/0.1 (± 3.0% + 5).
Resistance, Ohm: 400/0.1 (± 1.5% + 5).
Size, cm/in: 15.3×7.8×4.5/6.x3x1.7.
Weight, g: 231.
Pros
CAT III 600V rated for higher protection.
An auto-ranging feature is fast and accurate.
A screen has large digits and is backlit.
Cons
Probes are flimsy.
The backlight is not bright.
Multimeter for automotive buying guide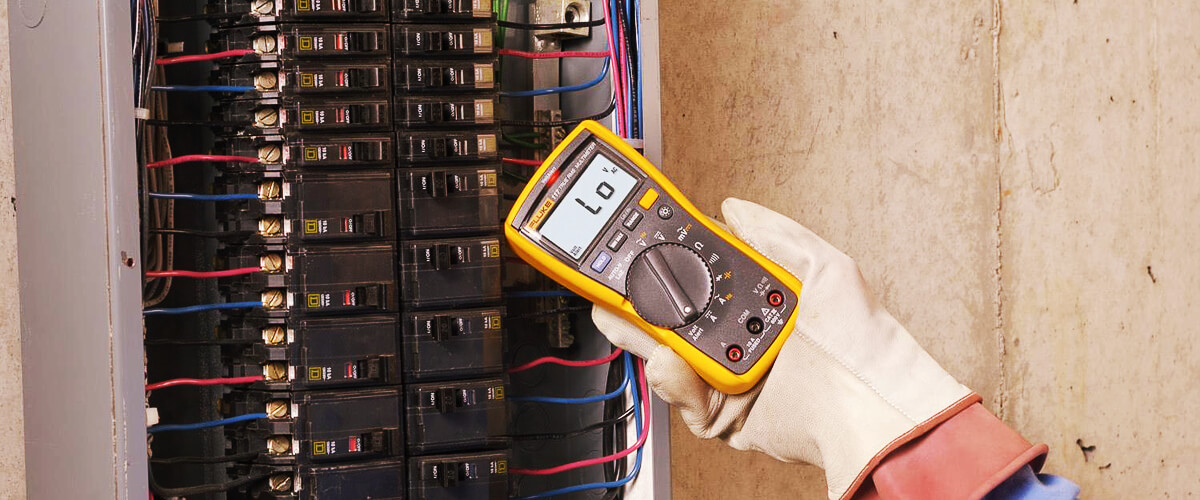 Safety rating
Every car multimeter should follow the safety testing guidelines to ensure the device doesn't pose any threat to you or your vehicle. There are four levels of safety ratings, which depend on the type of load: CAT I, CAT II, CAT III, and CAT IV. The latter will ensure you can safely use the multimeter for measuring any low-voltage and high-energy connections.
Display and size
Autoranging digital multimeters come in different sizes and display styles. Regarding the tool size, I recommend considering the one that will meet your lifestyle and the range of uses. For example, if you carry the multimeter in a backpack pocket or attach it to a belt, you will have to get a compact tool that won't hinder your motions.
The size, clarity of readouts, and lighting are critical factors for picking the multimeter for auto mechanics. They will affect how well you can read the metrics from different angles and in various conditions. To ensure you do not depend on the light level and can read the figures clearly, I would advise buying a device with a backlight, preferably LED.
Multimeter leads
When you are in search of a good automotive multimeter, you can't miss checking the type of lead it has and how long the cables are. Most of the models you will find on the market come with a standard set of probes, which is more than enough for basic automotive tasks. If you hunt for a specific type of probe, read the product descriptions carefully to be sure the divide of your choice has it. In addition, there are short and long cables, so the choice depends on your preferences and the working environment.
Main uses
A multimeter is a practical tool for every person who has to deal with car repair or maintenance. This device is indispensable for measuring voltage, current, and resistance in the electric components of a vehicle. Also, you can gauge the strength of your battery and spot many electric-related issues. Therefore, it is essential to think of possible use cases of the multimeter for automotive use to make sure it covers all your needs.
In addition, the frequency of use, the number of readings, and the level of your skills will dictate what type of multimeter you need to purchase.
FAQ
Why may you need a multimeter for cars?
There are a few reasons you may need a multimeter for cars. One is if you are experiencing problems with your car battery. It is also an indispensable tool for diagnosing various electrical problems in cars. The multimeter will help you determine whether there is a problem with the charging system, the ignition system, or another part of the car's electrical system.
What type of multimeter should I use for the car: digital or analog?
A digital multimeter would be more appropriate, as it is more precise than an analog multimeter.
How much money do I need to spend on a multimeter?
The cost of a multimeter for auto electricians depends on its functionality, brand, and other criteria. So assess your budget and determine the range of tasks to be solved. But I recommend buying a digital, high-quality, and, most importantly, safe multimeter.
Is a cheap multimeter worth it?
If it suits you in its characteristics and is safe to use, you can buy it. How long it will last and how it will perform is another matter.
How to calibrate a multimeter?
Refer to your multimeter's manual to find the recommended calibration procedure.
Follow the steps in the calibration procedure to calibrate your multimeter.
Test your multimeter's accuracy by measuring a known voltage or resistance value.
How to test the starter with a multimeter?
First, make sure the multimeter is set to the DC voltage setting.
Next, connect the black probe of the multimeter to the negative terminal of the battery, and then connect the red probe of the multimeter to the positive terminal of the battery.
Finally, touch the probes of the multimeter to each of the terminals on the starter. If electricity is present, then the multimeter will read a voltage.
If the reading is low, it could mean that the starter is bad and needs to be replaced.
We are supported by our audience. When you purchase through links on our site, we may earn an affiliate commission at no extra cost to you.
Our newsletter
* We will never send you spam or share your email with third parties