Ah, multimeters — where would we be without them in the realm of electronics? If you're a technician or hobbyist, you know that having the right tool can make all the difference in the world. During my long career as a professional electrician, I have repeatedly seen in practice that the best multimeters for electronics aren't just about convenience; they're essential for accurate measurements and, importantly, for your safety. That is why I will first talk about the theoretical part of this subject area. Then, we will look at various models of multimeters that I carefully selected for this review.
Our pick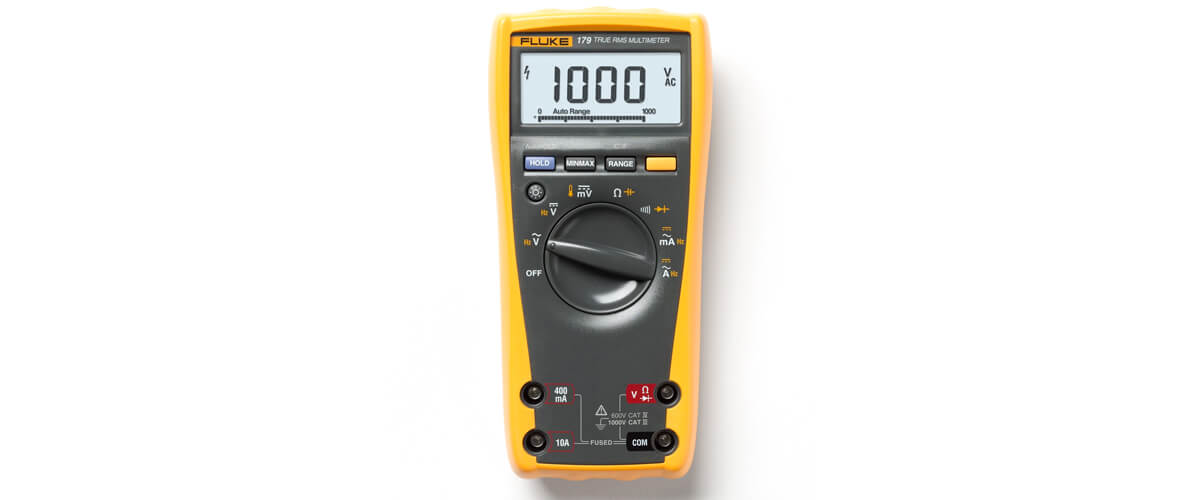 Fluke 179
Best multimeter for electronics
Fluke 179 True-RMS digital multimeter featured 1000V AC/DC, 10A AC/DC, resistance to 50 MΩ, capacitance to 10,000 μF, frequency to 100 kHz, and temperature from -40 ℃ to 400 ℃.
Read the full review
.
Multimeters for electronics comparison table
Name
AC voltage
DC voltage
DC millivolts
DC amps
Review
Fluke 179

best overall

1000V/0.01V (± 0.09% + 2)
1000V/0.01V (± 1.0% + 3)
600mV/0.1mV (± 0.15% + 2)
6A/0.001A (± 1.0% + 3)
Review
Hantek 2D72

for professional with Oscilloscope

600V/0.01V (± 1.5% + 5)
600V/0.01V (± 1.0% + 2)
400mV/0.1mV (± 0.8% + 5)
10A/0.001A (± 3.0% + 2)
Review
Gardner Bender GMT-319

analog

1000V/0.01V (± 5.0% + 2)
1000V/0.01V (± 4.0% + 3)
500mV/0.1mV (± 0.15% + 2)
6A/0.001A (± 1.0% + 3)
Review
Types of multimeters
When it comes to multimeters, you generally have two options: analog and digital. Analog tools have that nostalgic needle display, but what they gain in simplicity, they often lose in precision. They're perfect for quick, at-a-glance measurements and might be sufficient for hobbyists or those doing basic tasks. On the other hand, digital multimeters provide a high degree of accuracy and usually come with additional features like auto-ranging and data logging. For professionals and critical applications, digital is often the only way to go.
I have prepared a visual table to make it easier for you to navigate the capabilities of each of the types:
| Type | Pros | Cons | Use for |
| --- | --- | --- | --- |
| Analog | Simple interface, fast | Less precise | Basic tasks, quick checks |
| Digital | High accuracy, features | Can be complex to use | Professionals, critical applications |
Recommended ranges and specs of the professional multimeter
Knowing from my own experience how important it is to understand the values of the multimeter for electronics repair characteristics, I have compiled this table for you. It will help you familiarize yourself with the main attributes of this tool.
Characteristic
Recommended value
Why?
Voltage range
DC: 0.1mV to 1000V or higher
AC: 1mV to 1000V or higher (True RMS)
Wide voltage range accommodates various applications.
Current range
DC: 0.1μA to 20A or higher
AC: 0.1μA to 20A or higher (True RMS)
Different current ranges are essential for various circuits.
Resistance range
0.1Ω to 100MΩ or higher
Wide resistance range allows testing of diverse components.
Capacitance range
A few pF to 10000μF or higher
Critical for working with capacitors in electronic circuits.
Frequency range
Hz to MHz or higher
Important for analyzing oscillations and signals.
Measurement accuracy
± 0.1% to ± 0.5% for voltage and current
Accuracy is key for reliable readings.
Now, these specs are what I'd call the gold standard. They're not a one-size-fits-all, but rather a guide to what a multimeter for DIY electronics should offer. Some of these specs may be more or less relevant depending on your specific needs — whether you're troubleshooting industrial equipment or tinkering with low-voltage electronics. Always assess your requirements carefully and pick a device that fits the bill. Trust me, the right tool will make your job easier and significantly safer.
How did I test?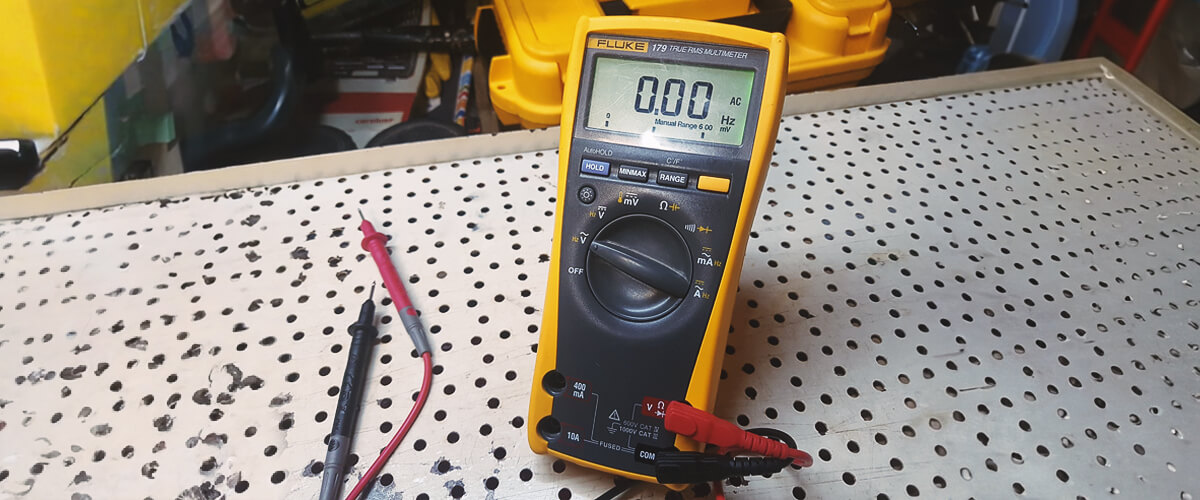 When it comes to testing different models for my digital multimeter reviews, attention to detail is paramount. I put a special emphasis on measurement accuracy, conducting multiple test runs to ensure the reliability of the readings. Quality of build was another critical criterion; models that felt flimsy or emitted an unpleasant odor were immediately disqualified. By the way, I noticed that tools priced around or below $20 commonly exhibited these issues. So, rest assured, the multimeters for circuit boards and other models that made it to my recommended list have passed a stringent set of evaluations.
Best multimeter for electronics reviews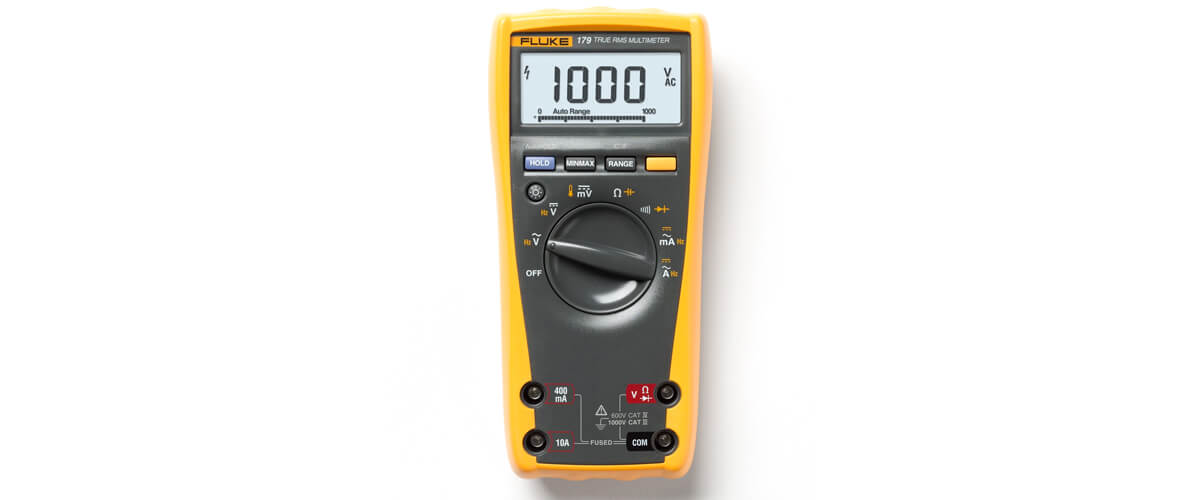 I want to start with a device that impressed me more than other members of my top. The Fluke 179 surpassed the competition in most of its features. So, let's take a closer look at it.
Firstly, the Fluke 179 has a wide range of measurement capabilities, including voltage, current, resistance, capacitance, frequency, and temperature. It also has a True-RMS measurement capability, ensuring accurate readings even in noisy environments.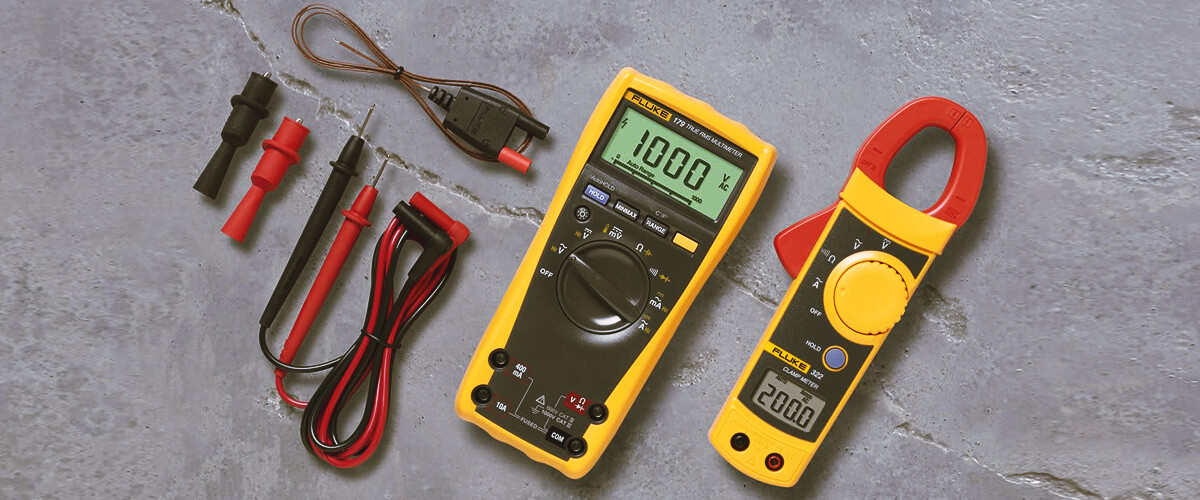 This model is built to withstand harsh conditions, with an input protection rating of CAT III 1000 V, CAT IV 600 V, making it a safe option for use in a variety of settings.
Additionally, the Fluke 179 has a backlit digital display, analog bar graph, and a built-in thermometer, making it easy to read and use. It also has manual and automatic ranging, Display Hold, Auto Hold, and Min/Max-Average recording, making it a versatile tool for troubleshooting electrical and electronic systems.
If you're looking for a reliable and versatile tool for your electronics work, the Fluke 179 True-RMS Digital Multimeter is the best multimeter for electronics. This thing is spot-on accurate, and built to last, making it a trusty sidekick for all sorts of electrical jobs.
Key specs
AC voltage: 1000V/0.01V (± 0.09% + 2).
DC voltage: 1000V/0.01V (± 1.0% + 3).
DC millivolts: 600mV/0.1mV (± 0.15% + 2).
DC amps: 6A/0.001A (± 1.0% + 3).
Capacitance, nF: 1000/1 (± 1.2% + 2).
Resistance, Ohm: 50M/0.1 (± 0.9% + 1).
Size, cm/in: 4.3x9x18.5/1.6×3.5×7.2.
Pros
High reliability and accuracy.
Long-lasting battery life.
Robust, fast, and accurate with manual and automatic ranging.
Availability of advanced features.
The optimal combination of price and functionality among other contenders.
Cons
The lack of alligator clips or other accessories.
Hantek 2D72 – for professional with Oscilloscope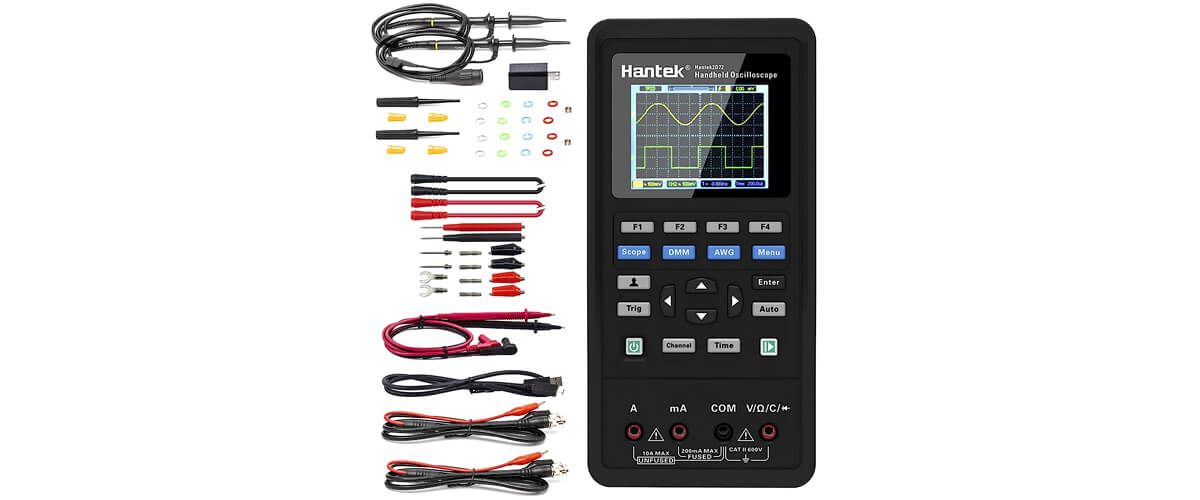 This little gadget is a triple threat — part oscilloscope, part digital multimeter, and even throws in a waveform generator. It's like having a mini lab that fits right in your pocket, ready for all sorts of electrical adventures.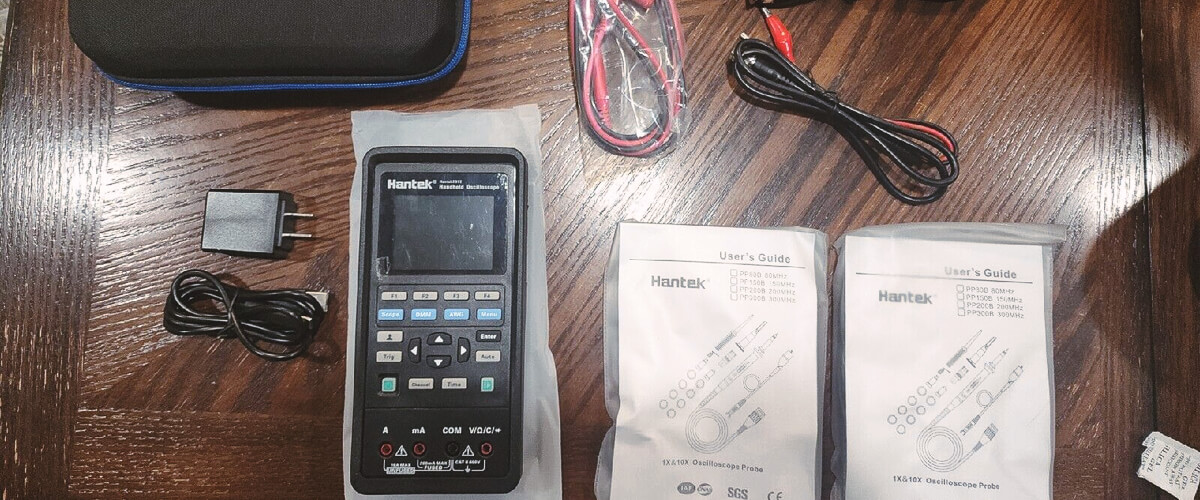 The Hantek 2D72 has a 70 MHz bandwidth and a 1 GSa/s real-time sampling rate, ensuring accurate and precise measurements. It also has a digital multimeter function with high sensitivity and accuracy, as well as an arbitrary waveform generator with a 25 MHz maximum output frequency.
The screen on this baby is crystal clear and super easy to read, plus the buttons and menus are a breeze to navigate. Oh, and it's got its own rechargeable battery, so you can take it wherever your projects lead you.
Key specs
AC voltage: 600V/0.01V (± 1.5% + 5).
DC voltage: 600V/0.01V (± 1.0% + 2).
DC millivolts: 400mV/0.1mV (± 0.8% + 5).
DC amps: 10A/0.001A (± 3.0% + 2).
Capacitance, nF: 1000/1 (± 1.2% + 2).
Resistance, Ohm: 400/0.1 (± 3.0% + 5).
Size, cm/in: 1.9×9.8×4/0.7×3.8×1.5.
Pros
3-in-1 functionality: oscilloscope, digital multimeter, and waveform generator.
Portable and easy to use.
High sensitivity and accuracy.
Cons
Poor guidance and support on the company website.
Gardner Bender GMT-319 – analog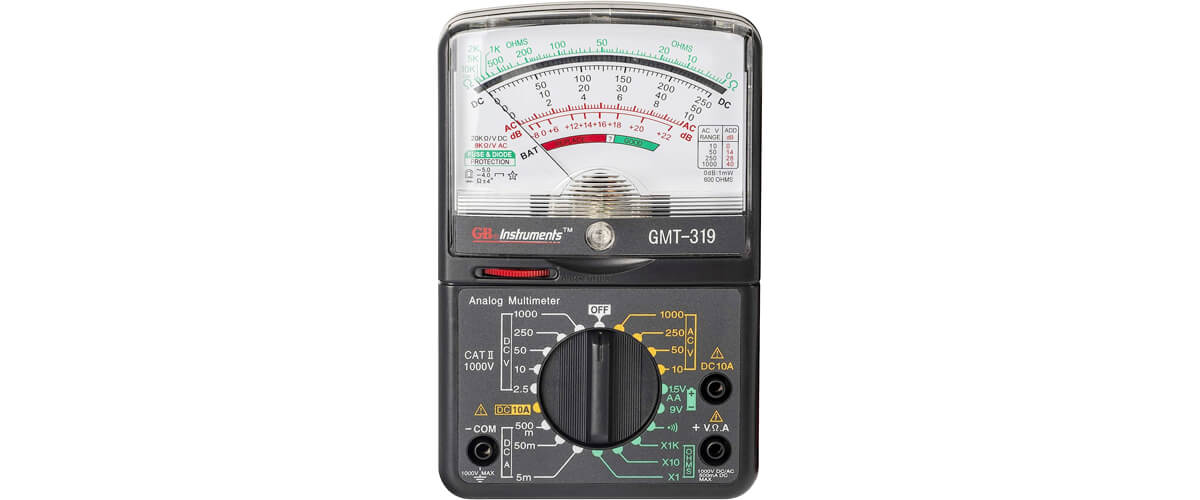 Next, I want to introduce you to the GMT-319 analog multimeter, which pleasantly surprised me with its simplicity and functionality. This tool has a manual range selection and easy-to-read, color-coded analog displays. It is great for basic tasks.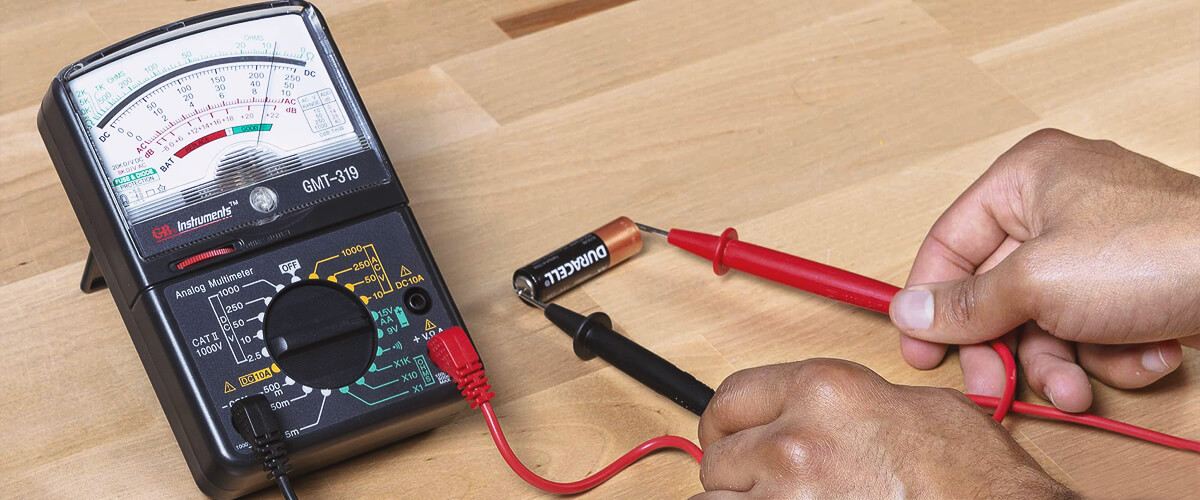 The Gardner Bender GMT-319 has a durable build quality and comes with replaceable test leads and operating instructions. It is agency-approved with a fuse overload protection circuitry for safety. This tool is not just portable; it's also a cinch to use.
While the Gardner Bender GMT-319 may not have the same accuracy and precision as, for example, Fluke 179, it is still a good multimeter for basic electronics measurements. It is also more affordable than many digital multimeters on the market. So I can assure you that this model is the best hobbyist multimeter.
Key specs
AC voltage: 1000V/0.01V (± 5.0% + 2).
DC voltage: 1000V/0.01V (± 4.0% + 3).
DC millivolts: 500mV/0.1mV (± 0.15% + 2).
DC amps: 6A/0.001A (± 1.0% + 3).
Capacitance, nF: 1000/1 (± 1.2% + 2).
Resistance, Ohm: 100/0.1 (± 4.0% + 1).
Size, cm/in: 22.3×13.9×5.5/8.8×5.8×2.2.
Pros
Affordable option.
Durable build quality.
Suitable for basic electrical measurements.
Cons
Limited functionality compared to digital multimeters.
KAIWEETS HT118E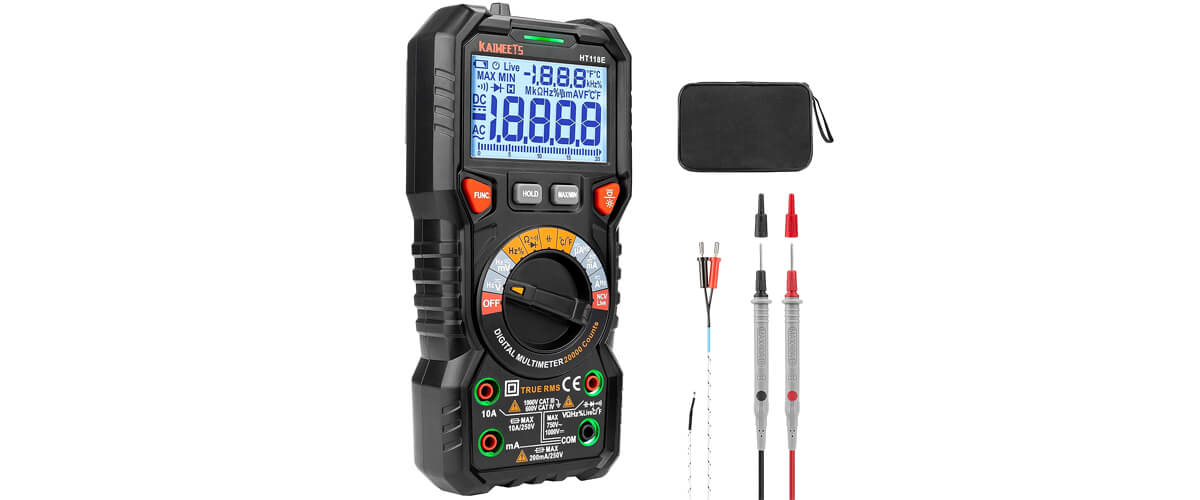 The KAIWEETS HT118E Digital Multimeter is a versatile and affordable option for both professionals and hobbyists. Firstly, this model has a True-RMS measurement function, which ensures accurate readings even in noisy environments. Secondly, it is equipped with a 6000-count display, and thirdly, it can measure AC/DC voltage and current, resistance, continuity, capacitance, frequency, and temperature.
This tool has a durable build quality and comes with replaceable test leads and a protective rubber case. I dropped it twice in the work process but did not notice any visible damage. The device worked as it should or as usual.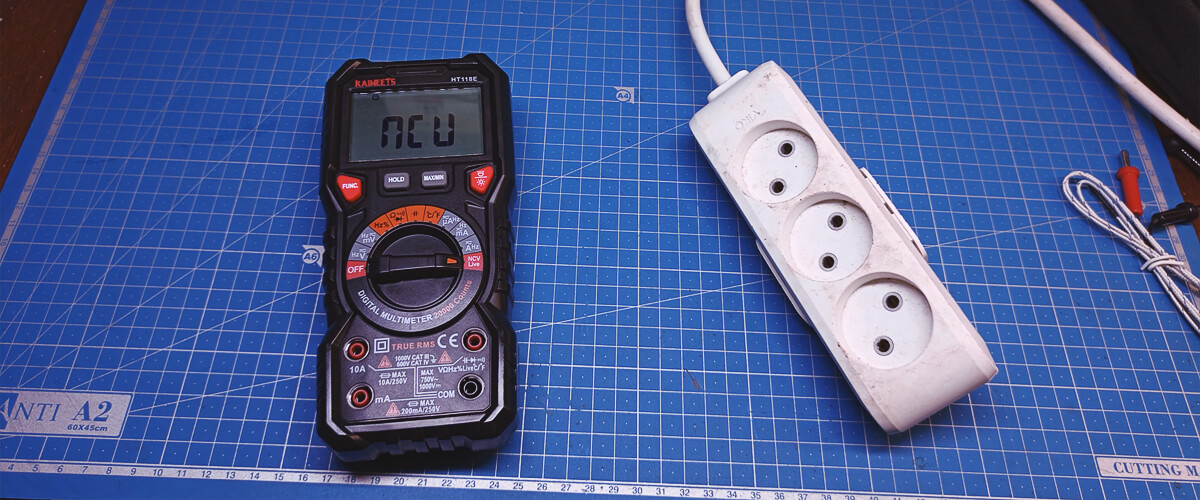 I also should note that The KAIWEETS HT118E has a clear and easy-to-read display, with a backlight for use in low-light conditions. The interface is a piece of cake to navigate, so you won't need an engineering degree just to get through the menus. Also, I was pleased that this tool has manual and automatic ranging, as well as a data hold function.
The KAIWEETS HT118E is suitable for a wide range of applications, including electronics, automotive, and household electrical work. Overall, the KAIWEETS HT118E appears to be a reliable and accurate multimeter that is well-suited for both professionals and hobbyists.
Key specs
AC voltage: 750V/0.01V (± 0.8% + 5).
DC voltage: 1000V/0.01V (± 0.5% + 3).
DC millivolts: 600mV/0.1mV (± 1.2% + 3).
DC amps: 10A/0.001A (± 1.2% + 3).
Capacitance, nF: 1000/1 (± 4.0% + 5).
Resistance, Ohm: 600/0.1 (± 1.5% + 3).
Size, cm/in: 18.7×8.8×5.3/7.4×3.5×2.1.
Pros
True-RMS measurement capability for accurate readings.
A versatile and affordable option.
Easy-to-read digital display.
Rugged and reliable.
Cons
Some users notice that there's an issue with battery charging. But in my testing, I did not find this problem.
Klein Tools MM700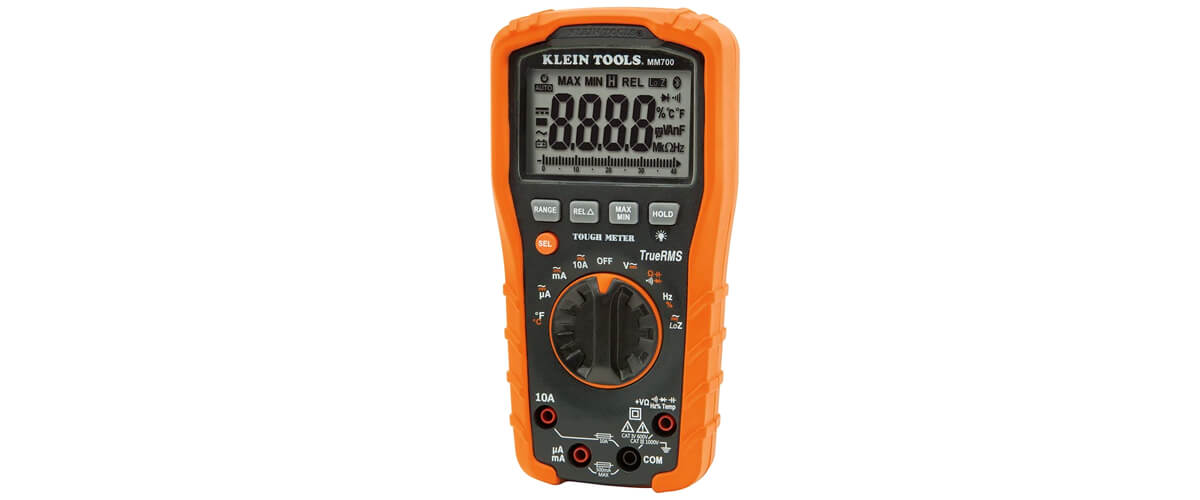 Finally, I prepared another interesting model: The MM700 is an automatically ranging true root mean squared (TRMS) digital multimeter. It can measure AC/DC voltage up to 1000V, AC/DC current up to 10A, and resistance up to 40MΩ. Besides the usual voltage and current, this bad boy can also handle temperature, capacitance, and frequency and even check out diodes and continuity. Built like a tank, the MM700 is tough enough for pros but still user-friendly for weekend warriors.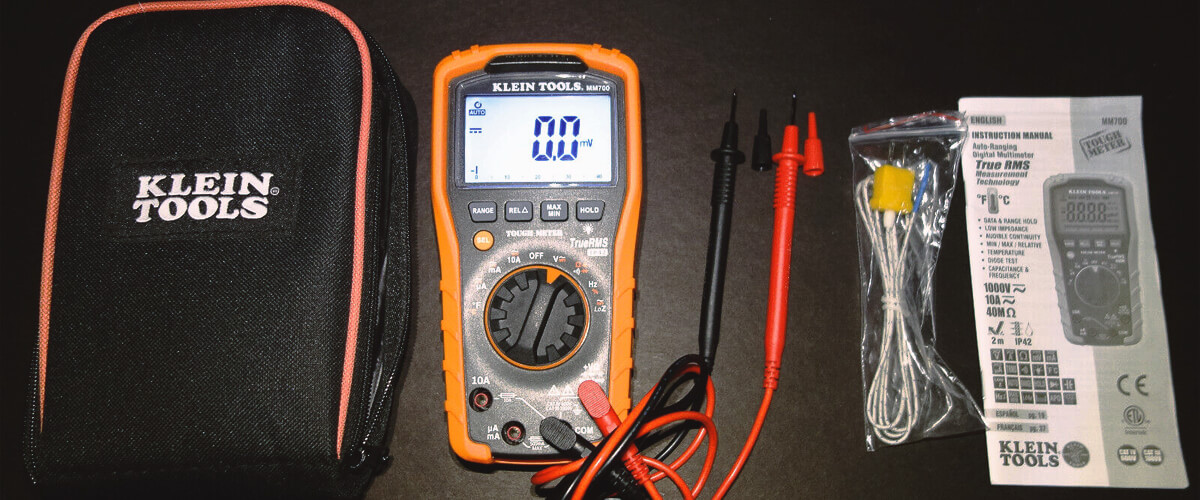 The MM700 features an easy-to-read digital display that provides clear and accurate readings. This model also has an automatic ranging function, which simplifies the measurement process. What's more important for me is that this tool also offers additional features such as data hold and a low-impedance mode.
Overall, the Klein Tools MM700 appears to be a reliable and accurate multimeter well-suited for professionals and hobbyists. Its automatic ranging capability, additional measurement features, and competitive pricing make it a popular choice among a wide range of consumers.
Key specs
AC voltage: 1000V/0.01V (± 0.8% + 5).
DC voltage: 1000V/0.01V (± 0.5% + 3).
DC millivolts: 600mV/0.1mV (± 1.2% + 3).
DC amps: 10A/0.001A (± 1.2% + 3).
Capacitance, nF: 400/1 (± 4.0% + 5).
Resistance, Ohm: 40M/0.1 (± 1.5% + 3).
Size, cm/in: 17.8×5.3×9/7x2x3.5.
Pros
Versatile and reliable tool.
Automatic ranging function.
Additional features like data hold and low-impedance mode.
Cons
Some users claim that measuring Hz doesn't work very well, but I didn't face this issue.
Key factors to consider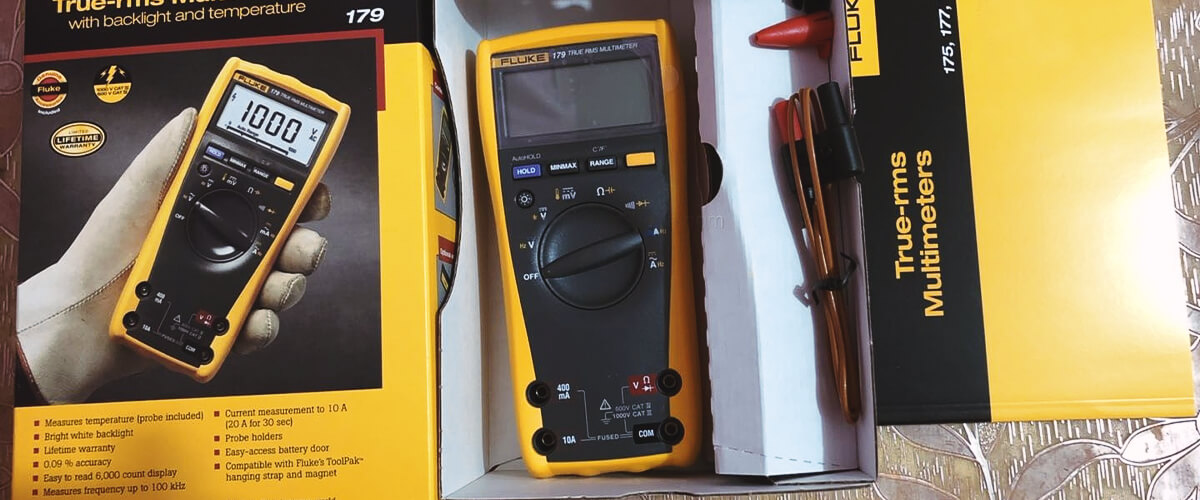 Essential features
When choosing a digital multimeter, there are several essential features to consider. Here are some key factors to keep in mind:
Requirements: Consider your specific needs and applications for the multimeter. Do you just need something simple around the house, or are you after a high-tech wizard for pro-level jobs?.
Specifications: Accuracy, precision, resolution, and range are all essential specifications to consider. When you're picking out a model, getting it right on the accuracy is a big deal. You'll usually want to stack it up against the industry gold standards to make sure it's up to snuff. Some applications, such as automotive or medical settings, require higher accuracy, with regular calibration being essential in achieving accurate readings.
Total costs: Consider the total cost of the tool, including any additional accessories or calibration fees. Remember that the most expensive does not always mean the most perfect.
Voltage: Multimeters can measure both AC and DC voltage. Therefore, when choosing a particular model, consider how difficult your upcoming tasks will be and what measurement accuracy you need.
Current: A clamp meter, which is a type of tool, can measure AC or DC current by clamping the probes around a conductor. It's important to understand the different current ranges and how to measure them accurately.
Resistance: Multimeters can also measure resistance and continuity.
Additional measurements: Some models can measure capacitance, frequency, and other parameters. Consider whether these additional features are necessary for your specific applications.
Advanced features
Auto-ranging vs. manual-ranging
Let's talk about auto-ranging and manual-ranging, shall we? After extensive testing of various models to find the best DMM for electronics, I've concluded that auto-ranging multimeters are the go-to for those who want a hassle-free experience. It automatically selects the range for you, making your life a lot easier. But if you're like me and love the nitty-gritty details, a manual-ranging tool gives you that control. By the way, I noticed it often provides quicker readings since it doesn't have to cycle through various ranges.
Data logging
Now, onto data logging. This feature is like gold for seasoned electricians. After using it in various projects, I found it invaluable for diagnosing tricky, intermittent issues. Imagine being able to record voltage fluctuations throughout the day and pinpointing the exact moment things go haywire. Game-changer, right?
Connectivity
As a data nerd myself, let me tell you that connectivity options like USB, Bluetooth, or Wi-Fi are game-changers. They're not just bells and whistles — they're essential if you really want to dive into the numbers. During my tests, transferring data to a computer for further analysis was a breeze. Trust me, if you like diving into the data weeds, you'll want this feature.
True RMS
Last but definitely not least, let's talk about True RMS. This is indispensable when dealing with complex, non-sinusoidal waveforms often found in advanced electronics. Without True RMS, you're basically shooting in the dark when measuring AC voltage and current in such scenarios.
FAQ
What do "counts" mean in a multimeter's specifications?
In multimeter jargon, "counts" refers to the maximum number a tool can display before moving to the next range. For example, a 4,000-count tool will display up to 3,999.
What safety features should I look for in a multimeter?
Safety can't be stressed enough, especially when dealing with electricity. I'd recommend looking for features like overload protection and robust casing that can withstand drops. Also, pay attention to the CAT ratings; these indicate the environments in which the tool can be safely used.
How do I calibrate and maintain the accuracy of my multimeter?
Calibration is your go-to move
. It's like giving your device a little tune-up so it stays as accurate as the day you got it. Even high-quality multimeters can drift slightly. Typically, you can send it to a certified service center for calibration, but some advanced models allow for user calibration. Always refer to the manufacturer's guidelines for this.
How to use a multimeter to test an outlet?
First, set your tool to measure AC voltage (usually indicated by a "V~" symbol).
Insert the probes into the outlet's slots
— black to neutral (usually the larger slot) and red to hot. A typical reading should be between 110-120V in the U.S. or 220-240V in other countries.
We are supported by our audience. When you purchase through links on our site, we may earn an affiliate commission at no extra cost to you.
Our newsletter
* We will never send you spam or share your email with third parties