When it comes to electrical measurements, precision and reliability are non-negotiable. Over the years, I have worked with various brands of multimeters, but I can highlight only a few of them among the general population. That's why many professionals, including myself, consider the best Fluke multimeter as the go-to choice. Having used different Fluke models on the job, I can personally vouch for their spot-on accuracy, solid construction, and easy-to-use features. In a line of work where even a small error can make a big difference, these devices set the standard for quality. In this article, I'll dive into the 5 perfect Fluke multimeters of 2023 that you should consider for your toolkit.
Our pick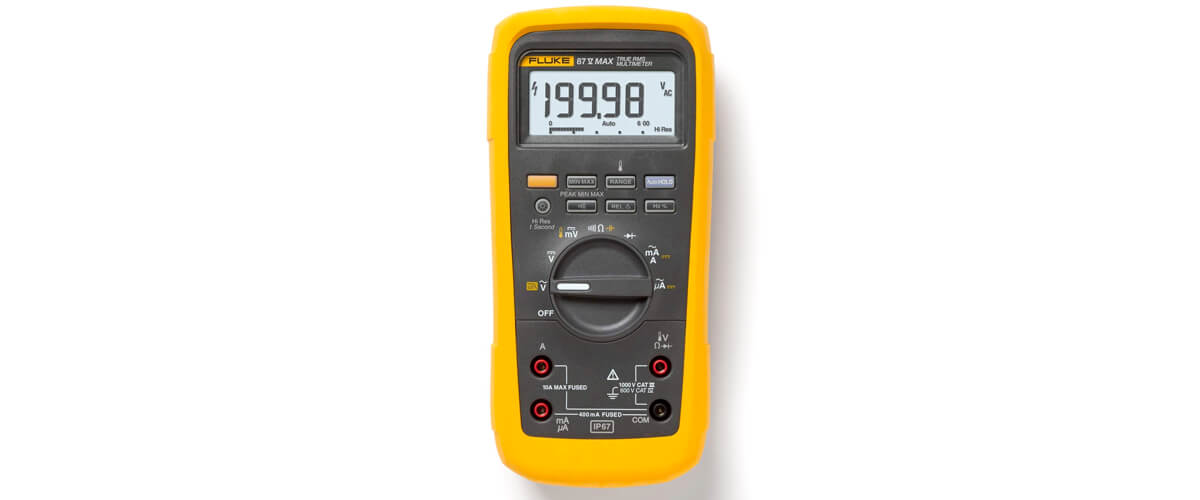 Fluke 87V MAX
Best Fluke multimeter
Fluke 87V MAX features a unique function for accurate voltage and frequency measurements on VFDs. This meter is fully water- and dustproof and keeps working reliably everywhere your job takes you.
Read the full review
.
Fluke multimeter comparison table
Name
AC voltage
DC voltage
DC millivolts
DC amps
Review
Fluke 87V MAX

best overall

1000V/1V (± 0.7% + 4)
1000V/1V (± 0.5% + 1)
600mV/0.1mV (± 0.3% + 1)
6A/0.001A (± 0.2% + 4)
Review
Fluke 179

for electricians

1000V/0.01V (± 0.09% + 2)
1000V/0.01V (± 1.0% + 3)
600mV/0.1mV (± 0.15% + 2)
6A/0.001A (± 1.0% + 3)
Review
Fluke 117

for automotive

600V/0.01V (± 1.0% + 3)
600V/0.1V (± 0.5% + 2)
600mV/0.1mV (± 0.5% + 2)
6A/0.001A (± 1% + 3)
Review
Fluke 116

HVAC multimeter

600V/0.01V (± 1.0% + 3)
600V/0.1V (± 0.5% + 2)
600mV/0.1mV (± 0.5% + 2)
600μA/0.1μA (± 1.0% + 2)
Review
Fluke 101

budget

600V/0.1V (± 3% + 3)
600V/0.11V (± 0.5% + 3)
200mV/0.1mV (± 1.2% + 3)
N/A
Review
How did I test?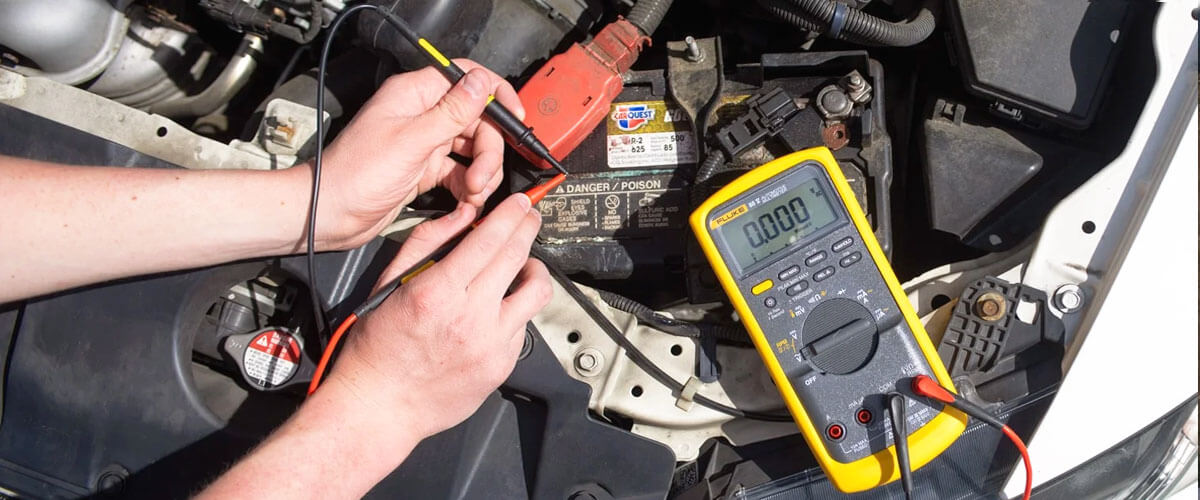 Before starting my research, I selected several of the most important criteria to evaluate devices.
Accuracy and precision: To gauge how these multimeters performed, I matched their readings against known reference values.
Measurement range: The test wasn't just about pinpoint accuracy but also the device's reliability across its full operational scope. I ran both low-level and high-level measurements to understand their breadth of capabilities.
User experience assessment: Testing these devices wasn't solely about crunching numbers. I considered the overall user experience by evaluating the clarity of the display, ease of button and selector usage, and the comfort and quality of the supplied test probes.
By the end of these comprehensive tests, I had a well-rounded view of which Fluke multimeters truly stood out in 2023, and I am going to share my insights in this article.
Best Fluke multimeter reviews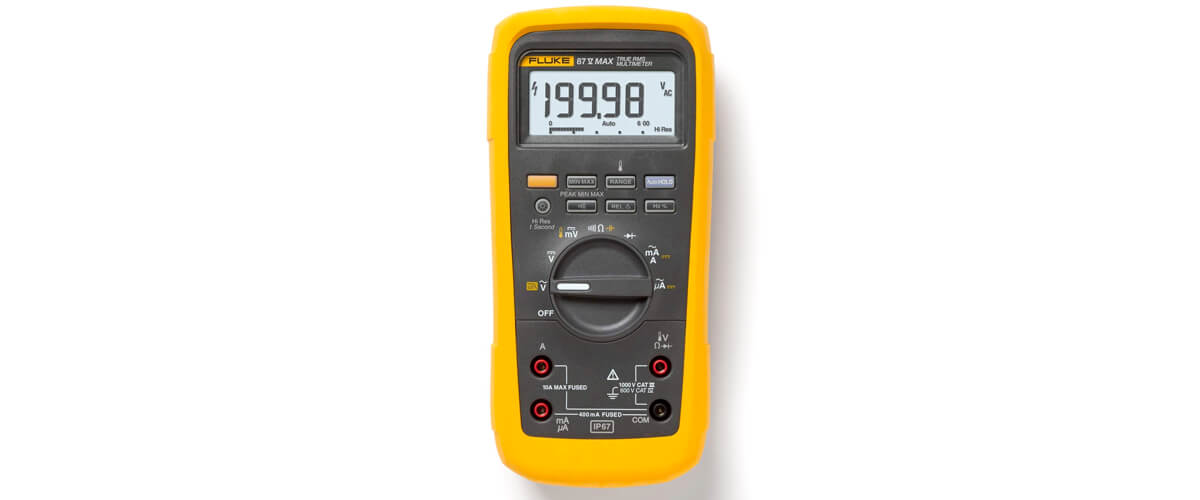 I'll start with The Fluke 87V MAX, which is an exceptional true RMS multimeter that effortlessly captures a great overall spot for 2023. This model really has a lot to offer and offers a wide measurement range without sacrificing resolution.
First of all, I would like to point out that The 87V MAX has an incredibly rugged design, built to withstand the harshest conditions. It's water and dust-resistant, a feature that guarantees long-term reliability.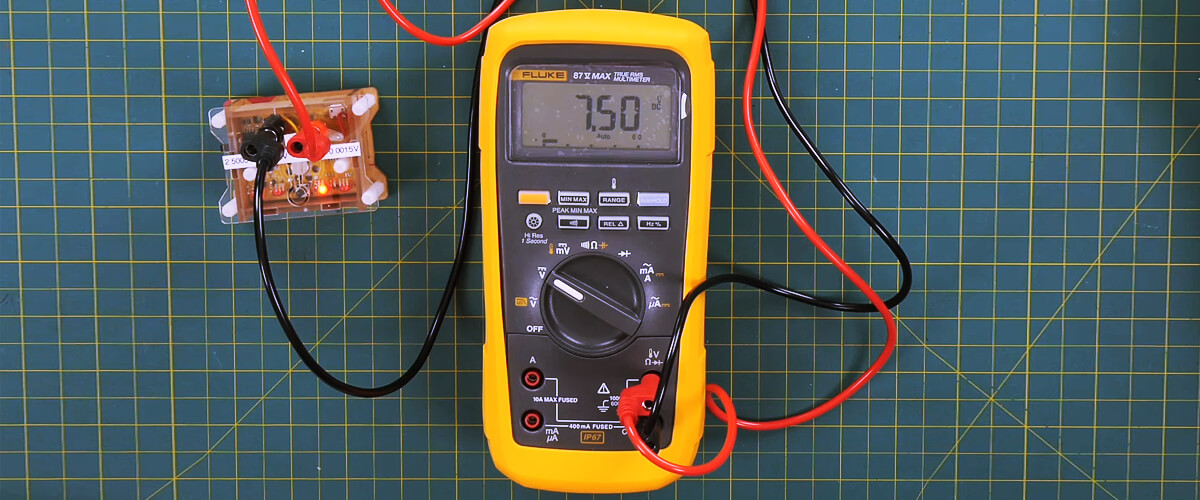 In addition to these core features, this multimeter offers a suite of advanced functionalities that range from temperature measurements to continuity testing. Despite the fact that it is equipped with many functions like the Inspector Gadget, the unit is surprisingly lightweight and ergonomic. I should notice that It's easy to hold, use, and carry around from job to job.
As for safety, the 87V MAX comes with a Category IV safety rating, allowing you to use it in high-energy settings without any concern.
The Fluke 87V MAX stands out as the best overall multimeter, offering a perfect blend of functionality, durability, and precision. Built for pros who can't afford to get their measurements wrong, this multimeter nails it on all fronts. In addition, it's tough enough to handle rough industrial environments, making it a go-to choice for heavy-duty work.
Key specs
AC voltage: 1000V/1V (± 0.7% + 4).
DC voltage: 1000V/1V (± 0.5% + 1).
DC millivolts: 600mV/0.1mV (± 0.3% + 1).
DC amps: 6A/0.001A (± 0.2% + 4).
Capacitance, nF: 9999/1 (± 1% + 2).
Resistance, Ohm: 600/0.1 (± 0.2% + 2).
Size, cm/in: 25.4×15.2×7.6/10x6x3.
Weight, g: 183.
Pros
Very accurate and precise measurements.
Able to withstand tough conditions: water and dust-resistant.
The extended battery life.
A range of functionalities that cover almost every electrical measurement need.
Cons
Not suitable for newbies, as the multitude of advanced features could be overwhelming for beginners.
Fluke 179 – for electricians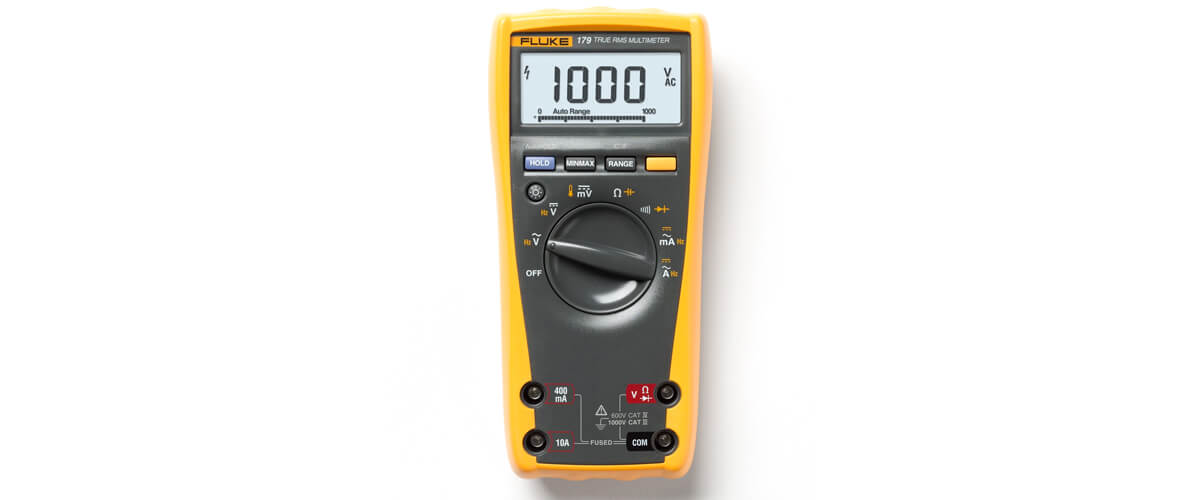 The next multimeter I want to review is the Fluke 179, which is particularly well-suited for industrial electricians. The Fluke 179 multimeter is primarily for professional industrial electricians who require a dependable and robust tool for a wide array of tasks.
And, of course, if we are talking about Fluke, everything is at the highest level of durability. The Fluke 179 is built to last, with a sturdy case that can take a beating without compromising the unit's integrity.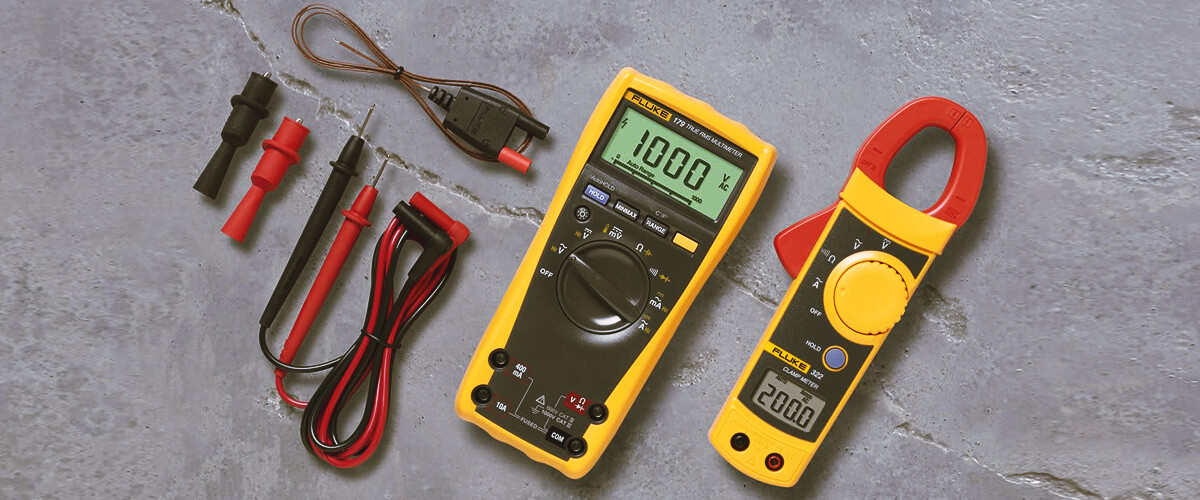 Battery life is also noteworthy. The last thing an industrial electrician needs is to be in the middle of a critical task only to have the multimeter die; thankfully, the Fluke 179 holds up well in long stints.
To sum it up, the Fluke 179 is a reliable, versatile, and durable multimeter that meets the demanding requirements of an industrial electrician. In my experience, it's among the best Fluke multimeters for electricians, particularly for those in demanding industrial environments.
Key specs
AC voltage: 1000V/0.01V (± 0.09% + 2).
DC voltage: 1000V/0.01V (± 1.0% + 3).
DC millivolts: 600mV/0.1mV (± 0.15% + 2).
DC amps: 6A/0.001A (± 1.0% + 3).
Capacitance, nF: 1000/1 (± 1.2% + 2).
Resistance, Ohm: 50M/0.1 (± 0.9% + 1).
Size, cm/in: 4.3x9x18.5/1.6×3.5×7.2.
Pros
Delivering precise and reliable measurements every time.
Long battery life.
Easy-to-read display and intuitive controls, suitable even in poorly lit industrial environments.
Cons
Lack of Bluetooth: In a world where wireless connectivity is increasingly important, the absence of Bluetooth can be a disadvantage for some advanced data logging needs.
Fluke 117 – for automotive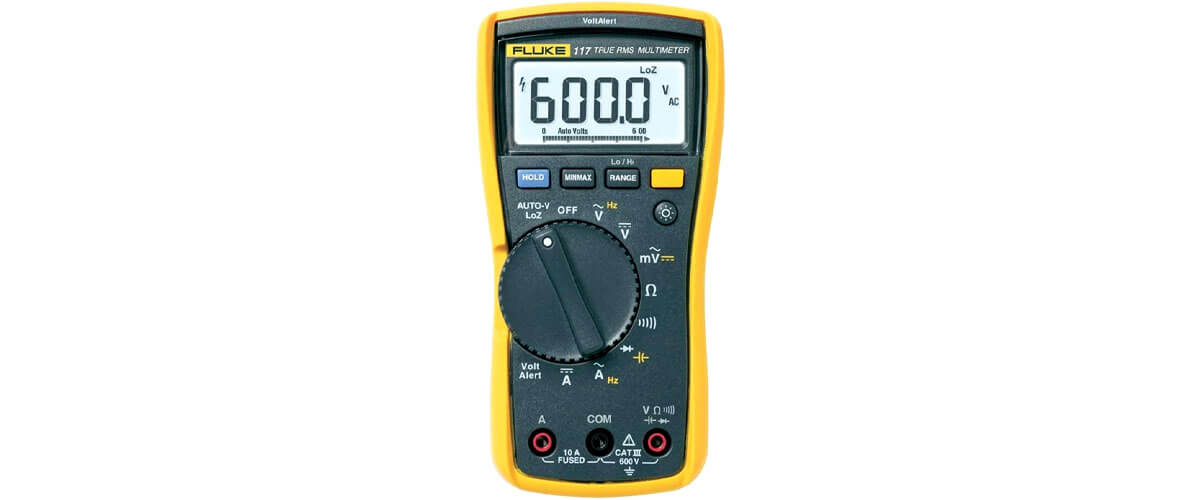 Moving on to another high-performing device, let's talk about the Fluke 117, a preferred choice for automotive diagnostics and repair professionals. After using this device for various automotive applications, it's evident why many consider it the best Fluke multimeter for automotive tasks.
First off, its accuracy and precision are more than adequate for most automotive requirements, from checking battery voltage to diagnosing electrical faults.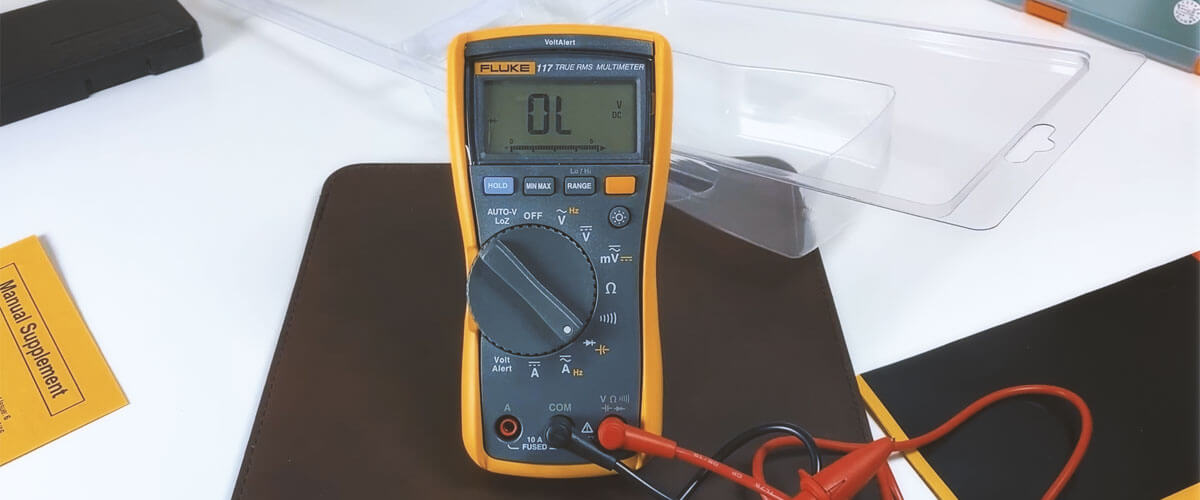 Secondly, I found the range and resolution to be impressive, as it didn't limit me when I was looking to diagnose complex electrical issues in modern vehicles. In terms of build quality and durability, it's classic Fluke — robust and designed to last, a critical factor when you're working in a rough-and-tumble garage setting.
Battery life is another strong point; I rarely found myself scrambling for fresh batteries, which is always a bonus when you're in the middle of troubleshooting.
The Fluke 117 is a real game-changer for anyone in the automotive industry. It strikes the perfect balance between accuracy and durability, making it an indispensable tool for diagnosing vehicle electrical issues.
Key specs
AC voltage: 600V/0.01V (± 1.0% + 3).
DC voltage: 600V/0.1V (± 0.5% + 2).
DC millivolts: 600mV/0.1mV (± 0.5% + 2).
DC amps: 6A/0.001A (± 1% + 3).
Capacitance, nF: 1000/1 (± 1.9% + 2).
Resistance, Ohm: 600/0.1 (± 0.9% + 2).
Size, cm/in: 16.7×8.4×4.6/6.5×3.3×1.8.
Weight, g: 550.
Pros
Excellent for automotive diagnostics.
Durable build for shop use.
The backlit display allows you to easily use it in low light.
Cons
The absence of features like Bluetooth can be limiting for more complex diagnostic needs.
Fluke 116 – HVAC multimeter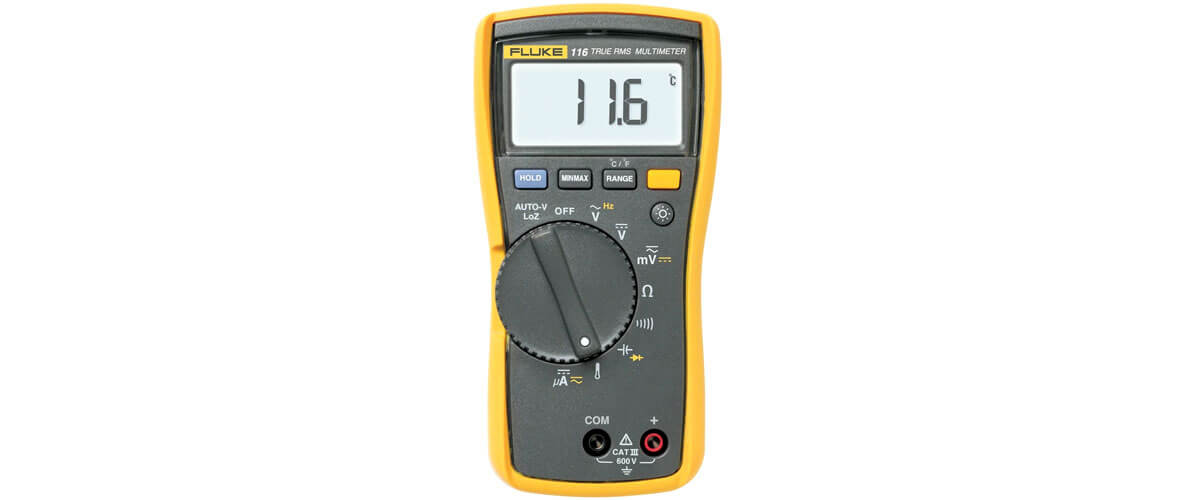 Switching gears a bit, let's delve into the Fluke 116, specifically designed with HVAC professionals in mind. After spending some time with this unit, it's clear why it's often cited as the best Fluke multimeter for HVAC applications. One thing that immediately stands out is the accuracy and precision. When you're troubleshooting HVAC systems, you need measurements you can trust, and the Fluke 116 delivers in this department.
Also, the device offers a broad measurement range and resolution. The build quality is, as expected from Fluke, robust and durable, capable of withstanding the rigors of daily HVAC work. I was pleased with the clear and easy-to-read display and the straightforward user interface that even has a convenient backlight for darker environments.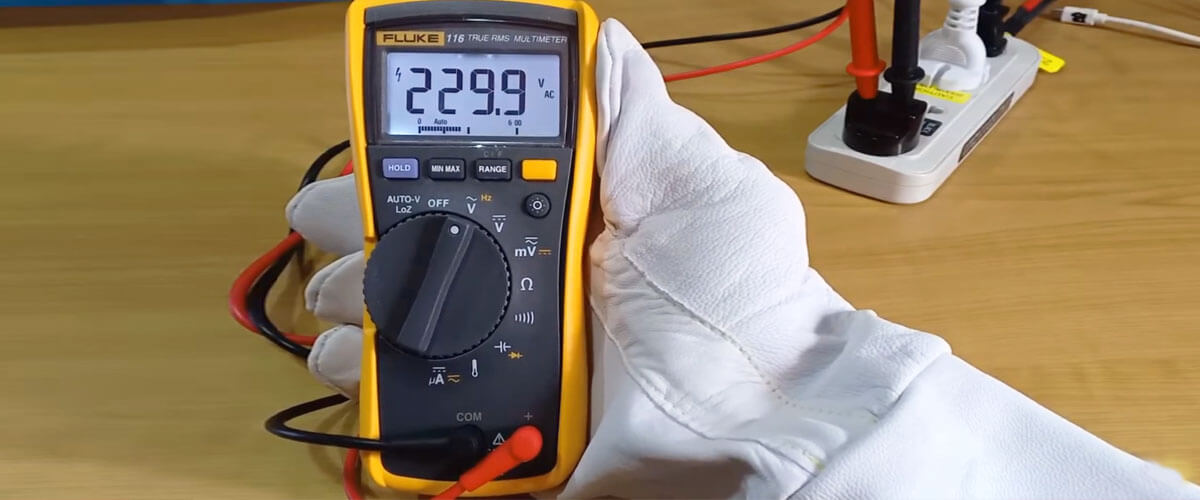 With its built-in thermometer and microamps measurement capability, I found it incredibly versatile for HVAC tasks. Battery life is also generous, a feature I appreciate when I'm out in the field and can't afford constant battery changes.
In summary, the Fluke 116 is a tailored solution for HVAC professionals, packing in all the essential features without compromising on accuracy, safety, or durability. From its specialized functionality to its ergonomic design, it offers a comprehensive package that makes your job easier and more efficient.
Key specs
AC voltage: 600V/0.01V (± 1.0% + 3).
DC voltage: 600V/0.1V (± 0.5% + 2).
DC millivolts: 600mV/0.1mV (± 0.5% + 2).
DC amps: 600μA/0.1μA (± 1.0% + 2).
Capacitance, nF: 1000/1 (± 1.9% + 2).
Resistance, Ohm: 600/0.1 (± 0.9% + 1).
Size, cm/in: 16.7×8.4×4.6/6.5×3.3×1.8.
Weight, g: 550.
Pros
Highly accurate for HVAC-specific measurements.
Durable build with safety in mind.
Built-in thermometer and microamps measurement.
Excellent battery life.
Cons
No advanced connectivity options.
User interface may require a learning curve: It's not overly complex, but it might take a minute to get used to all the HVAC-specific functionalities.
Fluke 101 – budget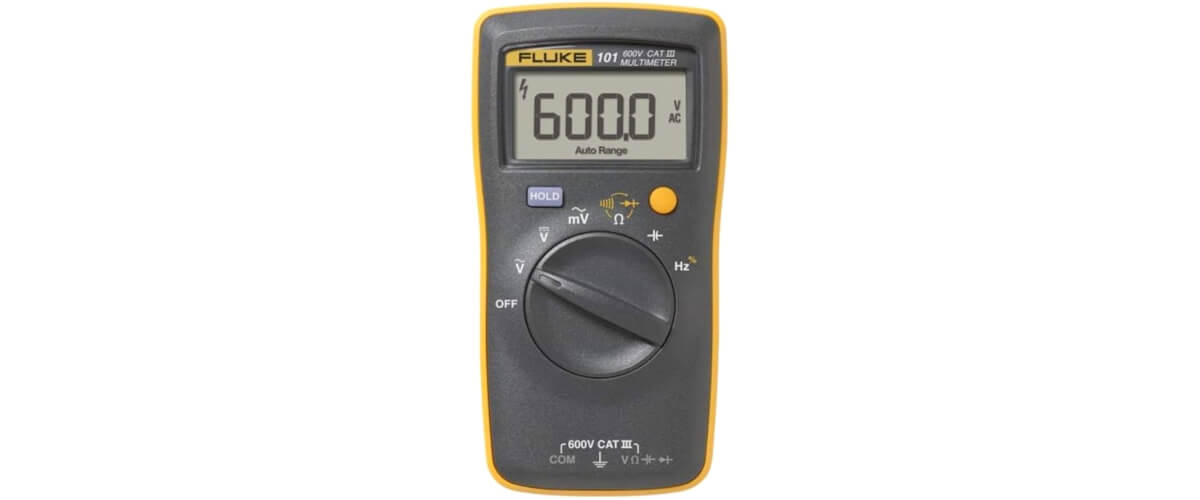 Moving on to a more budget-friendly option, let's dive into the Fluke 101. This small Fluke multimeter for home use has surprised me with its solid performance despite its lower price tag(you should understand that its price is lower than other Fluke models, but not competitors). First off, the accuracy is more than decent for everyday tasks around the house, and it's quite precise for a budget model. I've used it for quick voltage checks and continuity tests, and it hasn't disappointed me.
By the way, functionality is somewhat limited, but that's to be expected at this price point. It covers basic voltage, resistance, and current measurements, which should suffice for household needs. Battery life is commendable, and it's quite power-efficient.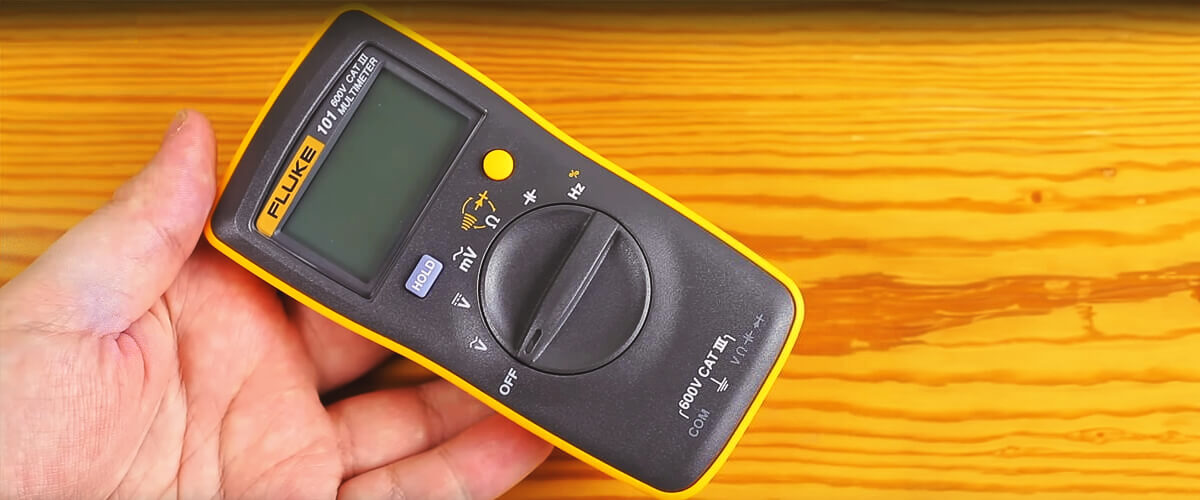 As for safety, it comes with a CAT III 600 V rating, which is reasonable for home applications. It doesn't have the specialized safety features of more advanced models, but those are typically not needed for home use.
So, if you're in need of a basic, reliable multimeter for casual use and don't want to break the bank, this model stands as the best budget Fluke multimeter available. It's a reminder that good things can come in small, affordable packages.
Key specs
AC voltage: 600V/0.1V (± 3% + 3).
DC voltage: 600V/0.11V (± 0.5% + 3).
DC millivolts: 200mV/0.1mV (± 1.2% + 3).
DC amps: N/A.
Capacitance, nF: 500/0.1 (± 3.0% + 5).
Resistance, Ohm: 400/0.1 (± 1.0% + 5).
Size, cm/in: 13×6.5×2.7/5.1×2.5×1.
Weight, g: 160.
Pros
Affordable and reliable: Lives up to the Fluke reputation for a fraction of the cost.
Compact and portable.
Simple use interface.
Cons
Limited features: Lacks some advanced functionalities you'll find in higher-end models.
The legacy of Fluke: a heritage of quality and precision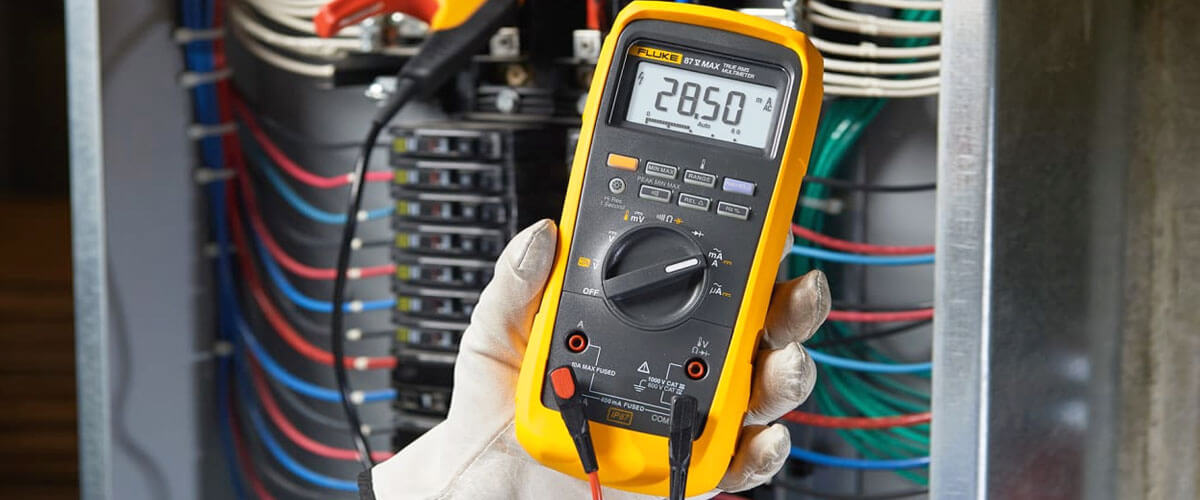 From its foundation in 1948 by John Fluke Sr., Fluke Corporation has set a high bar for excellence in testing and measurement equipment. The company achieved breakthroughs like the introduction of the first portable digital multimeter (DMM) in 1977. Fluke's innovative ventures don't stop there; they also gave us the True RMS multimeter, a gold standard for accurate and precise measurements. Whether you're looking for utility multimeters for electrical work or specialized tools for HVAC technicians, Fluke's expansive lineup has something for everyone.
Innovation: Introduction of the first portable DMM and the True RMS multimeter.
Range: Utility to specialized tools for various professionals.
Quality: Maintaining high standards of reliability and measurement accuracy.
Why are Fluke multimeters so expensive?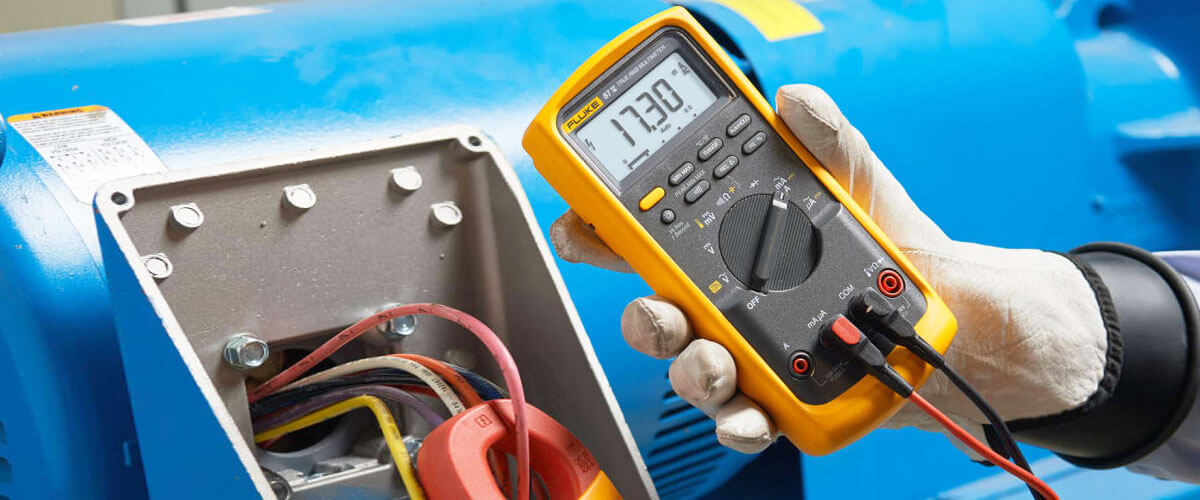 When you get your hands on a Fluke multimeter, you're not just buying a tool; you're investing in something that's been fine-tuned through years of research and development. This company consistently releases the newest Fluke multimeter models with cutting-edge features. They don't just make any ordinary tools; each gadget is crafted for high accuracy and long-lasting durability, all thanks to top-notch components and rigorous quality control. Here are the key aspects that characterize the models of this brand and affect the cost:
Research & development: Continuous investment in creating advanced features.
Quality components: Use of top-tier materials for durability.
Precision: Designed for high accuracy, meeting the needs of professionals.
FAQ
Are Fluke multimeters suitable for both professionals and DIY enthusiasts?
Absolutely, Fluke multimeters cater to a wide range of users, from seasoned professionals in electrical work and HVAC technicians to DIY homeowners.
Are Fluke multimeters worth the investment compared to other brands?
Their long-standing reputation for delivering multimeters that provide accurate and reliable measurements sets them apart from other brands. With their investment in research and high-quality components, Fluke multimeters might be more expensive upfront, but they offer durability and precision that often outlasts and outperforms cheaper alternatives.
Can Fluke multimeters withstand harsh environments or industrial settings?
Yes, durability is one of the key aspects that set Fluke multimeters apart. Specifically designed for heavy-duty usage, many Fluke multimeter models feature robust casing, shock resistance, and moisture protection.
We are supported by our audience. When you purchase through links on our site, we may earn an affiliate commission at no extra cost to you.
Our newsletter
* We will never send you spam or share your email with third parties